Commentary
Joining the big leagues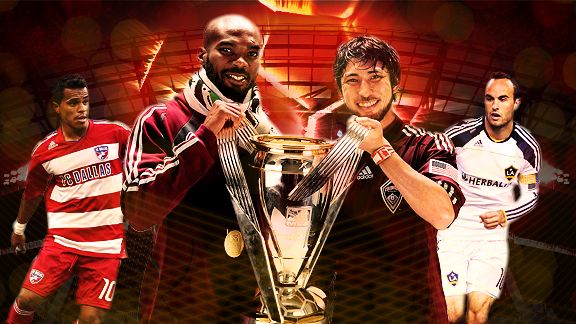 ESPN.com Illustration The MLS season is about to kick off, and with new teams and a growing fan base, the league is finally poised for bigger things.
If MLS was a publicly traded company, now would be the time to buy stock.
Entering its 16th season, MLS is fortifying its position. While profitability may still be a utopia -- just six of 16 returning clubs are thought to have had a break-even season in their existence -- the league may soon acquire something much more valuable: relevance. Relevance in the larger soccer universe and relevance in the American sporting landscape.
Factors which will inevitably boost the bottom line.
"There's a heightened excitement about the league as a whole, and maybe an increased level of credibility and respectability from the general public, which doesn't mean we don't have an incredibly long way to go," former MLS player and general manager and current ESPN analyst Alexi Lalas said. "But there's a recognition that MLS is something that's not going away and, quite to the contrary, it's actually on the ascendance."
Much of the narrative of the 2011 edition of MLS will indeed revolve around the league's upward mobility.
"We're certainly positioned to achieve growth," MLS commissioner Don Garber told ESPN.com. "We've got two new teams, expanded rosters, 31 players signed from [MLS's own] academies and a number of great young players. There are so many exciting things happening."
Making their debuts in the league are two old North American Soccer League retreads, existing until recently as minor league teams: the Portland Timbers and Vancouver Whitecaps. Both command such affection from their considerable fan bases that their commercial traction will further pad the league's coffers. The Timbers are the toast of Portland and have already sold out most of their home games. Astonishingly, the Caps already lead the league in sponsorship revenue.
Both expansion teams will move into refurbished, soccer-specific stadiums during the season. Sporting Kansas City is also moving into a new venue, to be followed next year by the Houston Dynamo and by the San Jose Earthquakes the year after that. In 2010, the New York Red Bulls and expansion Philadelphia Union made new, state-of-the-art digs of their own. And by 2013, 15 out of 19 MLS teams will be in stadiums designed or redesigned with only soccer in mind, while the Whitecaps plan to have one built by 2016 and D.C. United is feverishly looking to do the same.
In those stadiums are deployed ever more talented squads, fueled by unprecedented star power: the Los Angeles Galaxy's David Beckham, Landon Donovan and Juan Pablo Angel; the Red Bulls' Thierry Henry and Rafa Marquez; United's Charlie Davies; Sporting's Omar Bravo; and Vancouver's Jay DeMerit. There's also exceptional homegrown or U.S.-raised talent, such as United's Andy Najar, the Red Bulls' Agudelo, Sporting's Teal Bunbury, Vancouver's Omar Salgado and the Union's Danny Mwanga.
"

There's a recognition that MLS is something that's not going away and, quite to the contrary, it's actually on the ascendance.

"

-- ESPN analyst Alexi Lalas
This asymmetric injection of quality into a few clubs has led to the emergence of two budding juggernauts in the key New York and Los Angeles markets, where the Red Bulls and Galaxy have been stockpiling talent to the point they are now the two best and deepest squads ever assembled in the league's history. And as Donovan told ESPN.com last year, "A New York-L.A. rivalry is very important [to the league]."
"In any sport, if New York and L.A. are going good, the league is going good," echoed New York defender Chris Albright.
In addition to their efforts to establish themselves as the league's powerhouses, the Galaxy and the Red Bulls have something to prove. Los Angeles will try to upstage its 2009 runner-up campaign and demonstrate it can indeed win a title with designated players -- which thus far has been an elusive pursuit for any team -- while New York will try to upset the packed Western Conference's dominance over the East, in which every club but the Red Bulls seems to be either building or rebuilding.
In the Northwest, meanwhile, the addition of two hotly anticipated new clubs surrounding the attendance-magnet Seattle Sounders will create additional rivalries in the league's thriving outpost.
Amid all of the positive signs for the once beleaguered league, which had to contract two clubs as recently as 2001, the only blight on MLS recently has been its inability to negotiate a new long-term broadcast deal with Fox Soccer Channel. According to a report by the Sports Business Journal, MLS had tried to get the cable network to re-up for almost three times what it was paying previously, even though ratings had remained flat. Crunched for time by the deadline on releasing the television-driven schedule, the two ultimately settled on a one-year contract, meaning they will fight this battle anew next year.
Still, overall, the league is in good shape.
"When you look at the amount of new ownership and diverse ownership and you look at the new stadiums, the expansion, all of those things combined, if you were to research the league as a stock, you would find that it is run by people that are methodical and have vision and money -- a powerful combination," Lalas said. "And that's what's enabled the league to stabilize and now hopefully head, in a much quicker way, in a positive direction. I think there is a palpable confidence that is out there."
When pressed to rate the league's progress on a scale of one to 10 -- one being MLS's birth and 10 its full maturity, having achieved all of its goals -- commissioner Garber gave it a three. "As a 16-year-old league, we're no longer a toddler," he said. "We're a teenager but we expect to live a long life.
ESPN FC on Twitter
Don't miss a moment of the latest soccer coverage from around the world. Follow us on Twitter and stay informed. Join »
"In my view, we're still in the developing phase of the league, which is to continue to establish and further build division one professional soccer in North America. It's clearly a growing business, and one that is operating perhaps better than we thought it would. But we still have a ways to go."
What the league's sunny outlook could mean is an accelerated uptick in attendance, which has crawled up from the 14,000 range of the league's second year in 1997, when the novelty had worn off, to the 16,000 range this past season.
That, in turn, could bring the league closer to profitability, which will put MLS in a position to reinvest on the field and in a genuine position to start chipping away at bigger leagues' market share.
But first, there's a new season to be played.
Leander Schaerlaeckens is a soccer writer for ESPN.com. He can be reached at leander.espn@gmail.com.

Contributing writer, ESPN.com
Leander Schaerlaeckens is a contributing writer for ESPN.com. He has previously written for The Guardian, The Washington Times and UPI.