Commentary
That wasn't ugly. That was Messi
Updated:
March 9, 2011, 1:00 PM ET
By
David Hirshey
| Special to ESPN.com
Let's just get it out of the way: The better team won.
Even if Arsenal had fielded 12 players in the second half, it wouldn't have mattered. Barcelona was simply too good. There's a reason that the pass-happy Catalan conquistadors have been anointed as the World's Best Team (WBT), and it has nothing to do with relying on ludicrous refereeing decisions to prove their intergalactic dominance.
Because as much as it pains me to admit it, Massimo Busacca wasn't the most influential figure at Camp Nou on Tuesday. The Swiss referee may have put the Gunners in a deeper hole when he issued a preposterous second yellow card to Robin van Persie for the Arsenal striker's failure to hear his whistle over the din of 95,000 fans, but his bizarre officiating didn't spade them under. Lionel Messi did -- with a typically world-class, gravity-defying finish and a cooler-than-Don-Draper penalty kick. And the rest of the Barca deities weren't too shabby, either.
Xavi and Andres Iniesta played as if determined to administer death to Arsenal by a thousand passes. For long stretches, they simply refused to let the Gunners participate in the match, tippy tapping the ball around in hypnotic triangles. The Arsenal defense appeared mesmerized when in the 69th minute, some slick interplay from Xavi, Iniesta and David Villa ended up with Xavi tucking the ball away to make it 2-1. And for all the talk of Barcelona being vulnerable at the back without Carles Puyol and Gerard Pique, Arsenal didn't record a shot on goal in the entire game. Zero. Nada.
[+] Enlarge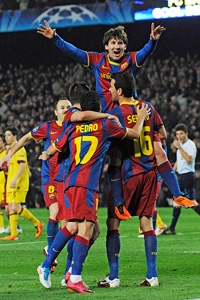 David Ramos/Getty ImagesThere's a reason that Barcelona defeated Arsenal, and it had nothing to do with a ludicrous refereeing decision.
That is, unless you count RvP's shanked drive that got him sent off in the 56th minute. The Dutch striker, who miraculously recovered from a supposedly serious knee injury just in time for Tuesday's match, could hardly be faulted for not realizing that the play had been ruled dead in the one second before he launched his wayward shot on goal. But he has only himself to blame for his first yellow card.
In a bit of argy-bargy toward the end of the first half, Barca's Eric Abidal put his hand around Van Persie's throat, a patently bookable offense that Busacca chose to ignore. Enraged, the Dutchman subsequently lashed out at Dani Alves, brushing a hand in the defender's face. Alves then grabbed his eye like a Cyclops who just had a piece of burning timber shoved in his cornea.
It was a Rivaldo-worthy piece of play-acting on the Brazilian's part, but what came next from Barca was all too real. Arsenal captain Cesc Fabregas -- who has not been shy in declaring his love for his childhood club and vice versa -- gifted Barcelona the ball on the edge of the area with the kind of insouciant backheel you attempt in a pickup game on the beach. It went straight to Iniesta, who dinked a precisely weighted pass through the gap to Messi.
What a terrifying sight that must have been for reserve Arsenal keeper Manuel Almunia, who had the misfortune to be between the sticks in the corresponding Camp Nou match last year when Messi hung four on the Gunners. And now the much-maligned Spaniard, consigned to the bench by Arsene Wenger for one howler too many, suddenly found himself thrust into the Barca cauldron when starting keeper Wojciech Szczesny trudged off after injuring his finger making a routine save in the 19th minute. (I'm sorry, but even Chicago Bears quarterback Jay Cutler would have toughed that one out.)
If the magnitude of the occasion wasn't enough to jangle his nerves, Almunia was under relentless pressure from the second he stepped on the field. Custer's Last Stand looked like a fair fight compared to the onslaught Almunia and Arsenal's gutsy center backs Johan Djourou and Laurent Koscielny endured. Wave after wave of Barca marauders laid siege to Arsenal's goal and it is a tribute to Almunia's brave shot-stopping heroics that the Gunners still had a chance to advance until the final, desperate minutes.
David Hirshey

For more from David Hirshey, check out his columns on all things soccer.
• The All-EPL Team, 2011-12
• Saying goodbye to Chinaglia
• Time to dethrone King Kenny Dalglish?
• In praise of Fulham
• The comeback artists
• Call it a comeback
• Death by Manchester
• The battle for third
• Spurs' title credentials
• EPL's best starting XI
• City handed first EPL loss
• Chelsea pushed to brink
• Fragile egos crossing
• City and United
• Is Newcastle for real?
• The bad-behavior derby
Certainly, Arsenal's vaunted attack did nothing to help the cause. So anonymous was Fabregas that you hardly noticed him until his costly flick. The Arsenal captain was coming back from a hamstring injury that caused him to miss the past three games, and it was obvious early on that he wasn't fully fit. Harried in midfield by Xavi and Iniesta, his buddies on Spain's national team, Fabregas didn't so much as drive the Gunners forward as try to keep them from being overrun.
Only Samir Nasri and Jack Wilshere seemed to have a clue about what to do with the ball on those rare occasions in which they got to touch it. Nasri, alone among Arsenal players in not being afraid to run at Barca's backline, won a corner in the 53rd minute that caused havoc in the box and resulted in Sergio Busquets artfully nodding the cross into his own net.
For his part, Wilshere -- whom Barca coach Pep Guardiola taunted in the run-up to the game by noting that his side "have many players like him in our second team" -- never stopped running and probing for openings, ultimately finding Arsenal's best one in the 87th minute when he put the ball (and a place in the quarterfinals) on Nicklas Bendtner's foot. With only Javier Mascherano and keeper Victor Valdes to beat, the cumbersome Dane managed to fall over both players, ensuring that there would not be a repeat of the high drama that marked Arsenal's come-from-behind victory in the first leg at the Emirates.
It's difficult to say that justice was done at Camp Nou on Tuesday given the outrageous travesty of Van Persie's red card, but even the most deluded Arsenal fan can't really claim that the Gunners deserved to go through.
ESPN FC on Twitter
Don't miss a moment of the latest soccer coverage from around the world. Follow us on Twitter and stay informed. Join »
The numbers sadly tell the story: Arsenal ceded nearly 70 percent of possession to its host, was outshot 14-0 and committed almost three times as many fouls. Add it all up and this may have been the most one-sided 4-3 aggregate win in the history of the Champions League.
It is Arsenal's rotten luck that it tends to bring out the best in Barca. The Gunners are one of the few teams -- Inter and Real Madrid are the others -- Barca feel are worthy of their attentions. As smug as the Catalan giants can be, they see in Arsenal a less assured version of themselves and derive a special pride in showing the Gunners how it's done.
Me, I take some comfort in the fact that this Arsenal side can now focus solely on beating Manchester United in the Prem and the FA Cup.
And not to sound like Sir Alex, but at least we won't have to deal with any Swiss referees.
David Hirshey has been covering soccer for more than 30 years and has written about the sport for The New York Times, Time, ESPN The Magazine and Deadspin. He is the co-author of "The ESPN World Cup Companion" and played himself (almost convincingly) in the acclaimed soccer documentary "Once in a Lifetime."