Commentary
Winning ugly works for Spurs, too
Updated:
March 10, 2011, 2:02 PM ET
By
Michael Cox
| Special to ESPN.com
"Parking the bus" is not usually the Tottenham way. A club famed for its commitment to good, open, attacking football throughout the years, it's maintained that reputation with its European performances this season. In the group phase, Spurs being involved in a 0-0 game was unthinkable.
Of course, some observers might think that Spurs "parked the bus" against AC Milan in the Champions League at White Hart Lane on Wednesday. Although they rarely got forward to provide a goal threat in this game, they only really became completely defensive-minded for the final half-hour. It's easy to simply remember the final period of a game and be tricked into thinking that a side played that way for the duration, but Tottenham's strategy changed midway through the game.
At first, Spurs were keen to take the game to Milan. One of the best atmospheres White Hart Lane had seen for decades contributed toward a fierce opening, with Tottenham getting the ball out wide to Aaron Lennon and asking him to take on the fullback. Peter Crouch stayed at the back post to win every header, and it seemed that this simple approach would eventually bring rewards.
As the game drew on, Tottenham found themselves outnumbered in the center of the park. Milan were using four men where Tottenham had only three, and the away side dominated possession. At times Spurs played with their backs to the wall, much like Arsenal did against Barcelona the night before, but they were also trying to play football. They hadn't come to defend -- they were simply being dominated by the opposition.
Spurs gradually defended deeper and deeper in the second half, and they did park the bus. The tactical change worked brilliantly. Their problems in the first half came when Zlatan Ibrahimovic and Pato created space in the defense with diagonal movement across the pitch, but with Tottenham packing nine bodies around its own area, it denied Milan any space to work in. The fullbacks tucked in and played narrow, and Milan offered no hint of any width to get around the outside.
But this was not an entirely new Spurs -- away in Milan they'd done something similar in the second half, at home to Arsenal and Chelsea last season they'd defended deep and held out. And fittingly, it was a solid Spurs defensive performance that gave rise to the "park the bus" expression in English football in the first place. Their 0-0 draw against Chelsea in September 2004 prompted Jose Mourinho to complain about their defensive football by remarking, "As we say in Portugal, they brought the bus, and they left the bus in front of the goal."
None of the men who played a part in that game were on show Wednesday (Ledley King and Jermain Defoe remained on the bench), but the parking space remains available for use. Spurs may be Champions League newcomers, but far more established teams would love to have the ability to switch between playing styles as seamlessly as Harry Redknapp's side can.
[+] Enlarge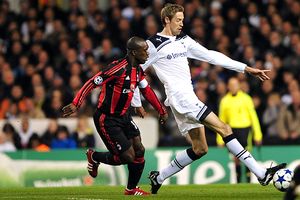 Giuseppe Cacace/AFP/Getty ImagesDespite Tottenham emerging victorious, the game's best player was a Milan man -- Clarence Seedorf.
Seedorf Shines
Despite Tottenham emerging victorious, the game's best player was a Milan man -- Clarence Seedorf. After being completely marked out of the first leg by Sandro (who again was excellent) and Wilson Palacios, Seedorf played a different role. Instead of playing high up the pitch behind the forwards as what the Italians refer to as a trequartista, he positioned himself in front of his own defense as a deep-lying regista. From there, he had time on the ball to pick a pass, and he constantly started attacks to put Milan on the front foot.
It was a surprise to see Seedorf playing so deep. In the absence of Andrea Pirlo -- the ultimate regista -- Milan has lacked creativity from central midfield. With center back Thiago Silva fielded as the deepest of the three midfielders in the first leg, Milan was slow, predictable and unambitious. Seedorf changed all that, and you'll struggle to find two more contrasting performances from a player in two legs of the same tie.
It's not an entirely new position for Seedorf. Around the turn of the century, he occasionally played a similar role for Milan's bitter rival Inter, and it's not surprising that he's the best replacement for Pirlo. In Pirlo's younger days, also at Inter, he broke through as a trequartista. It was a loan spell at Bresica (where Roberto Baggio was the number 10) and on his arrival at Milan (where Manuel Rui Costa played that role) that he became a deeper, more controlling central midfielder. Max Allegri has looked to Silva and Mark van Bommel to play the deep midfield role in recent weeks, but recreating Pirlo's journey by moving Seedorf backwards might be the best solution.
ESPN FC on Twitter
Don't miss a moment of the latest soccer coverage from around the world. Follow us on Twitter and stay informed. Join »
Seedorf is already a Champions League record-breaker. He is the only man in history to win the European Cup with three different sides -- Ajax, Real Madrid and Milan -- yet that success hasn't diminished his motivation. When interviewed on the pitch having just completed the third victory in 2003, he broke down in tears as he was so overwhelmed at his achievement. He did the same thing at White Hart Lane last night when approached by an Italian reporter, as he was too distraught to speak after Milan's journey had ended.
Seedorf made his European Cup debut in 1992, and 19 years later, he's still desperate to win more silverware. Surely, his 122nd European Cup performance will not be his last. Indeed, his performance in a different position may have prolonged his top-level career.
Michael Cox is a freelance writer for ESPN.com. He also runs zonalmarking.net.