Commentary
Henry's goals beyond goals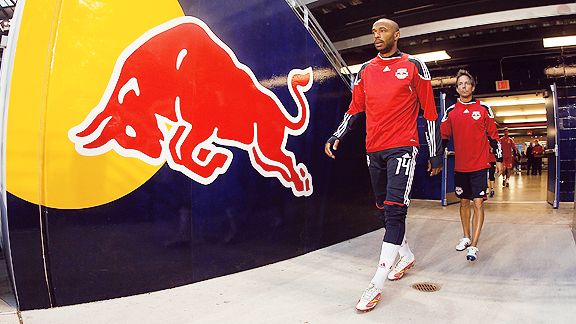 Mike Stobe/Getty Images for New York Red BullsThierry Henry has plenty of things on his mind these days -- winning MLS Cup, turning the Red Bulls into a dynasty, and making the point that the league is not a retirement home.
EAST RUTHERFORD, N.J. -- It tends to be hyperbole even for the truly great athletes. But Thierry Henry really has won everything there is to win.
Among many other bits of scrap metal cluttering the French superstar striker's trophy case is proof of victorious campaigns in the two toughest domestic leagues in the world (the English and the Spanish, with Arsenal and Barcelona) and in the world's premier club competition, the Champions League, with Barca. Then there is that World Cup gold medal from 1998, a silver medal from 2006 and a European championships title from 2000. In eight glorious and record-setting seasons with Arsenal, he scored 226 goals -- 174 of them in the English Premier League. Over his entire 16-year pro career, he has eclipsed the unfathomable 300-goal mark and added a record 51 for France.
Yet for Henry, 33, there remain battles to win even when they've all been won, things to do when it's all been done.
Because Thierry Henry is not a tourist.
No matter what they say over in Europe, Henry didn't come to MLS to glide gently into retirement.
The hunger is still there. Henry wants to win. "In training, I get mad if we lose a game," he said. "If I lose a ball, I will chase the guy and try to get the ball back in any way."
Slouching in a chair in a back room of Red Bull Arena, Henry spoke with passion, like a man whose energy won't pander to his age. Sporting a thickening beard, a grey T-shirt and sweat pants and some beat-up black sneakers, he doesn't at all seem cocky. This is, after all, the Arsenal player who would stand still and glare into the crowd after scoring a goal. But Henry is polite and engaging.
As a competitor, said teammate Carlos Mendes, Henry is "intense. … You can see it on the field. He gets competitive in training and in games and we get on each other. I think that's all a part of wanting to win and compete. He's definitely still got the fight [in him]."
Perhaps this has something to do with Henry's first half a season on his 4½-year contract with the New York Red Bulls, reported to be a worth a shade over $20 million. After coming over in July, Henry made a false start of sorts. He went from France's disastrous World Cup campaign to a much-needed holiday and then joined a club that was halfway through the season. Given no time to get up to speed, battling injuries and incurring a somewhat lenient $2,000 fine for a silly goal celebration, which injured FC Dallas keeper Kevin Hartman, Henry's influence was, on balance, negligible.
"It was what it was," Henry said with a sigh. "I knew I was going to be way behind everyone coming here."
Henry is much more fit now than at any point last season. "You can't even compare," he said. "You couldn't even use the word 'fit' about last year. I was running on low battery -- no preparation, no nothing -- so it was kind of difficult to perform." That also applied to his cameo in the dying minutes of the second leg of the Red Bulls' loss to San Jose in the Eastern Conference semifinals. "I wasn't supposed to play, or even to be on the bench," said Henry. "We decided [for me] to be on the bench because we were short of players and I came on because we were losing."
ESPN FC on Twitter
Don't miss a moment of the latest soccer coverage from around the world. Follow us on Twitter and stay informed. Join »
Other than proving he still belongs, Henry hopes to parlay his newfound fitness into making another point -- that MLS isn't a place where once-great men come to age peacefully anymore. Not terribly long ago, in the 1990s, stars such as Hristo Stoichkov, Carlos Valderrama and Lothar Matthaus ended their careers on well-paid whimpers in MLS. But Henry is intent on showing that the league is no longer a retirement home, or even an assisted-living facility. It's a claim echoed by the league. MLS commissioner Don Garber said in a teleconference before the season that the notion of MLS being a retirement league for the stars of yesteryear is "just factually incorrect." In truth, the average age of the 45 foreign players that were new on opening day of the 2011 MLS season was 26.5, while the league's overall average age was 25.
"I believe Henry, who was sought after by many, many clubs, while he is at the end of his prime, certainly is not here to retire," said Garber.
"It's always the cliché thing that people are saying," said Henry. "It was the same back in the day. It started with Pele and [Franz] Beckenbauer [in the 1970s]. When they came [to the U.S.], people said they are coming to enjoy New York. When [David] Beckham came, they said he was coming to enjoy L.A. I came and they said I was coming to enjoy New York. There were a thousand teams that wanted me when I left Barcelona and I just didn't want to go. It wasn't like I was kicked out of Europe. Becks was the same. It was a choice and I'm happy with it. But you're always going to have people talking, no matter what."
In fact, Henry had originally wanted to come to MLS a year earlier. "But I stayed in Europe because of the World Cup and I didn't want to be going back and forth.
"I'm not judging anybody," Henry added, implicitly referring to Beckham, who split time between the Los Angeles Galaxy and AC Milan in the two seasons before the World Cup in order to stay in the England picture. "I just didn't want to do it."
That's because when Henry came to MLS, he wanted to do it right, and execute a grand plan. He has carved out a new challenge for himself. Of all the silverware he has won, there isn't one piece that was won the hard way -- on a team that he helped build from the ground up after a last-place season. Arsenal, Barcelona and France all were successful programs long before Henry arrived. Even AS Monaco was already a French league power when he won his first domestic title there in the 1996-97 season.
The Red Bulls, on the other hand, are far from a powerhouse. One of the MLS originals, New York has been a piddling franchise which had won the Eastern Conference just once before Henry arrived. It has made a lone MLS Cup appearance, in a fluke run to the title game in 2008, after scraping into the playoffs unexpectedly.
"

For me, it's [all about] New York Red Bulls and bringing some silverware back in my time here. But people are talking about me trying to promote the game. I'm no ambassador. I didn't invent the game. I'm not going to reinvent the game. I'm not going to change anything.

"

-- Thierry Henry
But that worrying trend is being reversed. The Red Bulls turned their dead-last 2009 campaign into an Eastern Conference-winning 2010, under the new management of sporting director Erik Soler and head coach Hans Backe. And while not exactly running on all cylinders, the Red Bulls have yet to lose in three games in 2011.
For Henry, helping the club become all that it can be will be his magnum opus. In fact, if given the choice between helping his sport become more popular in the U.S. or engineering a title run for the Red Bulls, the decision would be a simple one to make, born out of a humble realism. "For me, it's to be able to build with New York Red Bulls with the team that we have, giving some pleasure to the fans and hopefully bringing some silverware back in my time here," said Henry. "But then every time people are talking about me trying to promote the game. I'm no ambassador. I didn't invent the game. I'm not going to reinvent the game. I'm not going to change anything."
Henry takes great delight in helping the potential giant of American soccer crawl out of its cradle. "I enjoy being able to be around and create that," he said. "It's about the New York Red Bulls. It doesn't have to be about me and [fellow star signing] Rafa [Marquez]."
For the club to grow, it is paramount that it defines itself. "What we need to create here is an identity, a way of playing," Henry said. "I was fortunate enough to play for Arsenal and Barcelona and Juventus and the French national team. And I always played in a team that had an identity. We're trying to have an identity in this club, which is to try to play football -- pass the ball around and try to be efficient."
That is what sets great clubs apart from the rest, Henry argues. He frequently cites Barcelona's famed house-style, or Arsene Wenger's overhaul of Arsenal's playing style -- from relying on long balls and the counterattack to a fluid, possession- and pass-based offense -- as examples. If he achieves nothing else while with New York, he hopes that it's helping Backe forge that identity. "At the end of a game it would be amazing if people start to say, 'We know about the Red Bulls and you're going to suffer on this , you know that's the way they play,'" Henry said. "That's the type of thing at the end of the day, if you can leave, or start that legacy, the style of play, to be able to say that, is very important."
To that end, Henry has altered how he views his role within the team. Once the consummate finisher, hugging the front line and drifting wherever his chances of making a run at goal were best, he's become more of an enabler than a consumer of goals. "I used to go on the field and [scoring goals] is the only thing you have in your head," said Henry. "Now my main concern is to try to go out there and make everybody better.
[+] Enlarge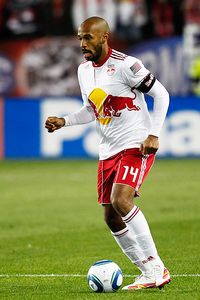 Jeff Zelevansky/Getty ImagesHenry said he is no longer about just scoring goals but making those around him better.
"[During preseason] I was kind of more dropping into the midfield and fitting people in. That's what you want to do," said Henry. In his first two appearances of 2011, he did more of the same, sometimes dropping all the way back to collect the ball from the defense, or cutting back toward the midfield on a counter-attack to help create a chance. It's a lesson he picked up from a former teammate, who became more valuable to his team as his physical skills started to erode and he dropped back to supply, rather than to finish. "I remember playing with Dennis Bergkamp [at Arsenal] and maybe at one point he wasn't the goal scorer that he used to be, but he was making the team play better," said Henry. "He wasn't shining himself but him being around, doing what he was doing, was helping everybody else shine."
While Henry understands that he will be forever judged on his goal tally -- "that's the way it is" -- he has an understanding coach who is willing to recognize that his star player's role is evolving. "I'm not expecting him to score 15 to 20 goals," said Backe. "I think he will score and I think he will be involved in assists, too."
Aside from making the Red Bulls a success as soon as possible, Henry also wants to contribute to the team's player development. It's not just about the here and now, it's about preparing the club's youngsters so they'll be able to succeed Henry and his fellow veterans. He does this mostly in practice.
"Every time you do tactical work he has an influence, even if it's defending or attacking set plays," said Backe. "He's a good guy because he knows the game and he likes sharing with the young guys all those small details. I think it's very important when you're trying to build something with young U.S. players coming from college, from our academy, to get the guy who knows the game and has that influence, that status as a player. Everyone listens."
"

Whatever he does, I just try to copy. He gives me a lot of directions and stuff.

"

-- Juan Agudelo on Henry's influence
The club's young forwards get extra schooling. "I just try to be a sponge towards him," said budding U.S. striker Juan Agudelo. "Whatever he does, I just try to copy. Every time we train together, every time we play up front together, he gives me a lot of directions and stuff. I don't say anything. I always listen.
"If you see my progress last year from as soon as he came in … I thank God for bringing him into this place and bringing him into my life," said Agudelo. "He's like a professor."
There is something that bothers Henry, though. He realizes his legacy with the Red Bulls will be measured against the number of MLS Cups he manages to secure for his club. But doing that depends on a system that Henry considers too fickle -- the MLS playoffs.
"Real Salt Lake made the playoffs the year before [last] in the last game. Colorado did it last year in the last two games. They [both] won the league," said Henry. "I'm not having a go, but I'm just saying in this way it's kind of different here. In a cup competition anything can happen and it can be decided by the draw. But I still don't believe that at the end the best team of all won. For me, the best team of all last year was FC Dallas, and they lost in the final. It is hard to win the MLS for that reason."
That doesn't mean Henry sides with Backe, who has several times proclaimed to value winning the Supporters' Shield, awarded to the best regular-season team, over MLS Cup. "I can understand his logic because coming from Europe we're all used to this -- you win the league, you're champion. But that's not the way it is here," said Henry. "At the end of the day, the only way you can have 'MLS Champion' on your C.V. is if you win the MLS Cup."
Still, Henry is aware that no matter how many times he makes the inscriber carve New York Red Bulls into that trophy, it might never have any bearing on the league's reputation. "I always talk about the MLS," he said. "Whenever I talk to a European journalist or anybody in Europe, I say, 'You will be surprised. Come here and you will see the quality of some players and the quality of some teams.' The U.S. team went further than us [France] in the World Cup.
"But as long as people in Europe won't consider it as a big league, you're always going to have people talking for no reason," Henry said. "It's prejudice. People talk without knowing. The only thing is if you can have a lot of players coming from Europe early, then you'll have people saying, 'Wow, hang on a minute, why are they going there?'"
For that to occur, Henry argues, the stringent salary cap and the limit of three Designated Players (such as himself) per team will need to be abolished. "That DP rule stops maybe the league [from] getting bigger," he said. "I can tell you if you take that rule of the three DPs away, you will see a lot of players and a lot of big names from Europe coming to this league."
In the meantime, Henry will expend his energy on positioning his club to develop an identity, a philosophy, a capable team for the future. If all goes well, he and the Red Bulls will overcome the slim odds of the playoffs and make the club a champion, with Henry giving the assist for a change.
Leander Schaerlaeckens is a soccer writer for ESPN.com. He can be reached at leander.espn@gmail.com.
Contributing writer, ESPN.com
Leander Schaerlaeckens is a contributing writer for ESPN.com. He has previously written for The Guardian, The Washington Times and UPI.