Commentary
MLS trial is no joke for Ochocinco
These last few days, Chad Ochocinco has felt even more fleet-footed than his usual self.
"When you don't have all that stuff on you, you're a lot faster," he told ESPN.com.
His helmet and pads have come off, and he's traded his spikes for cleats. The star Cincinnati Bengals wide receiver is a soccer player now. For a little while, at least.
In his four-day trial with Sporting Kansas City of Major League Soccer, enabled by the NFL lockout and instigated by the eccentric player himself, Ochocinco is trying to prove to his buddies and Real Madrid superstars Kaka and Cristiano Ronaldo that he could just as well have been a soccer player. In so doing, he might decide a long-standing debate over whether the U.S. would be a better soccer nation if more of its elite athletes played the sport.
The principals involved insist this is no stunt, like when Ochocinco appeared on "Dancing With the Stars," had his own reality television show or raced a thoroughbred.
[+] Enlarge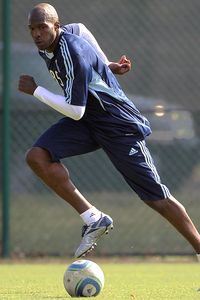 Jamie Squire/Getty ImagesIf Ochocinco makes the cut at Sporting Kansas City, his buddies Cristiano Ronaldo and Kaka have promised to come watch him play in a game.
"We went to dinner when he first got here and he told me straight up that he's dead serious and really wants this," said Teal Bunbury, the team's young U.S. national team striker. "He doesn't want to waste anybody's time."
"You get the sense that he's serious about being here because he does love the game and he's working hard and doing all the other things that any guy trying out would be doing," said club captain Davy Arnaud.
Ochocinco is a fan of the game he played from age 4 through the 10th grade when, he told a club TV crew, he "had to talk to my parents about longevity and a career move."
But, said Ochocinco, "Even though I love football, this [soccer] was always my first sport growing up."
Aside from a love for the game, there's a second incentive to earning an extended trial -- the next step in the process. If Ochocinco makes the team, Ronaldo and Kaka have promised to come watch him play in a game. He is nevertheless realistic about his chances. They are "slim to none," he told ESPN.com. "I know that. But let's see what happens."
The odds Ochocinco is up against were plain to see during his first practice Wednesday, during which he was unimpressive.
"I will not be able to make up the years I've been away from the game in four or five days," he told the TV crew. "But I hope to show enough of what I used to be able to do."
On Thursday, his second day, Ochocinco showed marked improvement, according to witnesses. "I thought he was better today," said Sporting coach Peter Vermes. "He has some qualities that are pretty interesting and he's extremely coachable. He has a real desire to learn and learns quickly. Yesterday we worked on some crosses with him and today he probably had the two best crosses in training."
"I don't think the players were expecting anything big from him, but he's really showed himself," added Bunbury. "From yesterday to today he's really improved. Today his touch was a lot better, his movement was a lot better, he's understanding the game a bit more. He's really getting adjusted."
ESPN FC on Twitter
Don't miss a moment of the latest soccer coverage from around the world. Follow us on Twitter and stay informed. Join »
That's not to say the self-described right back -- who is "sometimes able to sprint out and able to beat everybody on the ball," he said -- has no more progress to make. "It's all hard," Ochocinco told ESPN.com. "It takes extreme skill to be able to play this sport. It takes years of practice and I'm willing to come out here and sacrifice the scrutiny I will get and try something I haven't done in years. It's a childhood dream and I'm having fun."
"The flow of the game is hard for him because in football you have a play and then it's done; soccer is continuous," said Vermes.
Teammates also said Ochocinco's first touch isn't yet there, and that he has to learn to read the game properly.
While he addresses those shortcomings, Ochocinco is unconcerned with his day job, his NFL career. He's willing to take a risk, including getting hurt playing soccer. "Who cares if I get hurt?" he said. "I can get injured walking down the street. If I'm supposed to get hurt, I get hurt." Nor is he bothered by the league's pay scale, which pales in comparison to the NFL's for the vast majority of players. "I'm already rich," he said. "Who said it's about the money anyway? It's about the opportunity to play the game that I love."
When informed that most MLS players make less than $100,000 a year, Ochocinco said he'd be happy to "make the minimum." The minimum salary for a player of Ochocinco's age, 33, will be $42,000 in 2011.
By all accounts, Ochocinco has been a hit with teammates, offering to take them out to a Brazilian restaurant Thursday night. "He said he would pick up the check but joked that he might run out before the check comes," said Bunbury.
Whether he was a hit with the front office we'll know Saturday, when the club will decide whether or not to extend the Ochocinco Experiment.
Leander Schaerlaeckens is a soccer writer for ESPN.com. He can be reached at leander.espn@gmail.com.

Contributing writer, ESPN.com
Leander Schaerlaeckens is a contributing writer for ESPN.com. He has previously written for The Guardian, The Washington Times and UPI.