U.S. earns tie with Argentina
Updated:
March 26, 2011, 11:47 PM ET
Associated Press
EAST RUTHERFORD, N.J. -- At the final whistle, Juan Agudelo walked over to Lionel Messi.
[+] Enlarge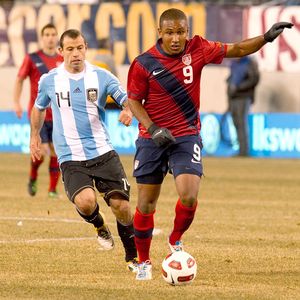 Don Emmert/Getty ImagesJuan Agudelo (9) of the USA is marked by Argentina's Javier Mascherano (14) during a friendly match at New Meadowlands Stadium in East Rutherford, N.J.
"I was like, `Yeah, I'm good friends with Thierry Henry,'" the 18-year-old American forward said. "I just wanted to introduce myself: Juan Agudelo."
Agudelo's 59th-minute goal gave the United States a surprising 1-1 tie against Argentina in a high-profile exhibition game on Saturday night before 78,936 at the New Meadowlands Stadium.
As much as the goal, making an impression on the planet's best player left Agudelo beaming.
"Just for him to recognize me, now that I scored against him," said the teenager, who only made the New York Red Bulls' first-team roster late last season.
Esteban Cambiasso had put fourth-ranked Argentina ahead in the 42nd minute after a thrilling run to the endline by Messi. Agudelo then scored his second goal in three international appearances. It followed Landon Donovan's 30-yard free kick and an initial header by U.S. captain Carlos Bocanegra from 7 yards that was blocked by goalkeeper Mariano Andujar.
"I poked it over the goalie," said Agudelo, who at first wasn't sure his right-footed shot from 1 yard went in.
He looked around.
"I realized everybody was running and kind of just cheering."
And then he ran to the corner flag and was mobbed by teammates.
Argentina dominated a first half in which U.S. coach Bob Bradley used a defensive 4-3-2-1 formation and the Americans, wearing new red jerseys with blue sashes, struggled to string together four straight passes. Agudelo and defender Timmy Chandler entered at the start of the second half in place of Jermaine Jones and right back Jonathan Spector as the Americans switched to their more familiar 4-4-2.
Messi, the two-time FIFA player of the year, was the center of attention on the chilly night, when the gametime temperature was 35. Wearing orange boots, thick black gloves and a white, long-sleeved shirt under his short-sleeved jersey, Messi went through and around the U.S. defenders as if they were mere guard rails.
On the goal, he went around Jonathan Spector, ran to the endline and then with his left foot played the ball through Bocanegra's legs into the 6-yard box. Maria's left-footed shot from 3 yards was blocked by a sliding Howard. The rebound went to Cambiasso, and he scored with a right-footed shot from 6 yards for his fifth international goal and first since a September 2008 World Cup qualifier against Peru.
"It was pretty unbelievable," Bocanegra said. "This guy -- I mean, my legs weren't that far open, and he just pops through. And I'm going, 'Really?'"
U.S. vs. Argentina Player Grades

The U.S. deserves credit for fighting back to a 1-1 draw against Argentina, but that can't whitewash the clear problems in the team's midfield, writes Jeff Carlisle, who grades each U.S. player's performance. Story
Jones tried to shadow Messi when he was in the center of the midfield, and Oguchi Onyewu knocked him down with a clutzy elbow to the head while going for a header in the 24th minute. After he received treatment and got up, fans chanted "Mess-iiii! Mess-iiii!"
Messi stripped the ball from Clint Dempsey near midfield in the 40th minute, sped toward the goal, spun around Michael Bradley as if he were a schoolboy, cut to the center and shot from inside the penalty area, Howard reaching up for the save.
In the 48th minute, Howard made a sliding save on Messi at the 6, getting his right leg up to block the ball.
"You watch him on TV and you think, it's impossible. How does he do that?" Howard said. "And then you see that he's here for real and it's just breathtaking, even as a top-level professional, as we are. It's breathtaking because you can't figure out how he's doing some of these things."
The 5-foot-5 3/4-inch attacker has 45 goals for Barcelona this season but has not scored in three games against the U.S. Still, he was pleased with the Albiceleste performance.
"Everyone in the team is aware that we did have a fantastic first half," he said. "There was a letdown in the second half, and they scored with the one chance they had, a goal after a free kick. They almost didn't have the ball the whole match."
While the 19th-ranked U.S., which improved to 2-6-2 against the Albiceleste, is preparing for the CONCACAF Gold Cup in June, Argentina is getting ready to host the Copa America in July -- and hoping to win its first trophy since the 1993 Copa. Since Sergio Batista replaced Diego Maradona as coach after the World Cup, Argentina has shifted to a pressing and passing game.
"We are improving every single match we play. We have embraced Checho's philosophy," Messi said, referring to his coach's nickname. "We are all very happy with our play, how we controlled the ball, which is our idea. We have to continue on that direction."
Notes
With his 129th international appearance, Donovan moved past Marcelo Balboa into sole possession of third place on the U.S. list, trailing Cobi Jones (164) and Jeff Agoos (134).

Copyright 2011 by The Associated Press