Commentary
More advice for the Special One
Updated:
March 28, 2011, 7:46 PM ET
By
David Hirshey
| Special to ESPN.com
Dear Special One,
As I was saying before we were so rudely interrupted, it's not often I get the urge to write to someone twice in two days, but you are so very special that I feel the need to pass along some more unsolicited wisdom to spare you the rank indignity of making a mistake when you return to England, your "spiritual home."
In my previous missive, I delineated why Chelsea and United might be challenging fits for you, so no doubt you've been wondering ever since: "Where should I go then, you mustachioed soccer sage?"
Let's start with where you shouldn't go. Actually, no one should go there if they can help it. I speak, of course, about the purgatory that is White Hart Lane.
I have to say that sending champagne to Harry Redknapp after Spurs jettisoned your old friends, AC Milan, from the Champions League was a nice touch -- as if you were softening up ol' 'Arry in case Real was to meet Tottenham in the next round, which is exactly what happened.
I'm not questioning the sincerity of your gesture because I know you appreciate 'Arry. He's a kindred spirit, believing that one's job is good for as long as it takes to find another. The Redknapp era will no doubt go down in history as one of the most joyful in Spurs' long and mediocre history, and yet 'Arry can barely wait to get his meaty paws on the England gig after Fabio Capello leads the Three Lions to their inevitable quarterfinal collapse in Euro 2012. (I know you passed up such a lowly role a few years ago, but it appeals to some chaps.)
[+] Enlarge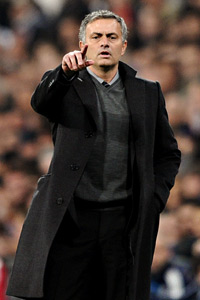 Pierre-Philippe Marcou/AFP/Getty ImagesStay away from White Hart Lane, Special One.
When 'Arry leaves, there will be a Special One-sized hole at White Hart Lane for someone to transform Gareth Bale, Rafael van der Vaart and Luka Modric into a three-headed monster that could devour Europe. Spurs have got some money, too, especially if they build a new home, but probably not enough to satisfy your high-end needs. You've made no secret that you like the finer things in life -- a Ferrari Scaglietti, marble floors, a private helipad, designer stubble. Meanwhile, Spurs chairman Daniel Levy is widely regarded for his frugal financial sense, bargain hunting in the transfer market to bag the biggest value play of the season in Van der Vaart. (You didn't think the Dutchman was 'Arry's idea, did you?) He also keeps a tight grip on Spurs' payroll: Gareth Bale's new contract will make him the only Tottenham player earning more than $100,000 a week, a figure that barely covers your dog's grooming budget.
Plus, let's be realistic. Your genius doesn't come cheaply and I just can't see Levy ponying up the $19 million a year to keep you and the Missus in your haute lifestyle. You don't strike me as the type of coach who likes flying coach.
If you really want to experience how the other half lives, you can always go slumming at the gates of Spurs' hated North London rivals. This would be a challenge worthy of your exalted status. Take your gritty style and crash it against Wenger-isms, and you're looking at a total ideological reboot. In case you haven't noticed, Arsenal doesn't exactly believe in buying galacticos as much as it does Swiss defenders and Polish goalkeepers. This approach to the transfer market has cost Arsenal this season -- but only in the Carling Cup, FA Cup and Champions League -- yet Arsene Wenger would never apologize for his penurious ways.
David Hirshey

For more from David Hirshey, check out his columns on all things soccer.
• The All-EPL Team, 2011-12
• Saying goodbye to Chinaglia
• Time to dethrone King Kenny Dalglish?
• In praise of Fulham
• The comeback artists
• Call it a comeback
• Death by Manchester
• The battle for third
• Spurs' title credentials
• EPL's best starting XI
• City handed first EPL loss
• Chelsea pushed to brink
• Fragile egos crossing
• City and United
• Is Newcastle for real?
• The bad-behavior derby
Also, the Emirates faithful, while growing frustrated with the past six trophy-less years, are used to their heroes playing a free-flowing, attacking style and you embody the opposite. You are the anti-Wenger, Special One, a manager-coach-military general who sets out to negate your opponents' strengths with stifling defense and an ability to transition quickly on the counter. Just look at your Inter's smothering effort against Barca last year en route to your CL coronation. Frankly, I can't see you turning the likes of Cesc Fabregas and Jack Wilshire into the kind of forceful midfielders you like screening your back four. That might be a little too Herculean, even for you.
You do, however, share one notable trait with Wenger. Neither of you is a particularly gracious loser -- it's either the bog-like field or the biased referee or the clueless schedule makers who are to blame. You do get some credit for at least whining with panache. I especially like when you defiantly cross your wrists in front of your neck in that signature handcuffs gesture as if to say, "I am forbidden from telling the truth because every time I open my mouth, I get hit with a fine or suspension." What a welcome relief that is compared to the Wengers and Sir Alexes, who recite chapter and verse from the Official Book of Managerial Platitudes. We can certainly count on you, Special One, to never be boring. And really, how many managers not working in Blackpool can you say that about in the Premiership?
Certainly not Roberto Mancini, your predecessor at Inter who shares your love of cashmere scarfs and defensive tactics, but, unlike you, is charisma-free.
By the way, did you see that the old Arsenal legend Ian Wright told The Sun last week that Manchester City is "the perfect move" for you? He went on to say: "It makes no difference what Roberto Mancini does until the end of the season if Mourinho becomes available ... The men behind City are plotting world domination and Mourinho is, without doubt, the main man."
Wrighty knows of what he speaks, in spite of his adopted son Shaun Wright-Phillips' inability to ever actually cross a ball accurately into an opponent's penalty area. City has the most assets and elements in place. The size of its transfer kitty is matched only by Sheikh Mansour's ego and ambition; a behemoth worthy of your inflated sense of self. Nor would you have to tinker too much with the current squad, as talented hardmen like Nigel de Jong and Gareth Barry provide the classic ingredients -- grit and physicality -- for Mourinho Ball. After witnessing Samuel Eto'o's renaissance in Serie A under your tutelage, I'm sure you could work similar wonders with Carlos Tevez, David Silva and Edin Dzeko. True, Mario Balotelli, who you tried to run off at Inter, wouldn't be thrilled, but he's probably too busy still throwing darts at his fellow players to care.
ESPN FC on Twitter
Don't miss a moment of the latest soccer coverage from around the world. Follow us on Twitter and stay informed. Join »
I know, I know. Manchester City doesn't exactly trip off the tongue after Chelsea, Inter and Real Madrid. But when you think about it, you would probably be happiest there since the Sheik wouldn't dare question your style as long as you bring him trophies. And surely you can do better than Mancini, whose risk-averse mentality is boring Eastlands and the rest of the league into a coma while not getting the results that the Sheik had in mind when he opened his checkbook. Can you imagine how embarrassing it must be to Mancini to have been bounced out of the Europa League by a club led by none other than Andriy Shevchenko?
The only downside with City is that I have trouble seeing you making the transition from Spanish giants to Manchester United's little brother. Imagine what the Madrid media would make of you saying adios to its storied club in order to join a commuter set of mercenaries in northern England.
So, on second thought, maybe returning to England isn't such a good idea. There is really no perfect fit for you in the Prem. In fact, you've outgrown all club competition in Europe and now it's time to show the world that you're just as much a soccer savior on the national stage. Then after you win the European championships with Portugal in 2012, you can take a year's sabbatical to scour the planet for players to bring to your dream job, the only one in 2013 that is worthy of your messianic pedigree -- The New York Cosmos.
Pele. Cantona. Mourinho. You can't get more special than that.
Com Amor,
David Hirshey
David Hirshey has been covering soccer for more than 30 years and has written about the sport for The New York Times, Time, ESPN The Magazine and Deadspin. He is the co-author of "The ESPN World Cup Companion" and played himself (almost convincingly) in the acclaimed soccer documentary "Once in a Lifetime."