Commentary
Brazil's "new" look seems familiar
Updated:
April 2, 2011, 4:30 PM ET
By
Michael Cox
| Special to ESPN.com
This past week provided soccer fans across the globe with another chance to view their national team heroes in action on the pitch. The international break included some crucial European qualifiers, a number of interesting friendlies and even a couple of home matches for the U.S. national team in New Jersey and Nashville.
Most nation's supporters had the opportunity to see their beloved team play at least one time on home soil during this FIFA-mandated period. But traditional world power Brazil was once again on the road and, believe it or not, the "Samba Kings" have played just one friendly in their home country since 2006.
A mixture of pragmatic reasons -- the majority of the squad plays in leagues outside Brazil -- and financial incentives means the side has gone on what is being shamelessly billed as a rock band-style "world tour" in recent years. They've played in Sweden, in Qatar, in the U.S., and this past weekend they played at London's Emirates Stadium for the sixth time in the last six years -- recording a 2-0 victory over Scotland.
[+] Enlarge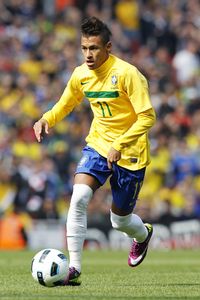 Ian Kington/AFP/Getty ImagesNeymar scored both goals in Brazil's 2-0 win over Scotland, and the young forward's impressive performance in his first game in Europe will only draw more attention from the continent's top club teams.
While I have every every sympathy with Brazilians who wish their heroes would return home more frequently, as a football fan in London it's quite a treat. With successive England managers making friendlies less and less attractive -- Fabio Capello's decision to field something approaching a B-team this week is possibly a new low -- it's a huge privilege getting to see the world's most successful football nation come to town, and I've attended all six matches at Arsenal's stadium.
It's fantastic to get a yearly sample of how the Brazilian side is progressing. For the previous four matches -- all under ex-coach Dunga -- one could see the team being slowly shaped into a group that would contend for the 2010 World Cup. Dunga started off playing a simple 4-2-3-1 system, but over the years he gradually turned the side into an unusual but solid hybrid of a 4-2-3-1 and 4-3-1-2 by tilting the attacking band of three -- Ramires shuttling from the centre of midfield to the right flank, Kaka playing as a central playmaker, and Robinho playing high up on the left hand side, level with Luis Fabiano, the center-forward.
Following Brazil's previous display at the Emirates, twelve months ago against Ireland, I was convinced that they were set to win the World Cup. The performance was unspectacular and the 2-0 win went largely as expected, but Brazil were so disciplined, so organised, and so patient. Each player knew his role, and the extra protection Ramires gave the midfield meant that Robinho and Kaka could focus on doing what they did best -- attacking. Unfortunately, Dunga had no plan B, and when his side went behind against Holland in South Africa, their patient style suddenly became useless.
Named as successor following the World Cup, Mano Menezes was keen to wipe the slate clean. For his first squad last August against the U.S., he kept just four of the 23 players Dunga had taken to South Africa: Dani Alves, Thiago Silva, Ramires and Robinho. Brazil played open, all-out-attack football in that game, and it seemed a new era had begun.
Slowly, however, Menezes' selections are starting to look increasingly like Dunga's. Julio Cesar, Lucio and Elano have been recalled and all started against Scotland. Maicon and Luisao were also back in the squad and, suddenly, this is no longer a "new" Brazil.
Even the players making their debuts had a similarity to the men I saw against Ireland a year ago. With Pato and Nilmar injured, Menezes gave a start to 21-year-old Leandro Damião. Whereas the unavailable duo are skillful, nippy players based around pace and movement, Damião is much more similar to Fabiano -- a classic number nine, strong and able to win balls in the air.
Robinho was rested for this game, but Neymar played exactly the same role. He stayed high up the pitch level with Damião, but started from a wide position outside the Scotland right-back, before coming inside towards goal. He was the game's brightest player, and fully deserved his two goals.
ESPN FC on Twitter
Don't miss a moment of the latest soccer coverage from around the world. Follow us on Twitter and stay informed. Join »
The main change under Menezes has come in the center of the pitch. Whereas Dunga favoured a "double pivot" of Felipe Melo and Gilberto Silva, Menezes entrusts one man -- Lucas Leiva -- to patrol the deep midfield zone on his own. This gives Ramires and Elano the freedom to get forward and join the attack, and with Jadson playing a right-of-center role further forward, Brazil simply attack with one extra player. As a result, they hold the ball higher up the pitch. Previously, as moves developed, Brazil would return the ball to Melo and Gilberto, who looked to switch the angle of the play from deep. Now, there is more interplay in outright attacking positions, though not yet the understanding to consistently unlock the opposition.
This is essentially a side being built from the back. Menezes will use a back four, Lucas will be the main holding player and Ramires will be just ahead of him. Ahead of that, however, it's all up for debate. Brazil have an incredible number of options -- they've called up 68 players in the last 12 months -- but few established world-class players. With Pato, Nilmar, Robinho, Hulk, Ronaldinho and Ganso all hopeful of playing their way into the Copa America squad later this year, no attacker is assured of his place in the side.
The exception is the new superstar, Neymar, who was superb on Sunday. He is what we've come to expect from Brazilian forwards -- he is quick, a fantastic dribbler, a calm finisher and has the ability to pull off fantastic tricks around the opposition penalty box. This was his first game in Europe, but with Real Madrid, Barcelona and Chelsea all linked with him in the European press recently, it certainly won't be his last.
Michael Cox is a freelance writer for ESPN.com. He also runs zonalmarking.net.