Commentary
Is De Rosario the final puzzle piece?
[+] Enlarge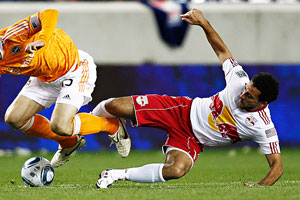 Jeff Zelevansky/Getty ImagesWith the addition of Dwayne De Rosario, the New York Red Bulls have assembled the most complete team in MLS.
When star Canadian playmaker Dwayne De Rosario walked into Red Bull Arena for the very first time as a New York Red Bull this past Saturday morning, he had a quick chat with his new coach, Hans Backe. They talked about wanting to win.
Later that day, De Rosario, in the first game in which he touched a ball in the white and red, would set up Dane Richards for the game's opening goal against Houston after coming on as a halftime sub. That his clean distribution and savvy moves were the last piece in the proverbial puzzle, creating a harmonious rhythm, was plain to see. So, too, was the notion that an already good team, laboring through a bad day and a 1-1 draw with the Dynamo, had become excellent. The team's soft spot -- the playmaker at the top of Backe's midfield diamond -- had hardened. And all De Rosario had cost the Red Bulls was a backup left back (Danleigh Borman), an overhyped young central midfielder (Tony Tchani) and a first-round draft pick.
"It's definite he will be a key player for us," Backe said after the game.
With De Rosario in place, the only justification for New York not to repay the considerable investment the Austrian energy drink empire has made in trying to turn it into the dominant Major League Soccer club has disappeared.
"There really isn't any excuse not to win now," said Red Bulls and U.S. defender Tim Ream. "This franchise has really stepped up and set us up for winning now and getting that first championship. We had a solid team and could have done big things last year, but I think we're even stronger this year, which is kind of crazy to think about. We have unbelievable talent in every position. There's an international-caliber player in every spot."
"There's no excuses now," echoed winger Richards. "We've got such a strong, deep team."
Last year, the club's goal was to make the playoffs; this season, it is aiming for the Supporters' Shield awarded to the team with the best regular-season record, while of course not minding success in the fickle playoffs.
ESPN FC on Twitter
Don't miss a moment of the latest soccer coverage from around the world. Follow us on Twitter and stay informed. Join »
The Supporters' Shield is a target justified by the depth and quality of the squad. In Ream and Juan Agudelo, New York has arguably the two best young players in the league, both starters in the most recent U.S. national team game. Then there's Thierry Henry and Rafael Marquez, two of the best players ever to suit up in MLS. And De Rosario, 32 and likely to be bumped up to the team's third designated player, is one of the most decorated players in the history of North American pro soccer. Backed by a very able supporting cast, New York's roster could be the strongest ever assembled in MLS. On paper, anyway.
"I think we're doing a good job to get a good roster," said Backe. "I think De Rosario was the last piece for us. Our strategy has always been to get 13, 14, perhaps 15 quality players and then work with the younger guys from the academy. I hope we are the best team now."
But getting a talent-rich roster to jell and win on the field is a tricky proposition, one that has tripped up many coaches in the past.
"I was fortunate enough to play with some great players in the past," said Henry. "But we only won when we played as a team. That's what we need to do to win. It doesn't matter who you have in your team, if you don't play as a team, you don't win anything."
"Sometimes you think talent alone is going to help you, but it takes hard work and determination and especially luck to win," said De Rosario.
New York is now in the position of having to win. Whereas most other teams can view winning a title as a goal but not necessarily an obligation, the onus is on the Red Bulls to deliver some hardware. But pressure, as they say, is a privilege, and New York is in a good position to handle it.
But if De Rosario and his teammates fall short, we could be eulogizing the biggest failure in league history.
Leander Schaerlaeckens is a soccer writer for ESPN.com. He can be reached at leander.espn@gmail.com.
Contributing writer, ESPN.com
Leander Schaerlaeckens is a contributing writer for ESPN.com. He has previously written for The Guardian, The Washington Times and UPI.