Commentary
Dancing with the Devils
Updated:
April 14, 2011, 11:40 PM ET
By
David Hirshey
| Special to ESPN.com
MANCHESTER, England -- They call Old Trafford the Theatre of Dreams, but it has never been my fantasy to dance with a Manchester United fan. Yet in the 77th minute of Tuesday's tense second-leg Champions League showdown with Chelsea, I had little choice.
Didier Drogba, a second-half replacement for Fernando "Shevchenko" Torres, had just chested down a Michael Essien pass and lashed the ball through the legs of a sprawled Edwin van der Sar to tie the score at 1 and temporarily silence a raucous treble-dreaming crowd of 74,000.
Then, an astonishing 47 seconds later, before Chelsea owner Roman Abramovich could even sit back down in the director's box after celebrating his team's goal, United responded with the kind of composed and ruthless blow that has typified its remarkable season.
Ryan Giggs, the ageless Welsh winger whose Velcro touch had set up Wayne Rooney's winner in the first leg and Chicharito's opener in the second, was again the architect of Chelsea's destruction. This time, the grateful recipient of his pinpoint cross was Park Ji-Sung, and when the tireless midfielder coolly slotted home for the decisive goal, Old Trafford erupted. Suddenly, I found myself in the sweaty, delirious embrace of the hulking man next to me with whom I had exchanged precisely three words -- "Good luck, mate" -- all night. Wrapped in his husky bear hug, I pogoed along with him and the rest of the ecstatic North Stand before I was able to pry myself free. I tried to inform him that I wasn't even a United fan, but as the dominant chant of the evening kept reminding me:
[+] Enlarge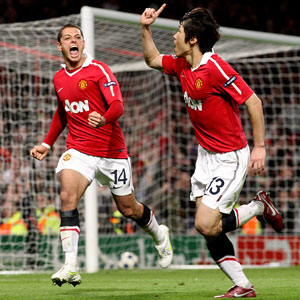 Matthew Peters/Getty ImagesJavier Hernandez and Park Ji-Sung combined to score United's two goals against Chelsea.
"We're United, we'll do what we want."
And United wants a lot.
The Red Devils want a record-breaking 19th league title to mathematically prove what they have known for some time -- that Liverpool is no longer in their class. They want to capture another FA Cup by heaping humiliation on their hated crosstown rival, Man City, on Saturday and continuing on to Wembley for the final. They want to present Sir Alex Ferguson with the prize he covets most, the third European Championship of his illustrious reign. What makes United's ambitions all the more extraordinary is how ordinary we all believed them to be. It took my first visit to Old Trafford to realize how wrong I was.
What I learned Tuesday night is that the conventional wisdom that United is not good enough has yet to seep into its dressing room. Old Trafford may lack the grandeur of Wembley and the scale of the Bernabeu, but the utilitarian array of beams and struts is a direct reflection of the team that plays on its field and the fans who support it. Unlike the swashbuckling 1999 treble winners, United rarely dazzles. In fact, you can make the case that Chelsea, Arsenal, Spurs and Manchester City possess the more glam sides, at least on paper. But games aren't played on paper.
ESPN FC on Twitter
Don't miss a moment of the latest soccer coverage from around the world. Follow us on Twitter and stay informed. Join »
Whereas United plays as a spirited, cohesive team, its latest victim, the Blues, are simply a collection of expensively mismatched parts.
None more so than Torres. When Abramovich purchased the Spanish striker from Liverpool in January, Torres was seen as Chelsea's $80 million Champions League insurance policy -- he wasn't cup-tied, unlike David Luiz, so he could have an immediate impact on the team's European campaign. The Russian oligarch along with the Chelsea faithful have been waiting for a return on his investment ever since. For those of you keeping score at home, that wait is now at 11 games and almost 700 goalless minutes. Somewhere, John Henry and Tom Werner are doubled over in laughter, perhaps plotting a bid to buy him back for $10 million to come off the bench behind Andy Carroll and Luis Suarez.
When Chelsea manager Carlo Ancelotti put Torres out of his misery at halftime, the crowd serenaded the Spaniard with a rousing chorus of "What a waste of money."
Up in the director's box, Abramovich was as grim-faced as a billionaire with a hot Russian girlfriend can be. It must have been especially painful for him to watch Torres' lifeless performance, while Javier Hernandez scored his 18th goal in 20 starts this season and cost United $70 million less than El Nino.
But it is Ancelotti, not Abramovich, who deserves our sympathy. The Italian has four Champions League titles on his résumé (two as a player, two as a manager), yet he will almost surely have his bust added to the Scapegoat Wing at Stamford Bridge. There, he will join an elite crowd of managerial fall guys, including Jose Mourinho, who was forced to play the hapless Andriy Shevchenko simply because Abramovich had spent a mere $45 million for him.
After the game, Ancelotti hinted to reporters that it was a mistake to start Torres over Drogba. Perhaps he played him to appease his meddlesome owner, but he definitely had damaged his team's chances for success, given the constant menace the Ivorian hit man was from the moment he stepped onto the field.
Imagine where the Glazers' checkbook would end up if one of them told Sir Alex whom to play? Not only does Ferguson get to pick his own team, but he also has arguably done his finest-ever job in rotating his players to maximum effect this season.
Forced by injuries and suspensions to mix and match his squad, he has plugged wingers (Giggs and Antonio Valencia) into fullback slots, and on Tuesday he called on John O'Shea to deputize for Rafael da Silva. United fans like to joke that O'Shea is Irish for "end of move," but against Chelsea, the versatile defender actually ignited the sequence that led to United's first goal with a killer reverse pass to Giggs that took out two Blues defenders.
To see how quickly and lethally the strike partnership of Hernandez and Rooney has evolved is to understand why the league's leading scorer, Dimitar Berbatov, is spending more and more time on those comfortably molded seats in the United dugout. With his suspension looming against Man City in the FA Cup on Saturday, Rooney played like a man trying to pack two games into one. He was at the heart of most of United's attacks, and his crossfield passing and early service into the box for Hernandez were more proof that he is edging closer to his old world-class form at a time when United needs him most.
David Hirshey

For more from David Hirshey, check out his columns on all things soccer.
• The All-EPL Team, 2011-12
• Saying goodbye to Chinaglia
• Time to dethrone King Kenny Dalglish?
• In praise of Fulham
• The comeback artists
• Call it a comeback
• Death by Manchester
• The battle for third
• Spurs' title credentials
• EPL's best starting XI
• City handed first EPL loss
• Chelsea pushed to brink
• Fragile egos crossing
• City and United
• Is Newcastle for real?
• The bad-behavior derby
In his program notes, Sir Alex had hoped for a crackling night of European soccer, but the match never rose to that feverish level. Although there is a healthy respect between England's two most dominant sides of the past decade (oh, how it hurts to write that sentence), the occasion lacked the fear (Barcelona and Arsenal) or loathing (Liverpool and Man City) that an Old Trafford "clasico" requires.
Still, my inaugural visit to the legendary United home was a memorable one, full of passionate fans screaming nasty things about John Terry's girlfriend and Ashley Cole's mum. But the enduring image will be of thousands of happy Mancunians streaming out of the stadium singing "Que sera, sera, whatever will be will be, we're going to Wem-blee" and then stopping and singing it again, because they have every right to believe they will be going there twice -- for the FA Cup and the Champions League finals.
David Hirshey has been covering soccer for more than 30 years and has written about the sport for The New York Times, Time, ESPN The Magazine and Deadspin. He is the co-author of "The ESPN World Cup Companion" and played himself (almost convincingly) in the acclaimed soccer documentary "Once in a Lifetime."