Commentary
Lessons from the Champions League
Updated:
April 14, 2011, 1:28 PM ET
By
Michael Cox
| Special to ESPN.com
The Champions League semifinals are now set. What did we learn in the quarterfinals about the teams that made it through to the final four? Here are five lessons to keep in mind before Europe's premier competition returns with the first legs of two highly anticipated ties, Manchester United vs. Schalke on April 26 and Barcelona vs. Real Madrid on April 27.
1. Barcelona has problems at center back
Without
Carles Puyol
and
Eric Abidal
in recent weeks, Barcelona has been stretched at the back. Losing two key defenders would be a blow for any side, but Barcelona has been particularly hampered by the fact that Puyol and Abidal are the club's two quickest defenders. As Barcelona closes down all over the pitch and consequently plays a high defensive line, speed at the back is vital.
With Gabriel Milito now painfully slow and youngster Andreu Fontas not considered ready for first-team football, Pep Guardiola's usual solution has been to use Sergio Busquets as a central defender, alongside Gerard Pique.
Busquets has largely done well out of position, but the first leg against Shakhtar exposed his -- and Pique's -- lack of pace at the back. Shakhtar created chances by playing the ball over the defense and using Luiz Adriano's speed to get onto through balls. And while a 5-1 first-leg defeat makes it look as if Shakhtar was thrashed, it really gave Barca a fright.
Midway through that game, Guardiola tried switching his two center backs, Pique and Busquets, to try to stop the problems Barcelona was having down its right side. In the second leg, he went one step further by using Javier Mascherano at center back for his "pace and experience," as Guardiola told reporters.
Mascherano coped relatively well on the ground, but at 5-foot-8, he struggled in the air. He is clearly not a perfect fit for Barcelona -- and unless Puyol comes back soon, Jose Mourinho will be licking his chops and planning his counterattacks.
2. You can't let Manchester United have time on the ball in the midfield
Chelsea made this mistake in the first leg -- Frank Lampard and Michael Essien stood off and watched Ryan Giggs and Michael Carrick play. Those two controlled the game from the center of the pitch, and also combined to create Wayne Rooney's crucial away goal.
[+] Enlarge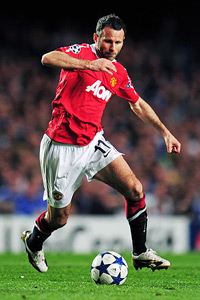 Shaun Botterill/Getty ImagesSchalke will have to make sure that United's Ryan Giggs doesn't get too much time on the ball in the midfield.
Chelsea's use of a 4-3-2-1 Christmas-tree formation in the second leg meant far more pressure upon Giggs and Carrick, and for most of the first half, Chelsea was in the game, closing down well and creating goal-scoring opportunities despite Fernando Torres' woes in front of goal. By overloading the center of the pitch with five midfielders, Blues manager Carlo Ancelotti appeared to have his team selection and formation right.
His side is not used to pressing, however, and with an old squad, plus Torres, Lampard and Essien all looking far from their physical best, Chelsea's tempo steadily dropped throughout the match. The sending-off of Ramires, the team's most energetic player, clearly didn't help. And for most of the second half, United was once again in control. Carrick played simple balls and Giggs provided the pass for Park Ji-Sung's clinching goal. The Welshman assisted on all three of United's goals in this tie.
3. Real Madrid has started preparing for Barcelona already
Jose Mourinho used one of his center backs, Pepe, in a deep-lying midfield position against Athletic Bilbao this past weekend. Pepe is not a complete stranger to the role -- he played there for Portugal in the qualification campaign for last year's World Cup under Carlos Quieroz, and is confident enough on the ball to do a decent job in midfield. Mourinho surely wasn't thinking solely of how to beat Bilbao. It was in that area of the pitch that Real really struggled in the 5-0 defeat to Barcelona this past November, with Lionel Messi operating between the lines. Pepe could be used there in one of the four upcoming Clasicos.
ESPN FC on Twitter
Don't miss a moment of the latest soccer coverage from around the world. Follow us on Twitter and stay informed. Join »
Similarly, on Wednesday against Tottenham Mourinho used left back Marcelo on the left wing, ahead of Alvaro Arbeloa. That may also be preparation for Barcelona, too, and the forward runs of Dani Alves. The right-footed Arbeloa can tuck in and guard against Pedro Rodriguez or David Villa, while the left-footed, energetic Marcelo can track his fellow Brazilian Alves up and down the line.
The team that coped best with Alves at Camp Nou this season is Valencia, which used two left backs in tandem. Mourinho may do the same.
The Real Madrid coach is no stranger to using routine matches as preparation for big occasions. In last season's Coppa Italia semifinal second leg away at Fiorentina, Mourinho tried out an ultra-defensive 5-4-1 system in the second half. It was largely unnecessary -- Inter was in control of the tie anyway -- but it served as a great trial for his famous tactics at Camp Nou a fortnight later, where Inter sat in its own box and didn't attempt to get possession.
[+] Enlarge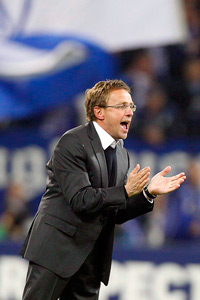 AP Photo/Frank AugsteinRalf Rangnick's Schalke has one focus for the rest of the season -- the Champions League.
4. Schalke will be tricky opponents
Some are casting Manchester United as certainties for the final, but then few gave Schalke a chance against defending champions Inter. A 7-3 aggregate victory was an astounding score line. It was also fully deserved. United will start as favorites, but it won't really know what to expect from the German side. Having replaced manager Felix Magath with Ralf Rangnick two weeks ago, we can't be sure that Schalke's tactics for the tie against Inter is Rangnick's default system, or whether he'll try something completely different against United.
Schalke are also able to focus on the Champions League. Manchester United, Barcelona and Real are all going for trebles -- even if La Liga is probably beyond Real -- but Schalke, 10th in the Bundesliga, can set its sights solely on the European Cup. This will have an obvious benefit in terms of fitness, but also in terms of tactics. Again, Rangnick doesn't need to show his hand in the upcoming league games, so he can spring a surprise when it really counts.
5. The first leg of the semifinals will be crucial
All four of the quarterfinals were essentially decided after the first game. Barcelona, Real Madrid and Schalke took huge leads into the second matches, while Manchester United's 1-0 victory away at Stamford Bridge put the Red Devils in the driver's seat. Don't expect the first legs of the semifinals to be so open, though -- Ferguson, Guardiola, Mourinho and Rangnick are all wily coaches and will start the ties cautiously.
Michael Cox is a freelance writer for ESPN.com. He also runs zonalmarking.net.
Michael Cox
ESPN.com writer