Commentary
Real scores a moral victory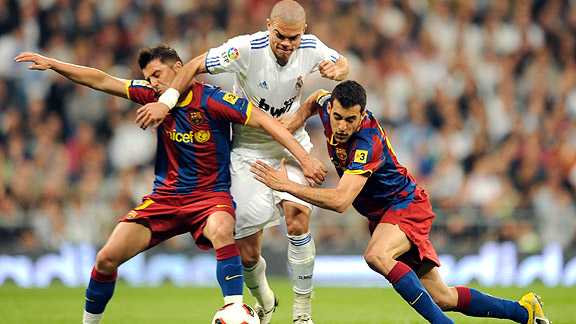 Pedro Armestre/AFP/Getty ImagesA 10-man Real Madrid came from behind to tie Barcelona in the first of four showdowns between the bitter rivals.
In Part 1 of the Battle for Middle Earth, known colloquially as Real Madrid vs. Barcelona or the Clasico, the Blaugranas may have controlled the ball, but Real controlled the space. For once, it wasn't Barca's mastery of the short pass and possession that stole the show, but Real's masterful remedy for it.
By fielding four defenders and three holding midfielders, Jose Mourinho's Merengues made their intentions ever so clear. They would be lined up ultra-defensively, trading in playmaker Mesut Ozil for Pepe as an extra shield to the defense, tasked with trying to contain Xavi and Lionel Messi.
No matter how cynical, it was nevertheless a daring approach. Barca, as is well established by now, plays like a spider, patiently waiting for a fly to get caught in its web, slowing down play until it catches an opponent out of position and then picking him off.
Real pressed furiously but intelligently, shifting enormous amounts of labor and showing incredible positional discipline. It left no space for Barcelona to operate in its preferred final third, forcing it to set up much further from goal, where Real wasn't prone to Barca's lethal through balls. And whenever Xavi or Messi got on the ball, the excellent Pepe, often backed by a teammate, was there to dole out a kick or a shove that, while ineligible for style points, was highly effective.
[+] Enlarge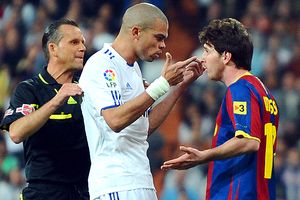 Dominique Faget/AFP/Getty ImagesReal Madrid's Pepe was a key cog in Jose Mourinho's plan to contain the likes of Lionel Messi.
Real let Barca play its game, gifting it 75 percent of possession in the early going, as if to say: "Sure, we'll let you control the game, but within the parameters we set for you."
It's perhaps too generous to call it a shrewd move by Mourinho, but it was nevertheless ruthlessly efficient. Barca was uncharacteristically sloppy on the ball early on and created almost no chances, although it was denied what looked like a penalty on David Villa in the 26th minute. Real's approach worked, in fact, until defender Raul Albiol had to pull the emergency brake on Villa in the box in the 55th minute, getting himself sent off and putting Barca ahead on a Messi penalty.
By the time Barca was in front, however, the damage on its system had been done. Even with a man down, Real had sufficiently perturbed Barca's rhythm and comfort that the match was an even one for the remainder of the game. Mourinho brought on playmaker Ozil for Karim Benzema and striker Emmanuel Adebayor for midfielder Xabi Alonso, and it did the trick as Real relentlessly attacked.
ESPN FC on Twitter
Don't miss a moment of the latest soccer coverage from around the world. Follow us on Twitter and stay informed. Join »
Messi wasn't as influential as usual, going on just a few of his signature runs, and was visibly frustrated when he booted a dead ball into the stands in the dying minutes. That was a sentiment visible throughout the Barca side, where Andres Iniesta was invisible and wing backs Dani Alves and Adriano too busy containing Real wingers Cristiano Ronaldo and Angel Di Maria to go on their usual forays into the opposing half. The chaos was favorable to Real, which started to create more chances and ultimately got an equalizer when Alves took down a surging Marcelo in the box. Ronaldo converted the penalty.
In the latter phases, even down a man, Real was close to scoring the winning goal. It was a testament to the team's fighting spirit, a reflection, too, of Mourinho's smart substitutions in the second half.
This game will go down as a tie, with the La Liga title well in Barcelona's grasp. But on Saturday night, Real's clever approach gave them the moral victory. And that promises beautiful things for the next three showdowns between this pair of juggernauts in the next two weeks.
Leander Schaerlaeckens is a soccer writer for ESPN.com. He can be reached at leander.espn@gmail.com.

Contributing writer, ESPN.com
Leander Schaerlaeckens is a contributing writer for ESPN.com. He has previously written for The Guardian, The Washington Times and UPI.