Commentary
EPL is as American as apple pie
Updated:
April 19, 2011, 8:54 AM ET
By
Roger Bennett
| Special to ESPN.com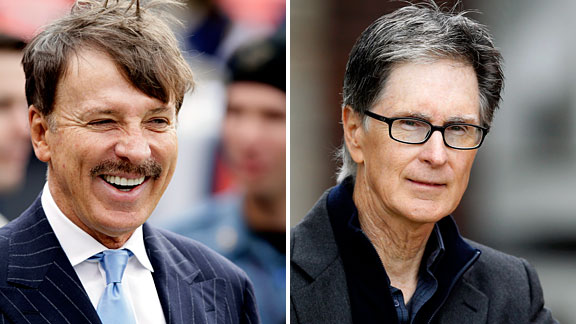 AP PhotosWill the American wave of owners -- such as Stan Kroenke and John Henry -- in the EPL prove to be closet soccer aficionados or cold, calculating sports investors?
I had been in Liverpool for all of 10 minutes before the subject of American ownership of Premier League teams was first broached. After I stepped into a gypsy cab at the airport, the driver, a tubby skinhead named Terry, discovered I was from New York and could not contain himself. As a Liverpool season-ticket holder, he peppered me with questions about his team's new owners before we had even pulled away from the curb.
"Who's dat sportin' fella who just bought into the Reds?" he inquired in his thick Scouse brogue.
"LeBron James?" I responded.
"Yeh! Dat's the lad," he exclaimed with excitement. "What does he play? Baseball or basketball?"
"NBA basketball."
"Whatever. He sounds loaded. Once he comes to Liverpool, he'll catch the football bug and the money will start flowing," he said before losing himself to his dreams. "How much of his cash do you think he's planning to pump into the club? Three hundred, four hundred million dollars?"
Liverpool is not the only city grappling with the pros and cons of American Premier League ownership. Last week, Stan Kroenke, the mustachioed sports magnate from Missouri, who also owns the NFL's St. Louis Rams, MLS's Colorado Rapids and NBA's Denver Nuggets, bought a controlling stake in Arsenal Football Club, joining the Tampa Bay Buccaneers' Malcolm Glazer at Manchester United, Boston Red Sox's John Henry (accompanied by LeBron) at Liverpool, Cleveland Browns' Randy Lerner at Aston Villa and Dallas-based businessman Ellis Short at Sunderland. A quarter of the Premier League is now in American-owned hands. The U.S. might have had a lukewarm relationship with the sport in the past, but English soccer has stealthily become as American as apple pie.
A sense of confusion surrounds what this means and how it will play out. Kroenke, true to his nickname "Silent Stan," has remained tight-lipped about his future plans for Arsenal, triggering a bout of frenzied prognostication as the English media debates whether he will invest money in new players, saddle the club with debt or quickly flip his shares to Russian billionaire -- and Arsenal shareholder -- Alisher Usmanov.
[+] Enlarge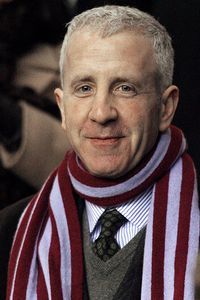 Paul Ellis/AFP/Getty ImagesRandy Lerner cloaks himself in the colors of Aston Villa.
The same sense of uncertainty exists to differing degrees at the other four clubs. Only time will tell whether the American wave of owners prove to be closet soccer aficionados or cold, calculating sports investors. But by examining the factors that have given rise to this Gold Rush-style land grab, it is possible to survey the state of the English Premier League and understand why this surge of American interest has occurred.
1. The real World Series: The global nature of the game
Although none of the American owners was born a die-hard soccer fan, four of the five boast a track record of being savvy sports investors. "These are men who want to be the best at what they do," said Texas Rangers executive vice president Joe Januszewski. He's the person who, while at the Boston Red Sox, helped convince John Henry to invest in Liverpool Football Club. "The fact that the Premier League has become the most watched league in the world, crossing time zones and borders to forge real global connectivity, has fired their competitive spirit."
Bernard Mullin, an Atlanta-based marketer who reportedly has sought a consortium to buy out Everton, concurs, viewing the investment decision as a pragmatic one. "Speculating in soccer carries a real risk, but more than any other sport, it provides instant entré to every country on the globe, and that alone can be intoxicating."
2. Priced to move: Acquisition price offers value
Investment bankers brokering international soccer acquisitions emphasize a figure known as the "Average Revenue Multiple" (A.R.M.), which reflects the ratio of a franchise's annual revenue to the eventual sale price. For instance, the average NBA team has sold for 3.6 times the annual revenue. The A.R.M. for the NHL and MLB is around 2.5. NFL franchises register a robust average of 4.5.
ESPN FC on Twitter
Don't miss a moment of the latest soccer coverage from around the world. Follow us on Twitter and stay informed. Join »
English soccer's A.R.M. computes at a Filene's Basement-worthy 2.0, a number that appears even more eye-catching when the potential upside of soccer is compared to that of an NBA franchise for which a low growth of broadcast rights is projected. "That the values of these [EPL] clubs will continue to rise is a point the press always seem to miss," said Guardian writer David Conn, one of the preeminent analysts of the financial mechanics of the game. "It is a myth that you can't make money out of soccer. Look at the fortune many of the Arsenal directors have just made by selling their shares to Kroenke."
3. The revolution will be televised: The dizzying growth of broadcast rights
Before the advent of the Premier League in 1992, soccer clubs were traditionally operated as a communal good by chairmen who had typically qualified for the job by owning the largest factory in town. The business model, which revolved around maximizing the number of "bums on seats" on game day, was swept away by the establishment of the English Premier League and the torrent of cash that accompanied it in the form of domestic broadcast rights.
The ballooning domestic television rights package (from $496 million for five years in 1992 to $2.8 billion during the most recent three-year cycle) continues to defy the economy, and although dwarfed by the NFL, the projected growth is favorable.
While it evidently has been impossible to satiate the average Englishman's hunger for the game, international rights are a recently discovered goldmine. English soccer has amassed fanatical fan bases in Asia, the Middle East, South Africa, Australia and, to a lesser but still significant extent, the U.S. Bloated by the heft of the domestic contract, the English Premier League has been slow to capitalize on this international opportunity. But after defining a strategy just six years ago, 98 broadcast partners in 211 territories forked over a staggering $2.1 billion in 2009, representing more than a 100 percent increase on the previous deal.
Januszewski said this potential foreign-rights growth played a key role during the due-diligence process leading up to the Liverpool deal. The league provides no official television ratings, but the Red Sox marketers approximated 450 million global viewers tuned in to watch Liverpool's marquee league fixtures with archrival Manchester United in 2010. "Even plus or minus 20 percent, that's a number which dwarfs the Superblowl," Januszewski said. "And you have that clash guaranteed at least twice a year -- for a regular-season game."
4. Virgin territory: Underutilized digital rights
International broadcast rights might be nascent yet fast growing, but the Premier League's digital rights remain a virtually untapped potential profit generator. "In the past, the league has unsophisticatedly treated digital as pretty much an afterthought to be bundled into broadcast deals for no fee," Januszewski said.
Major League Baseball, as a counterpoint, has its MLB Advanced Media for Ad Serving and Monetization Technology Across All Digital Properties and Devices. A tactical division that sounds as if it emerged from the Kremlin, it ranks among the most sophisticated monetizers of rights in sports. If a two-way communication device exists, MLB has worked out how to exploit it.
Anyone who has spent Saturday mornings squinting at an illegally streamed Premier League game on a laptop will know the EPL has vast room for improvement. "Owners who have lived and breathed U.S. sports strategy will be much more savvy if given the opportunity," Mullin said. But David Conn remains unconvinced. "Manchester United always salivate over the 300 million purported fans theoretically ready to download games all over the world," he said. "But they are yet to find a way to fully cash in."
[+] Enlarge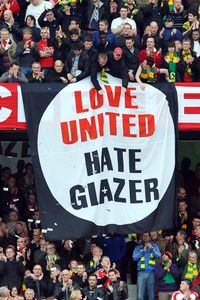 Paul Ellis/AFP/Getty ImagesUnited supporters protest against the club's American owners.
5. Give them the old razzle-dazzle: Exporting American commercial know-how
To anyone reared on the entertainment experience that is American professional sports, the stench of stale lager, fried food and horse dung that hovers over stadiums like West Ham's Boleyn Ground and Everton's Goodison Park on game day must resemble the sweet smell of opportunity. "American sports have developed a sophisticated operational sense that is only just being appreciated in England," Mullin said. "Many Premier League teams are not yet run as profit-maximizing businesses."
The new owners have hired batteries of brand managers and commercial directors to exploit club identities and maximize revenue from concessions, sponsorship, corporate packages and merchandising. "Football club boards used to consist of the best businessmen in town," Conn said. "Now they comprise of the most sophisticated business minds in the world, and fans can feel it in ways big and small."
From Arsenal chief executive (and former MLS deputy commissioner) Ivan Gazidis' inspired "Arsenalization" of the Emirates Stadium, which has cloaked the ground with visual articulation of the club's rich history, to Randy Lerner's savvy rebuilding of a previously abandoned landmark pub at Aston Villa, the American-owned clubs have begun to experiment with strategies fusing the entertainment experience and emotional connection between supporters and club. As if the Americans needed an added incentive, there is no Premier League equivalent of the NBA store. Unlike U.S. leagues, in which merchandizing revenue is shared between league and franchise, the profit from every shirt sold can flow right back to the owners.
Opportunity and growth abound. But as Tom Hicks and George Gillett so spectacularly proved during their ill-fated experience at the helm of the club they once mistakenly referred to as the "Liverpool Reds," an investment in the Premier League is not without risk. From an American perspective, the economic threats of relegation, unbridled agent power, unchecked debt levels and the lack of a league-wide salary cap are volatile idiosyncrasies that can adversely affect return on investment.
But perhaps the biggest challenge is the cultural barrier of the deeply felt histories, traditions and expectations that cloak each team, which can be impenetrable. Conn captured this dynamic in describing the arrival of Liverpool's Boston-based owner John Henry. "When he took his seat to see his first game of English soccer on a windy Derby day against Everton, a game which means so much for both clubs, you had to ask yourself, 'How have we come to this point where the people that own the clubs know little to nothing about the actual sport?'"
But cultural blind spots work both ways. Consider the eternal optimism of the fans -- my gypsy cab driver, Terry, for example. As we neared our destination, he revealed himself as a man ready to embrace English soccer's bright new American dream with a sense of innocence and wonder. "Those Boston guys are well smart -- they've got our team playing trademark pass-and-move football," he said. "Next they will dump a fortune into the club and before you know it, we'll be top of the league again."
As I paid the fare, he added, "The thing I like most about John Henry is that he doesn't talk big. He just acts. You don't hear about a transfer until it's done. The 'Liverpool Way' is back."
Roger Bennett is the co-host of Off The Ball and appears on Futbol Frenzy on "Morning Joe" every Monday. He can be reached via Twitter: @rogbennett