Commentary
What we learned from Arsenal-Spurs
Updated:
April 20, 2011, 7:59 PM ET
By
Ravi Ubha
| ESPN.com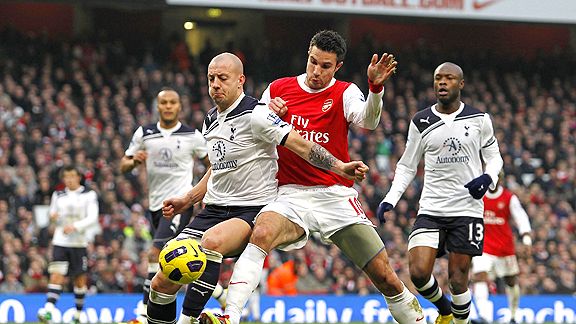 IAN KINGTON/AFP/Getty ImagesArsenal and Tottenham battled to a 3-3 draw, a result that did neither team any good.
The Premier League pendulum continues to swing.
Deflated after a marathon tie with Liverpool on Sunday, Arsenal's spirits were raised when Manchester United dropped points at Newcastle two days later.
Guess what? The Gunners couldn't take advantage, again, relinquishing a 3-1 lead and settling for a 3-3 draw in another pulsating North London derby. Wednesday's result did neither team any good. Arsenal trails United by six points, instead of four, and suffered the ignominy of slipping into third place behind Chelsea on goal difference. Tottenham missed a chance to draw level on points with Manchester City in fourth, the coveted final Champions League slot.
Here are seven takeaways from Wednesday's tilt at White Hart Lane.
1. Arsenal can't defend
Nothing new there, eh?
Opening the scoring deep into injury time against Liverpool, Arsenal defended like (for lack of a better term) headless chickens in the ensuing minutes. The Gunners paid the price.
So, a bit of calm was required after Theo Walcott gave the visitor a fifth-minute lead on Wednesday against Spurs. But no, it took Tottenham all of 82 seconds to level.
When Robin van Persie handed Arsenal a 3-1 lead in the 40th minute, Arsenal had to -- just had to -- enter halftime with a two-goal advantage. But no.
A slack clearance by Cesc Fabregas went straight to Tom Huddlestone, the wrong guy. One of the best long-range shooters in the division, Huddlestone zinged the ball into the corner.
Lack of maturity most often means lack of composure, and Arsenal proved that once more.
Arsenal has won only one of its past six league games, the wrong time for a slump. The most optimistic of Arsenal fans will say at least their team didn't lose after holding a two-goal lead against Tottenham. But that's the kind of thinking for teams finishing in second, not first.
2. Fabregas did his part
That defensive faux pas notwithstanding, Fabregas had one of his better games this season.
ESPN FC on Twitter
Don't miss a moment of the latest soccer coverage from around the world. Follow us on Twitter and stay informed. Join »
And this after his stinging criticism of Arsenal's lack of ambition. .
His vision was there for all to see on Walcott's goal, when he sent the speedster on a breakaway. He also made a pair of breathtaking runs in the second half and forced Tottenham keeper Heurelho Gomes into a great diving save at 3-3. .
Was this Fabregas' final North London derby? We'll find out in two months when the summer transfer window opens.
It also should be said that Walcott had one of his better nights, too, although he made his usual bad decision. With Arsenal leading 3-2 and on the counter, he neither shot nor made a timely pass, and the chance went begging. Arsenal boss Arsene Wenger didn't look very pleased.
3. Bale has seen better days
Another reason Gareth Bale was named PFA Player of the Year? His long throws give Stoke's Rory Delap a run for his money. Seriously, though, Bale had a miserable night, which isn't what he wanted after his weekend accolade.
For the most part in the first half, he was contained by Arsenal right-back Bacary Sagna, who, Arsenal fans will gladly tell you, returned to the starting lineup in place of Mr. Panic, Emmanuel Eboue.
Bale also was crunched twice by Arsenal's towering keeper, Wojciech Szczesny, the second incident reminiscent of an NFL tackle. A limping Bale was replaced to start the second half, and the official reason given was that it was tactical.
4. Arsene erred
Wenger failed to start PFA Young Player of the Year Jack Wilshere, electing for long-legged and mostly frustrating Abou Diaby in central midfield.
Let's just say a tired Wilshere is a cut above a tip-top Diaby.
Diaby fell asleep on Tottenham's opener, allowing
Rafael van der Vaart to glide past him. Then, perhaps seeing the ball was on the Dutchman's right foot, not his favored left, he didn't bother attempting a block.
Diaby conceded possession no fewer than four times in the first half. And most everyone thought he should have been booked for a tackle from behind on Croatian Luka Modric, who was targeted by Arsenal as a player to stop.
Wenger brought Wilshere on for Diaby early in the second half.
5. Arsenal's keeping woes continue
It was the middle of the second half, and here we were, about to extol the virtues of Szczesny. Why not?
The 6-foot-5 keeper looked cool on high balls pumped into the box, dealing with Peter Crouch; he outhustled Bale to get to a pair of balls; and he made a good save to deny Modric.
Then came the moment of madness.
Instead of simply making himself big as Aaron Lennon sped into the box, he recklessly hauled down the winger -- Bale's replacement -- giving Tottenham a penalty.
Szczesny made slight amends with a fine leg save moments later.
6. Droughts over
Van der Vaart and Arsenal midfielder Samir Nasri were fading. Nasri hadn't netted in his past 15 games, van der Vaart in seven.
Both ended those scoring droughts. Van der Vaart was better, showing his early-season form. Nasri sparkled in the first half, making Spurs right-back Vedran Corluka look silly and beating Gomes with a shot from distance.
However, he disappointed in the second half. Not for the first or second -- or third -- time this season, he elected to pass instead of shoot on at least two occasions.
7. Hand it to the ref
Derby games can be a nightmare to officiate, but Martin Atkinson, the man in charge for next month's FA Cup final, didn't make any big mistakes.
He rightfully waived away a Tottenham penalty appeal in the first half when Modric went down, outmuscled by Johan Djourou, and overall kept a lid on the match.
London-based Ravi Ubha covers soccer and tennis for ESPN.com.