Copa del Rey damaged by team bus
Updated:
April 21, 2011, 10:44 AM ET
Associated Press
MADRID -- Real Madrid waited 18 years to win back the Copa del Rey trophy -- only to drop the cup and watch it get crushed under the wheels of a bus.
Only hours after beating archrival Barcelona in the domestic cup final in Valencia, Madrid defender Sergio Ramos let the 33-pound cup fall from the top of the team bus during celebrations early Thursday morning in the capital.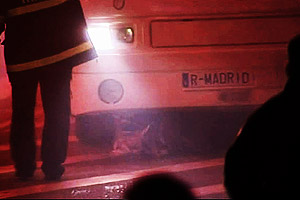 AP Photo/TelemadridThe Copa del Rey trophy fell out of Real Madrid defender Sergio Ramos' hands -- and under the team bus.
The front right wheel of the bus rolled over the trophy before the driver stopped.
The broken pieces were gathered and returned to the bus, but the trophy did not reappear at the club's traditional celebration spot at the Plaza de Cibeles in central Madrid.
"The cup fell, it fell," Ramos said, according to Europa Press agency. "But the cup is OK."
Later, the Spain defender made light of the incident on Twitter.
"The whole thing about the cup was a misunderstanding, it didn't fall ... it jumped off when it reached Cibeles [the fountain in Madrid where the team celebrates its titles] and saw so many Madrid fans," Ramos tweeted.
"Hahahaha ... but don't worry ... have a good day."
Martin: An Instant Clasico

The Copa del Rey final was an instant Clasico, as Real Madrid defeated Barcelona 1-0 in extra time at the Mestalla in Valencia for its first cup title in 18 years, writes James Martin. Blog
---

Yes, Cristiano Ronaldo scored the winning goal in the Copa del Rey final, but Mesut Ozil was Real Madrid's best weapon against Barcelona, writes Leander Schaerlaeckens. Story
The club said Thursday that the trophy will be repaired.
"It is not in good shape, evidently, it was run over by a bus," Madrid spokeswoman Marta Santisteban told The Associated Press. "It has to be fixed."
Once it is whole again, the cup will take its place alongside Madrid's other silverware in its trophy case at the club museum.
Madrid beat Barcelona 1-0 after extra time on Wednesday, with Cristiano Ronaldo's header giving the club its first domestic cup since 1993 and its first trophy of any kind in three years.
Spanish reports said 60,000 fans gathered at Cibeles to celebrate the club's first silverware under coach Jose Mourinho.
"After two complicated years, winning the Copa del Rey is a relief," Madrid captain Iker Casillas said before following the tradition of wrapping a Madrid insignia and club scarf around the Roman goddess that marks the square.

Copyright 2011 by The Associated Press