Commentary
The blame game
Updated:
April 25, 2011, 6:01 PM ET
By
David Hirshey
| Special to ESPN.com
OK, I admit it. I was brutally gut-punched by the events of the past weekend. No, not Arsenal's depressingly familiar late-game collapse that finally pulled the plug on its title challenge. After all, I had already given up on the Gunners winning anything this season but scorn and derision.
What really bummed me out was that I finally had to let go of the sadistic pleasure I took in watching Fernando Torres get his weekly comeuppance -- and for that I blame a fortuitously placed Stamford Bridge puddle. It was from this watery bog that The Greedy One was at long last able to end his astonishing Chelsea scoring drought of 732 minutes. By my calculations, based on this rate of production, Torres should find the net again sometime in September, although from the delirium that engulfed the Bridge after his goal, you would have thought the Spaniard had hit his 2007-08 groove in which he scored 24 times for Liverpool as well as the winner for Spain in the Euro Championships. Or as Frank Lampard put it: "We're now going to see Torres fly." Yeah, I think that's exactly what they told the guy who's coming back to the "Spider-Man" musical on Broadway.
[+] Enlarge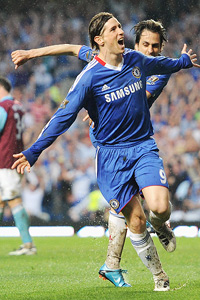 Darren Walsh/Chelsea FC/Getty ImagesOn Saturday, Fernando Torres ended his scoring drought for Chelsea.
So visceral had been the fiendish delight over Nando's goal-scoring misery since his $81 million exit from Anfield that you didn't even have to be a Liverpool fan to experience Torresfreude. It was so bad that even Carlo Ancelotti could no longer bear watching Roman Abramovich's prize asset struggle to prove his overinflated worth and dropped him from the starting lineup for five of the past six league games. One of the small pleasures of every recent EPL weekend was when the camera panned to the Chelsea bench and you saw El Nino not battling for a trophy but fighting to hold back the tears.
Karma can be a bitch that way.
But Torres had fate on his side this weekend. That and I'd already put him on my All-Disappointing Team the day before, so of course he'd score. Plus, it was an Easter weekend; it figures he would pick this time to rise from the ashes of his goalless purgatory. His hydroplaning technique in the West Ham penalty area -- he was able to swivel and finish in one lethal motion -- was worthy of a Goodyear commercial, but there's still a vast chasm between opening his Chelsea account and recapturing his transcendent form of two years ago.
Still, Torres can take heart that for now, at least, he's been replaced at the pinnacle of Mount Schadenfreude by an even more unsympathetic objet de ridicule: Arsene Wenger.
I had promised myself that I was done with Wenger this season. What more was there to say about his classless histrionics in the face of the Gunners' epic meltdown? For the past six weeks, he seemed to be in the midst of an existential crisis, forced like the Jake Gyllenhaal character in "Source Code" to relive the same nightmare until he finds the answer to what's wrong with his team. But Wenger never gets it right. There he was again Sunday, in his finely cut designer suit and perfectly coiffed hair, wagging his finger at us from the touchline in a fit of Gallic pique.
"He used to be the Professor," Harry Redknapp told the English press last week, gently mocking its tendency toward hyperbole. "I read these articles from all these clever reporters who said he sat there like a chess master. … Suddenly they [Arsenal] started losing and he was one of the biggest nutters of all. He's jumping around more than anyone now."
[+] Enlarge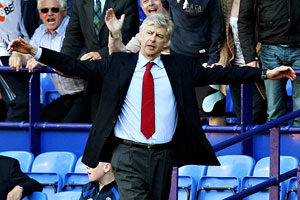 Michael Steele/Getty ImagesAny hope Arsene Wenger had of winning a trophy this season ended Sunday when Arsenal lost to Bolton.
Like Torres, Wenger has an uncanny ability to arouse communal outrage due to their breathtaking sense of entitlement. They each think of themselves as brilliant at what they do -- and their respective careers testify to their self-belief -- but when something doesn't go according to plan, whether it be a botched sitter in the box or a defensive mistake that leads to a last-minute defeat, they react as if they've been personally wronged. Their facial expressions become pinched and they look to the heavens seeking divine retribution. When none is forthcoming, they take out their frustration on either a referee or a water bottle.
And both bring the righteous fury upon themselves. Considering that the Kop had stood by Torres during his post-World Cup funk, when he moped through a string of barren performances for Liverpool, they had every reason to feel betrayed after the Spaniard announced, upon arriving at Stamford Bridge, that he was delighted to be at a "big club." Similarly, does anyone believe that the media witch hunt against Wenger -- and I have reluctantly contributed to it -- was in no way exacerbated by all his haughty talk about quadruples and playing "the proper way" and not resorting to buying trophies like certain other clubs? Now that the world's most irrelevant non-losing league streak is history -- Arsenal went 16 games without a defeat, but eight of those matches were draws, including five of the past six -- we can acknowledge that Wenger's hubris is Special One-worthy. Unfortunately, his record isn't.
Wenger's grandiose manner is tolerated when his Invincibles are tearing through the league undefeated, but it grates when his youth brigade is fumbling away the Carling Cup to the likes of Birmingham City and blowing a four-goal halftime lead at Newcastle. Had the once-visionary Frenchman not persisted in rubbing his philosophy into the faces of his opponents -- while petulantly refusing to shake their managerial hands when Arsenal's rarefied talent came up short -- I sincerely doubt that losing away to Barcelona in the Champions League and Manchester United in the FA Cup would normally be seen as such abject failures. There is no disgrace in losing to two of the best clubs in Europe, but if you keep yapping about how your team plays a superior brand of soccer, and then fail to back it up, you risk being labeled a sanctimonious bore.
Could Sunday's 2-1 defeat to Bolton that turned Arsenal's last flailing attempt to grab hold of a trophy into a desperate fight for third place have been any more appropriate?
For all of its slick ball possession and eye-popping creativity, Arsenal lost on two goals from corner kicks (a "mazel tov" to Tamir Cohen for stripping off his jersey to display the image of his father, Avi, one of Israel's modern soccer pioneers, who died in a recent motorcycle accident. And shame on you, Michael Jones, for giving Cohen a yellow card), because neither Gael Clichy nor Johan Djourou was sufficiently skilled in defending set pieces. Wenger had known from the moment his defensive anchor, Thomas Vermaelen, went down with a severe Achilles injury early in September that the heart of his rear guard was "frail," but his failure to reinforce it in the transfer window has come back to bite him in the derriere so many times that it's amazing there's any flesh left to hold up his pantalons. Quite fittingly, Sunday's first Bolton goal credited to Daniel Sturridge was the result of a soaring header toward goal by the Wanderers' imposing center back Gary Cahill. That's the same Cahill whose $20 million price tag Wenger deemed too expensive in January. Zut alors!
Did Wenger grasp the irony or was he too busy raging at the forces conspiring against him? Although at one point, he slammed a ball into the ground in frustration, you had to wait for the 90th minute and Cohen's hammer blow to fully appreciate the Frenchman's anguish. Whirling around in apoplectic exasperation, he hurled his innocent beverage container to the turf so hard it bounced up before coming to rest. It lay there, battered and empty, much like his reputation as a managerial genius.
David Hirshey has been covering soccer for more than 30 years and has written about the sport for The New York Times, Time, ESPN The Magazine and Deadspin. He is the co-author of "The ESPN World Cup Companion" and played himself (almost convincingly) in the acclaimed soccer documentary "Once in a Lifetime."