Commentary
Grading Real-Barca semifinal
Updated:
April 27, 2011, 6:38 PM ET
By
Ravi Ubha
| ESPN.com
Real Madrid had better cherish the King's Cup, because Los Blancos are almost certainly out of the Champions League after losing 2-0 at home to Barcelona in a heated first leg of their Champions League semifinal. The splendid Lionel Messi scored both second-half goals in the European Clasico.
It may have been anti-football, but Real's self-proclaimed Special One, Jose Mourinho, got his tactics right when the teams met in the league and King's Cup final earlier this month: Sit back, don't waste too much energy chasing the ball in the early stages and counter near the end.
His plan was working well enough Wednesday until Pepe's red card for a foul on Dani Alves. Down to 10 men, Real's resistance was eventually broken, paving the way for another Barcelona-Manchester United final. Messi leads the way as we rate the starting 11 on both sides.
Real Madrid
Iker Casillas, 6: Safe hands. Casillas reacted quickly to deny Xavi at the near post in the first half and showed a strong arm in pushing out David Villa's curled effort in the second. He couldn't be blamed for either goal.
Marcelo, 5: The Brazilian showed his usual good energy and made a vital toe-poke when Pedro weaved into the box in the second half. Unfortunately, his slip allowed Ibrahim Afellay to set up Messi for the opener.
Raul Albiol, 5: It was never going to be easy for Albiol, whose natural position is holding midfielder; he was thrust into the center of defense thanks to Ricardo Carvalho's suspension. Albiol was unaware of Xavi's run into the box in the first half and was one of those run ragged by Messi on the second goal.
[+] Enlarge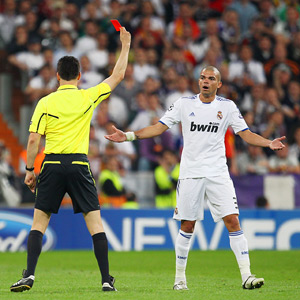 Alex Livesey/Getty ImagesThe referee sent Pepe off for a foot-up challenge on Dani Alves.
Sergio Ramos, 6: He dropped the King's Cup, but Ramos didn't make any major errors Wednesday. He wasn't Messi's responsibility on the first goal and was trying to play catch-up on the second. A blow for Madrid, the yellow he was issued means he won't feature in the second leg.
Alvaro Arbeloa, 5: One of Real's hard men, Arbeloa was fortunate he didn't have to contend with a Barcelona left back who bombed forward. He knew exactly what he was doing in blocking Pedro in the first half, earning a deserved yellow.
Pepe, 4: Did Pepe deserve to see red for his high boot as he charged into Alves? Probably not. But some would say he deserved it on aggregate after manhandling Messi at the Bernabeu.
Xabi Alonso, 4: Alonso's job was to try to dictate in midfield -- difficult against Barcelona -- and produce on set pieces. He didn't deliver. His free kicks were poor, he was scrambling in midfield and he lost Messi on the first goal.
Lassana Diarra, 5: In for the injured Sami Khedira, Diarra at least threw his body around, trying to break up Barcelona's midfield stronghold.
Angel di Maria, 5: Di Maria made two good runs down the left side in the first half, but his decision-making let him down. Gifted a great chance to cross on one, he elected to dribble instead. Chance wasted. His pleading to the referee frustrated.
Cristiano Ronaldo, 5: Mourinho's defensive strategy didn't please Ronaldo, who threw up his hands in frustration as early as the 17th minute. He failed to get the ball past the first man on a pair of free kicks in dangerous positions and shot wide on a shot. He did cause some panic with a looping effort late in the first.
Mesut Ozil, 4: For most of the first half, Ozil didn't see the ball. Then, in what might have been the turning point, he failed to punish Barcelona when alone late in the first half. He was hauled off at halftime.
Barcelona:
Victor Valdes, 5: Valdes, whose progress the past few years has been commendable, almost blew it by spilling Ronaldo's shot. Yes, it was dipping, but we've seen much better from the Portuguese. Valdes made amends by denying Ozil.
Carles Puyol, 8: The numbers tell the story. When the inspirational Puyol plays, Barcelona hasn't lost this season. Out of position at left back, he barely put a foot wrong and mopped up twice when Gerard Pique looked shaky. A real leader.
Gerard Pique, 6: Pique didn't have much to do in the center of defense, which was good because he was fooled by a pair of long balls. With Puyol alongside, his mistakes came to nothing.
Sergio Busquets, 6: Busquets, again acting as an emergency central defender, looked assured. But he was up to his old tricks, essentially diving when Marcelo raised an arm in the first half.
Dani Alves, 6: Funniest moment of the night? Alves gesturing that di Maria dived in the first half. He'd know. To blame on Madrid's goals at the Bernabeu and in the King's Cup, Alves was in the spotlight once more following his clash with Pepe. Shackled in the first half, he went forward more in the second, even before Pepe's red.
Seydou Keita, 5: He's no Andres Iniesta, the man he replaced, but Keita proved yet again that he's a valuable member of Barcelona's squad. Keita kept it tidy, which is what he needed to do.
Xavi, 7: Deprived of his midfield partner in Iniesta, Xavi nonetheless showed his usual class and composure on the ball. His passing was flawless, and he tested Casillas twice in the opening half.
Pedro, 5: Pedro's most notable contributions? Trying to get Arbeloa sent off in the first half and then trying to win a penalty in the second. Subbed in favor of Afellay, who made a difference.
Javier Mascherano, 6: Mascherano got a yellow card and traded insults with Alonso, his former Liverpool teammate. He swept things up in front of the back four.
David Villa, 6: Villa linked up well with the midfield and forced Casillas into a good save in the second half. But after ending his goal drought this past weekend, he was unable to find the back of the net for a second straight game.
Lionel Messi, 9: Without Messi, Barcelona doesn't score, plain and simple. He danced past three players to set up Xavi in the first half, the ball stuck to his foot. His instinctive flick for the first goal was impressive enough. Slaloming past three more players on the second goal and finishing with his right foot, not left, was even better.
London-based Ravi Ubha covers soccer and tennis for ESPN.com.