Commentary
Hahnemann's EPL career nearing end?
Updated:
May 3, 2011, 10:10 AM ET
By
Ravi Ubha
| ESPN.com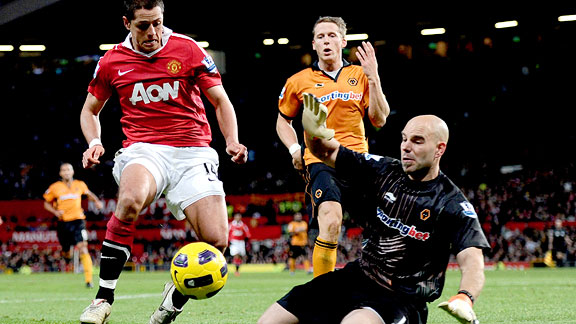 Laurence Griffiths/Getty ImagesMarcus Hahnemann hasn't started much this season, having been benched by Wolves manager Mick McCarthy.
Some pros don't mind languishing on the bench, content to pick up a hefty paycheck. Carlo Cudicini did it in his prime at Chelsea, for example, backing up Petr Cech.
But it's not much fun for Wolves' Marcus Hahnemann, even if he's in the twilight of career. Oh, we're guessing Hahnemann's wages are a little less lucrative than Cudicini's when the latter plied his trade in west London. Not every team has a billionaire owner.
Hahnemann hasn't played for three months, and this after being a key performer as Wolves achieved their No. 1 objective of avoiding relegation in 2009-10.
His last Premier League game came in late November, a 2-1 loss at Blackpool when Hahnemann was stranded, embarrassingly, on a long-range effort from Luke Varney -- one of the goals of the season -- and beaten in the air on a corner kick that led to the second goal.
Wolves' no-nonsense boss Mick McCarthy, who singled out Hahnemann for praise last term, wielded the axe. "We came off, and that was it," Hahnemann said in a phone interview. "He said, 'You haven't had the same effect on the team,' or something similar. I thanked him for letting me know, and that's it. He's the manager, and it's his job to make those decisions. Whether I believed it was right or not, it doesn't matter."
Hahnemann wasn't pleased with his performance against the ever-attacking Seasiders, and McCarthy needed to make a change to freshen things up if nothing else. Blackpool's result handed Wolves a 10th defeat in their previous 12 matches, and not since last April had Wolves kept a clean sheet. It's easier to swap keepers than shuffle the back four.
ESPN FC on Twitter
Don't miss a moment of the latest soccer coverage from around the world. Follow us on Twitter and stay informed. Join »
Welsh international Wayne Hennessey, replaced by Hahnemann early last season, returned between the sticks, and Wolves duly beat Sunderland in a 3-2 thriller on November 27. "I think I've justified (the change)," McCarthy told reporters.
Well, opinion is mixed.
"I didn't think it was fair at the time to drop Marcus," Stuart Earl, chairman of Wolves' oldest official fan club, London Wolves, said in a phone interview. "I thought Marcus was playing well, and I thought the defense was confident with him behind them."
In any case, with only three games remaining this season and Wolves in another relegation scrap, the 38-year-old isn't about to get his place back. Hennessey was the lone bright spot this past Tuesday when Wolves were crushed 3-0 at Stoke City. McCarthy called it the worst display of the campaign.
Hahnemann's contract expires this summer, and like fellow veteran Jody Craddock, he hasn't been offered a new deal. He'd like to stay in England a little longer before finishing his career in MLS, hopefully, he said, with his hometown club Seattle.
"If they wanted me here, they would have given me a contract," Hahnemann said. "That's the way I look at it. That's the only thing you can go by. It's a little bit frustrating, but I just have to wait to see what happens."
Logic dictates if Wolves survive, Hahnemann will get an extension, continuing as the No. 2 behind Hennessey. If they're relegated, a change of direction might be in order for the club.
High-flying Hahnemann
Wolves aren't flying high, but you can't say the same about Marcus Hahnemann. The latest hobby for Hahnemann, an avid hunter and fisherman, is piloting four-seater planes.
"I really enjoy it," Hahnemann said. "All the pressure relating to football just kind of fades away for the few hours you're out doing stuff. You have to concentrate fully on it."
Hahnemann put his newfound skills to good use over the Easter weekend, taking wife Amanda and boys Hunter and Austin, plus the family dog, on a short hop to Wales.
"We spent an hour on the beach and flew back -- it would have taken three hours just to drive there," Hahnemann said. "The boys really like it. They swapped turns in front [in the co-pilot seat]."
When his soccer career is over, Hahnemann says he wouldn't mind flying part time for a living. --Ubha
A few must be wondering how Wolves could be 19th, one point from safety, after topping the likes of Manchester United, Chelsea, Liverpool and Manchester City. Three of those wins were at home, for one, while Wolves have bagged a mere two victories on the road, tied for the worst in the division.
Scoring has been a problem, too, and it's more of a concern down the stretch with top scorer Kevin Doyle sidelined for the next two games, at least, with a knee injury. Steven Fletcher, who netted against Fulham this past Saturday in Doyle's absence, limped off against Stoke with a knee injury, although he returned and scored against Birmingham in Sunday's 1-1 draw.
Wolves' final three fixtures come against teams around them in the standings, beginning with a Midlands derby against West Brom on Sunday. Encouragingly for Hahnemann and teammates, Wolves are 2-1-2 in derby clashes this season. Mind you, Wolves blew a golden chance against Birmingham, unable to get all three points despite playing with an extra man for an hour. Hahnemann has been involved in relegation drama before, going down with Reading in 2008. He said the mood at Wolves is much better.
"At Reading, we had a lot of infighting in the camp and stuff like that, and we don't really have that here," Hahnemann said. "It seems like everyone is pulling for each other, so that's definitely a positive. It got really cliquey at Reading for a little bit. Once it starts, it's hard to change it."
The next month or so should tell us whether Hahnemann will be on the move, speaking of change.