Commentary
Bunbury follows in father's footsteps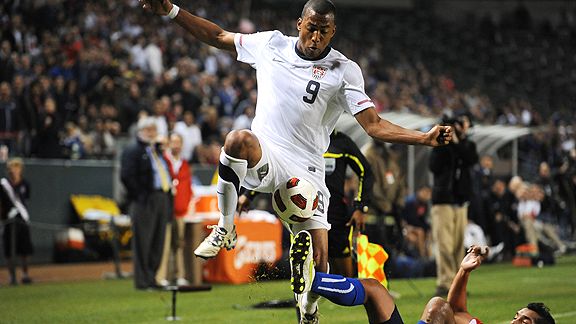 Chris Williams/Icon SMITeal Bunbury is Sporting Kansas City's starting striker, and he scored his first goal for the U.S. men's national team against Chile in January.
Years back, Alex Bunbury was in the car with his second of three children, his oldest son. The boy, 13 at the time, turned to his proud father, a Canadian Hall of Famer who bagged 16 goals in 65 appearances and played for Maritimo in Portugal and West Ham in England.
"Dad?" said Teal Bunbury. "I want to be a professional soccer player like you were."
"You know what that means?" asked the stern father.
"Yes."
"I'm going to push you as hard as you can be pushed."
"I know."
For what happened in the following years Alex is unapologetic. "That was his decision to get pushed," he said last week. "And believe me, he got pushed."
Teal would become the clay and Alex the sculptor who would mold him into Sporting Kansas City's starting striker and one of the best young forwards on the continent.
After Alex wrapped up his long professional career with Sporting Kansas City -- then still the Kansas City Wizards -- in 2000, the Bunburys had moved to Minnesota, where Alex opened a soccer skills academy and became a coach. Alex and Teal, who played for his father's teams, had always shared a closeness borne from the son trailing the father wherever he went during his soccer career, tagging along to practices and lingering in locker rooms. Whenever Alex couldn't take Teal with him on his travels, the toddler would cry and stay up late, peering out the window, hoping this would be the night his daddy came home.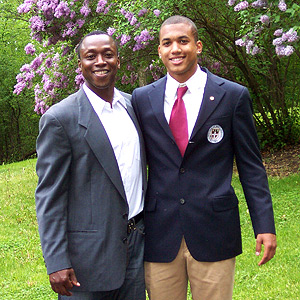 Courtesy of Alex BunburyAlex, left, and Teal have had their differences, but remain close to this day.
Yet if the conversation in the car had never happened, if Teal had never announced his intentions to follow in his father's footsteps, the outcome would likely have been the same anyway. Teal had been nudged towards soccer early. "I knew right away that I was gonna play soccer," the younger Bunbury, now 21, said, sitting upright on a lobby couch in Hoboken's trendy W Hotel in the hours before Sporting's 1-0 loss to the New York Red Bulls this past Saturday. Diamond studs adorned his ears, a tidy goatee decorated his chin. "[My father] started me kicking the ball around with him when I was five-years-old. It wasn't really a choice.
"I wanted to try basketball and maybe football, but he always wanted me to play soccer," Teal added between sips of water. "I didn't play anything else, only soccer. He was maybe going to let me do track, but only because it was good for soccer."
As a teenager, things got more serious. Alex cranked up the intensity. "He pushed me really hard," said Teal. "He's one of those parents that you hear about that push their kids. At the time, I would get frustrated and cry to my mom that he was pushing me too hard and that I didn't want to do it anymore. I was just thinking, 'Why does he keep yelling at me? I can't please him. I'm doing all that I can.' At times, it didn't seem like anything was good enough."
"I did push him," Alex said. "But what I was trying to do was create a thick skin for him because I knew he had a lot of talent. I just wanted him to understand that this is not an easy business. I gave him a lot of tough love. I was tough on him -- believe me I was tough on him."
Teal would often turn down friends looking to hang out, went to bed early, ate right and gave up drinking soda. He stopped doing impressions and joking so much, at the urging of his father.
Teal's protective mother, Kristi Bunbury, was left to referee between the wills of her husband and her boy. "He was very tough on him … to the point where I thought Teal wasn't going to be in soccer," she said. "I thought he was too extreme -- it did cause a rift [in the family]."
"Hundred percent, there was friction," said Teal's older sister, Kylie, an actress whose Disney film, Prom, was recently released. "You had conflicting ideals and personalities."
ESPN FC on Twitter
Don't miss a moment of the latest soccer coverage from around the world. Follow us on Twitter and stay informed. Join »
Kristi and Alex divorced several years ago.
The emotional price paid by the Bunburys, however, did yield a physically and technically gifted striker, who as Red Bulls defender Tim Ream described him, has become "a handful" for defenders.
"He's a big, strong kid and he holds the ball up well and he runs well," said Ream after struggling to contain Bunbury on Saturday night.
After playing two standout seasons for the University of Akron's soccer powerhouse, Bunbury was drafted fourth overall by Sporting Kansas City in January 2010, becoming the first son of a former MLS player to play in the league. Bunbury signed a 3-year Generation Adidas contract that includes two option seasons and paid him a package worth $163,000 last season.
As a rookie, Bunbury scored five times in 13 starts. In his first two starts in 2011, he scored three more. By then, he'd scored his first goal for the U.S. national team, too, converting a penalty against Chile in January.
In his short pro career, Teal has benefited from his early exposure to the pro game. "He understands what it takes to be a pro player," said Sporting head coach Peter Vermes. "In the short time that he's been a pro, Teal has been able to acclimate very quickly because of that teaching that he got from his dad."
That was a value recognized by his college coach, too. "A lot of kids whose dads were pros have a built-in hunger and drive and standard that has been bred in them over the years," said Akron head coach Caleb Porter. "It's a big reason so many of these kids are successful."
Now that Teal's career has gotten off to such a hot start, the Bunburys have developed an appreciation for what Alex did, even if they couldn't before. "In hindsight, I see reasons for all of it," said Kristi.
"If you see Teal as a soccer player, you have to give my father some credit," said Kylie. "My father knows what he's doing."
Teal, too, is grateful for what he was subjected to, in the way that most children come to realize that their parents meant well after all. "Now I'm so appreciative for it," he said. "He knew what it took. Maybe some of the things were a little intense at the time. But looking back, I don't know if I would be the same player I am today if he didn't do those things."
[+] Enlarge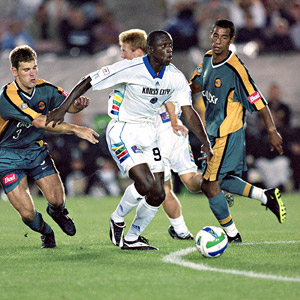 Jeff Gross/Getty ImagesAlex Bunbury wrapped up his long professional career with Sporting Kansas City -- then still the Kansas City Wizards -- in 2000.
And so Teal's younger brother's current ordeal is justified. The youngest of the three, Logan Bunbury is 16 and now also under his father's strict tutelage.
Relationships between fathers and sons are seldom straightforward. Alex's and Teal Bunbury's is complicated by the fact that the son's self-determination isn't manifested in games of pickup hoops on the driveway, like most fathers and sons, but in the spotlight of the national stage.
That made choosing between representing Canada -- like his father had -- or the U.S. all the more difficult for Teal, who was eligible to play for both. After being drafted, Teal said to the CBC, "I was born in Canada … It would feel wrong for me to play for the U.S. I feel a connection with Canada." He nevertheless made his debut for the U.S. in a friendly with South Africa in Nov. 2010, to the disappointment of the Canadian fan base.
"It wasn't an easy decision at all," said Teal. "Looking over it, having grown up in the States and going to college in the States and having the majority of my family in the States, I guess I felt more American. I had to look out for myself and what was best for my career."
"The decision that my son made was one of the toughest decisions he has made in his life," said Alex. "He was hanging onto Canada because he wanted to honor his dad, but his heart wasn't there, and I told him to follow his heart and I would support him. I hope people will back away from that and understand it."
Through it all, the two still share an uncommon closeness. During this pre-season, Bunbury dislocated his elbow in a game. As Teal was being stretchered off the field, Alex called a team staffer and asked to hold the phone to his son's ear, so his son could tell him how bad it was.
"My son and I have this relationship that is second-to-none," said Alex. "We try to relate to each other from a standpoint of having been in this position before. We have the father-son conversations practically on a daily basis. A year or two ago it was every day, but he's grown up to be a man now."
"I still feed off of him," said Teal. "Every game he's giving me things to work on, or giving me pointers."
But their bond doesn't necessarily equate to a like-mindedness. They don't agree on everything, like how different or similar they are. "If you look at how we conduct ourselves, how we view life in general, we're very, very similar," said Alex.
"I think we're very different -- not too many things alike," said Teal, who does concede to a few similarities. "We look alike. And people say we sound alike, which is unfortunate."
They do agree on who is best between the lines -- for now. "I think he's going to surpass everything that I did," said Alex. "I'm going to say my son is better than I was at 21 because he has a better understanding of the game than I did, because Teal had a father who played soccer."
Vermes agrees. He was a teammate of Alex's, and now Teal's coach. "Player-for-player, Teal is a much more explosive player than his father was," said Vermes.
Who will be best in the end, the father or the son, is up to the son. But he, like all sons do, will have to muster the courage to beat his old man first.
Leander Schaerlaeckens is a soccer writer for ESPN.com. He can be reached at leander.espn@gmail.com.

Contributing writer, ESPN.com
Leander Schaerlaeckens is a contributing writer for ESPN.com. He has previously written for The Guardian, The Washington Times and UPI.