Commentary
John Obi Mikel's mission -- stop Rooney
Updated:
May 5, 2011, 3:16 PM ET
By
Michael Cox
| Special to ESPN.com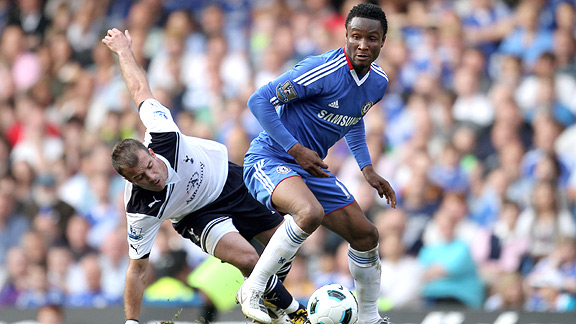 Scott Heavey/Getty ImagesHe doesn't generate the headlines, but John Obi Mikel should play a key role in Chelsea's title tilt against Manchester United on Sunday at Old Trafford.
Sir Alex Ferguson has made some astute transfer decisions in his 24-year spell at Old Trafford. Signing the likes of Peter Schmeichel, Ole Gunnar Solskjaer and Cristiano Ronaldo has proved to be of huge benefit to Manchester United, while the manager has often released players at the right time, too -- Paul Ince, Mark Hughes and Andrei Kanchelskis were shocking departures, but none ever recreated the form he showed for the Red Devils.
But one of Ferguson's biggest coups was a decision he didn't even make. When John Obi Mikel joined Chelsea in 2006, United received 12 million pounds despite Mikel's never having played for United. When transferring from Norwegian club Lyn Oslo, Mikel somehow managed to sign contracts with both Manchester United and Chelsea. After a year of stalemate, it was eventually agreed that Mikel would join Chelsea, with 4 million pounds going to Lyn Oslo, and 12 million pounds to United. Incredibly, it's the fifth-highest transfer fee United has ever received, after the sales of Ronaldo, David Beckham, Jaap Stam and Juan Sebastian Veron.
ESPN FC on Twitter
Don't miss a moment of the latest soccer coverage from around the world. Follow us on Twitter and stay informed. Join »
Mikel made his Chelsea debut in September 2006. Since the Red Devils have won three of the four Premier League titles since then, they've had little reason to wish Mikel was one of their own. This weekend, things might be a little different.
In the past month, the Nigerian midfielder has become a key player for Chelsea. Or rather, he's re-established himself as a key player. Mikel started each of the first 18 games of the Premier League season, before the return of Frank Lampard -- and manager Carlo Ancelotti's indecision about his best formation -- saw Mikel pushed out of the side. The signing of Fernando Torres was also bad news for Mikel, despite Torres playing in a completely different position. Ancelotti tried to incorporate Torres and Didier Drogba into a 4-4-2 rather than 4-3-3, and Mikel, who is at his best in a midfield trio, had less chance of making the starting lineup.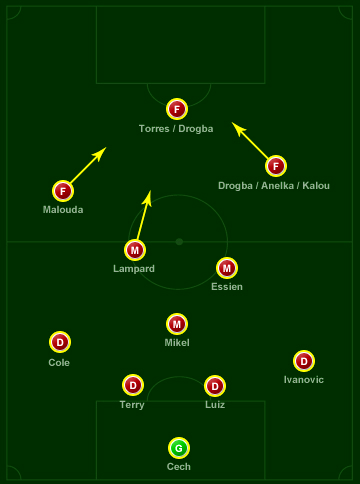 ESPNChelsea's possible lineup for Sunday's match against United: It includes question marks up top, but Mikel's position at the heart of the midfield seems assured.
"I had a good run from the start of the season until about January, and then I wasn't playing so much," he told the Daily Mirror this week. "Now I have started playing again and I just want to keep playing as much as I can."
He's been playing a lot recently. Ancelotti has finally admitted that 4-4-2 doesn't suit his Chelsea side -- ironically, it was the home defeat to Manchester United in the Champions League that seemed to change his mind -- and has reverted to 4-3-3, the formation Chelsea had used since Jose Mourinho took charge in 2004. This has benefitted Mikel, the Blues' only true holding midfielder, and Chelsea's current run of five wins in a row coincided with Mikel's reintroduction.
Mikel's tactical importance in the 4-3-3 is greater than his individual contribution. His main job is pretty simple -- in addition to allowing Frank Lampard and Michael Essien to play higher up the pitch, he breaks things up, distributes the ball reliably and remains in position between the lines of midfield and defense.
That role will be important against United and, in particular, against Wayne Rooney. Now that he is playing in a deep-lying forward role in a 4-4-1-1, connecting the United midfield with Javier Hernandez, opponents need to make sure they have a midfielder goal-side of Rooney. This was the mistake Ancelotti made in the first leg of the Champions League tie -- Rooney had freedom between Chelsea's flat 4-4-2 lines and was the game's key player, scoring the only goal. Conversely, Arsenal manager Arsene Wenger got it right this past weekend when he dropped midfielder Alex Song slightly deeper than usual to nullify Rooney.
[+] Enlarge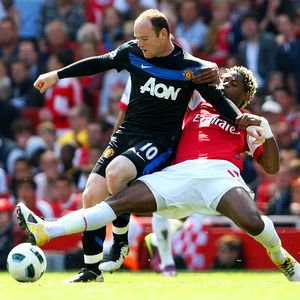 John Peters/Man Utd/Getty ImagesLast weekend, Arsenal's Alex Song dropped deeper to contain Wayne Rooney. Expect the same strategy from Chelsea's Mikel.
Mikel is aware of his tactical duties for the trip to Old Trafford. "When you play teams like Tottenham, Arsenal or Manchester United, these teams can hurt you in counterattack," he said this week. "This [stopping the counterattack] is one thing the manager and the defenders behind me have asked me to do in this game." With United content with a draw and Chelsea needing a win to close the three-point gap between the sides, United's counterattacks might be its main threat.
It remains to be seen what Ancelotti will do further up the pitch. He started Drogba on the right of a 4-3-3 against Tottenham on Saturday, but he will surely be forced to choose between the Ivorian and Torres up front, with someone more comfortable in a wide role -- Saloman Kalou or Nicolas Anelka -- coming in on the right.
But regardless of Ancelotti's decisions up top, Mikel's position at the heart of the midfield seems assured. And it could be a key difference in this title tilt.
Michael Cox is a freelance writer for ESPN.com. He also runs zonalmarking.net.
Michael Cox
ESPN.com writer