Commentary
Thomas Rongen out as U.S. U-20 coach
[+] Enlarge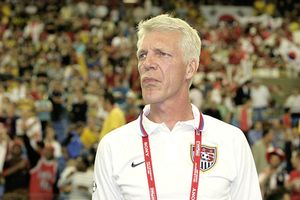 Getty ImagesWhile the U.S.'s World Cup performances under Thomas Rongen were mixed, the head coach excelled in unearthing young talent.
After almost nine years in two stints as head coach of the under-20 U.S. Men's National Team, Thomas Rongen was relieved of his duties on Thursday.
"The decision was made to not renew Thomas' contract when it expires at the end of the year," Neil Buethe, a spokesman for the U.S. Soccer Federation, said. Rongen will be put to work elsewhere within the USSF until his deal ends on Dec. 31.
In the wake of the U.S.'s failure to qualify for the upcoming U-20 World Cup in Colombia during a CONCACAF championship in Guatemala in April, control of the squad was handed to Rongen's assistant and former senior national team standout Tab Ramos on a temporary basis. The U.S. Soccer Federation stressed that Ramos isn't an official successor to Rongen. "Tab is going to be leading the team during the upcoming [eight-day] trip in France, but he's not an interim coach or the head coach," said Buethe.
Rongen was in charge from 2002 through 2004 and 2006 until Thursday. (In between, he had a 10-game stint as head coach of expansion MLS team Chivas USA.) As U.S. head coach, he had a 7-3-2 record in World Cup qualifying and was 7-5-1 during U-20 World Cup play.
ESPN FC on Twitter
Don't miss a moment of the latest soccer coverage from around the world. Follow us on Twitter and stay informed. Join »
Although his records were positive, the U.S.'s World Cup performances under Rongen were a mixed bag -- quarterfinals in 2003 and 2007 and elimination in group play in 2009. Nonetheless, he was credited with unearthing countless college players who went on to play regularly for the senior national team, such as Clint Dempsey, Stuart Holden, Charlie Davies and Sacha Kljestan. Similarly, Rongen discovered foreign-based players who were eligible to play for the U.S. and stocked his U-20 side with them. Recently, he brought in highly rated prospects such as Zak Whitbread, Mikkel Diskerud, Omar Salgado and Conor Doyle. Conversely, Rongen was blamed for letting Borussia Dortmund's Serbian defender Neven Subotic get away.
Through his recruiting, Rongen was said to have assembled the most talented U.S. U-20 side ever. Yet the team stumbled in the quarterfinals of the CONCACAF U-20 championship by losing 2-1 to home team Guatemala last month, when a win would have qualified the U.S. for an eighth consecutive U-20 World Cup.
Rongen is at peace with the decision, he told ESPN.com. "I think if the criteria are to win and go to the World Cup each and every time with all of our teams, then this is a logical step," he said of his dismissal as head coach. "I've been in this business long enough to understand that. It's always a fine line of winning over development, or development over winning, but I do understand the decision and I respect it."
Rongen claims he tried to convince the federation to let him keep his job. "I stated my case to stay on, because I think continuity and my experience from the nine years that I've been there would weigh heavily over the decision based on one game," he said. "I don't think one game has made me a better or worse coach."
The 54-year-old Dutchman had hoped that his recruitment of new players and subsequent strengthening of the player pool as a whole would have given him more credit. "I'm disappointed I wasn't judged on that," he said. "But I understand it."
The coach won't rule out a return to MLS, where he has managed four teams and won a championship with D.C. United in 1999. But he hopes his track record will move U.S. Soccer to create a new position for him, allowing him to focus his attention on recruitment and building relationship with new players' clubs. "There isn't a job like that, but I feel there is a need for that position. We need to be even more active in that role," he said of being a recruiter. "I think I'd be the ideal person for that. I've laid the foundation. I know the people."
Rongen hopes he will be given a chance to try out for such a role until his current contract runs out.
The federation isn't dismissing a new job for Rongen out of hand. "He obviously has abilities that are going to be beneficial for the organization from now until the end of the year," Buethe said. "We have from now until Dec. 31 to have conversations with Thomas to find out if there's a role that makes sense for both parties involved."
"I know there's a place for Thomas Rongen somewhere in this country in some capacity," Rongen said.
Leander Schaerlaeckens is a soccer writer for ESPN.com. He can be reached at leander.espn@gmail.com.

Contributing writer, ESPN.com
Leander Schaerlaeckens is a contributing writer for ESPN.com. He has previously written for The Guardian, The Washington Times and UPI.