Commentary
Five takeaways from United's win
Updated:
May 8, 2011, 6:56 PM ET
By
Ravi Ubha
| ESPN.com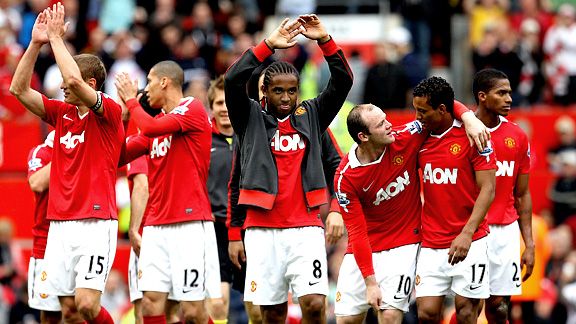 Alex Livesey/Getty ImagesThe most unpredictable season in Premier League history is shaping up to have a predictable end, with United all but locking up a record 19th title.
Hope sprung eternal for Chelsea as it readied to face Manchester United in Sunday's Premier League title decider.
Not only had the Blues reduced the deficit at the top of the table from 15 points to three, but they were the last team to win at Old Trafford and had claimed three straight in the league against the Red Devils. No wonder the Chelsea faithful felt their side could pull off the biggest comeback in Premier League history.
Then, faster than you can say Chicharito, it was all over. All that fuss for nothing.
Javier Hernandez's goal within 36 seconds rocked the visitor, a blow it never really recovered from. United ran out a 2-1 winner.
So, the most unpredictable season in Premier League history turned out to be quite predictable in the end, with United all but locking up a record 19th title.
Here are five takeaways:
1. David Luiz: From hero to goat
When Chelsea beat United 2-1 on March 1, the game that gave the Blues hope, Luiz drew all the attention. Simply put, he was Chelsea's catalyst.
Luiz finished brilliantly to make it 1-1 and was all over the place in defense -- both good and bad. For instance, the Brazilian should have been sent off for manhandling Wayne Rooney.
The tables were turned Sunday.
Luiz was at fault on Hernandez's goal, playing him on-side and also initially moving in the wrong direction, giving the Mexican plenty of space between himself and central defensive partner John Terry.
ESPN FC on Twitter
Don't miss a moment of the latest soccer coverage from around the world. Follow us on Twitter and stay informed. Join »
Good thing for Luiz that he was a fair distance from boss Carlo Ancelotti. If looks could kill, Luiz would have evaporated on the spot, though he didn't think he was at fault.
"It's not me," he mouthed in Ancelotti's direction, suggesting innocence.
Luiz lasted until halftime before being hauled off for his countryman, Alex. Luiz better avoid Ancelotti on the team bus.
2. Park Ji-Sung: From goat to hero
Park, always in the lineup for big games, doesn't often do wrong. But the South Korean was to blame in United's 1-0 loss at Arsenal last week, failing to match the run of goal scorer Aaron Ramsey.
Park made up for it. He was brilliant against Chelsea, setting up Hernandez with a defense-splitting pass and almost adding another assist 10 minutes later as Hernandez made a run toward the far post.
His shot from distance stung the palms of keeper Petr Cech, and United scored not far after the ensuing corner to make it 2-0. He was at his battling best in the 45th minute, haranguing Michael Essien to earn a corner.
Park's turn left the Chelsea defense scrambling early in the second half, too. You can bet he won't be left out of the Champions League final this time by United manager Alex Ferguson.
Nemanja Vidic, sent off in March, scored the eventual winner. He was always destined to play a key role -- after being spared a red card for a deliberate handball against the Gunners.
3. Drogba was the right choice
Ancelotti had to decide whether to start Didier Drogba or Fernando Torres up front. In the end it wasn't that difficult of a choice, since the Ivory Coast international was beginning to look like his old self following a bout of malaria. Torres hasn't exactly come to life since ending his goal drought against West Ham.
Drogba didn't score, but he wasn't a non-factor, either. He tested Edwin van der Sar with a free kick midway in the first half, and a yard more to the right, he would have beaten a stranded van der Sar on another free kick.
Torres, on as a second-half sub, misfired on a good chance in the 87th minute, unwisely aiming for the near post instead of going across goal. Fifty-million pounds doesn't buy a lot these days.
4. The ref got lucky
Howard Webb, he of the World Cup final, was lucky Manchester United won the game. Otherwise he'd never hear the end of it from Fergie.
Webb had a shocking game.
He should have dismissed Branislav Ivanovic in the first half, but kept a second yellow card in his pocket when the Serbian brick wall fouled Rooney.
Worse was to come. Webb failed to award a penalty when Frank Lampard stuck out an arm in the box -- perhaps he needed help from his linesman -- and looked on like a statue when Terry's outstretched leg brought down Antonio Valencia in the box. Webb was in a good position.
Mind you, he'll probably be praised for not brandishing a red.
5. Keep him around
It was somewhat strange to hear Fergie urging van der Sar to retire, as he planned, at the end of the season. He's been in such good form. Fergie probably has a replacement lined up and doesn't want to embarrass the 40-year-old by sticking him on the bench.
Van der Sar didn't need to make any spectacular saves Sunday, but he was as assured as ever between the posts, not messing up on Drogba's free kick and reacting quickly to push away Salomon Kalou's close-range header. Tidy.
If he does quit at the end of May, how he'd love to finish his career with another Champions League winners medal.