Sergio Ramos holds onto trophy
Updated:
May 11, 2011, 4:15 PM ET
ESPN.com news services
MADRID -- This time, Real Madrid defender Sergio Ramos held on tight to the Copa del Rey trophy.
The Spanish international had dropped the 33-pound cup under the front tire of the open-top bus containing the celebrating Madrid players last month, requiring it to be repaired ahead of Wednesday's ceremony at Madrid City Hall.
[+] Enlarge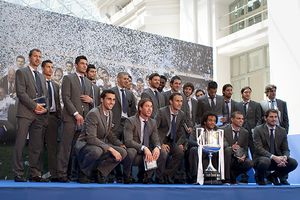 AP Photo/Arturo RodriguezIf the Copa del Rey trophy gets dropped this time, at least the fall will be much shorter. Real Madrid poses with its cherished and repaired cup at a celebration in Madrid.
The trophy officially was presented to the fans in Madrid.
"Thank you very much for all being here with us," Ramos told the crowd. "Don't worry, the cup's secure, it won't fall."
Madrid coach Jose Mourinho broke a self-imposed silence to thank the fans, and team president Florentino Perez said, "This title was an obsession -- but now we can dream of more successes."
Madrid beat Barcelona 1-0 after extra time April 20, with Cristiano Ronaldo's header giving the club its first domestic cup since 1993 and its first trophy of any kind in three years.
Ramos and his teammates were rejoicing aboard the bus in the early morning hours after the match, cruising the Madrid streets past thousands of fans. The cup tumbled to the ground, where it was broken into pieces by the bus' front right wheel.
Ramos managed to make light of the incident on Twitter.
"The whole thing about the cup was a misunderstanding, it didn't fall ... it jumped off when it reached Cibeles [the fountain in Madrid where the team celebrates its titles] and saw so many Madrid fans," Ramos tweeted.
Fortunately, the owner of the Madrid jewelers that made the trophy had a replica at the ready, which went on display at the club's trophy museum inside the Santiago Bernabeu stadium.
Information from The Associated Press was used in this report.