Commentary
Ibrahimovic has earned the right to brag
Updated:
May 12, 2011, 2:50 PM ET
By
Michael Cox
| Special to ESPN.com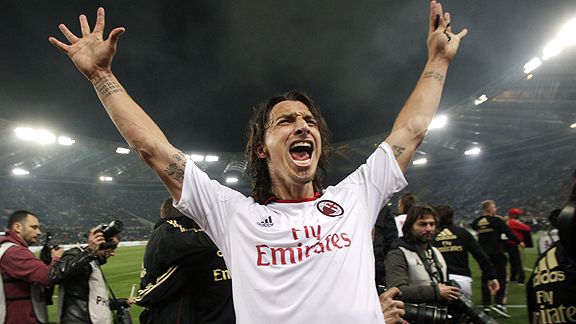 AP Photo/Pier Paolo CitoNot too shabby: With Milan's title-clinching draw at Roma this past Saturday, Zlatan Ibrahimovic has won eight consecutive league titles with five separate clubs.
In the aftermath of Milan's title-clinching draw at Roma this past Saturday, Zlatan Ibrahimovic was asked when he truly knew his side were going to win the title. "From the first day," he replied. It was a good example of why he's often accused of being overconfident, but it's easy to see why he was so convinced. This triumph is the eighth consecutive league title the Swede has won, a run sustained across five separate clubs, in three different countries. It's an extraordinary record.
There is still a large group who remain unconvinced by the Swede, however. A major reason for this doubt is Ibrahimovic's Champions League record, particularly in the knockout stages against major clubs. Indeed, while Ibrahimovic has the Midas touch when it comes to league titles, he appears to have the opposite effect in Europe. In 2008-09, Barcelona won the Champions League when Ibrahimovic was at Inter. Then he joined Barcelona, and Inter triumphed. Now Ibrahimovic has left Barca, and they're once again in the final, while Ibrahimovic didn't make it past the second round with Milan.
Champions League performances count for a lot when it comes to a player's reputation, especially a reputation outside the player's own league. Many outside Italy won't have seen Ibrahimovic's excellent performances all season in Serie A and will judge him solely on the basis of a couple of high-profile games against Tottenham. Although there's plenty to be said for showing your true quality in the biggest games, consistency across an entire season, while less likely to grab headlines, is what managers love. It's also what brings league trophies.
Ibrahimovic's failings in the Champions League shouldn't be confused with failings in big games, per se, which is a frequent, if misplaced, criticism. Ibrahimovic is a master in big games -- domestically, at least. He was the key player in this year's first Milan derby, causing his ex-Inter teammates all sorts of problems, as well as winning and scoring the decisive penalty. At Barcelona, he volleyed home the only goal of the game six minutes into his first-ever Clasico.
[+] Enlarge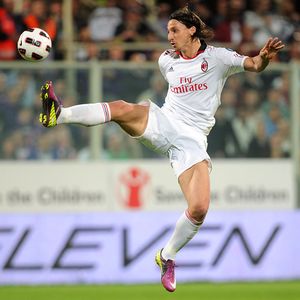 Alberto Lingria/Getty ImagesAs one newspaper summed up Ibra's influence: "Serie A is a tournament in which various teams compete, and then at the end Zlatan Ibrahimovic wins."
And a "big game" is not just a match against a big club -- it's about the context of the encounter. On the final day of the 2007-08 season, for example, Inter needed a win away at Parma to be sure of the league title. Ibrahimovic had been out for seven weeks with a knee injury, but bravely entered play in the 51st minute to score the only two goals of the game while barely able to sprint properly. That was a big game.
In his time in Italy, Ibrahimovic has been a joy to watch. His all-round play and touch on the ball is wonderful, and he's among the most skillful players to have plied his trade in Serie A. Take his ludicrous overhead pass with the outside of his foot against Lazio a couple of years back. Extravagant? Definitely. Pointless? Perhaps. But it's certainly enjoyable, and in a slow league that is sometimes overly concerned with strategy, Ibrahimovic adds a touch of flair. When that's coupled with a willingness to do the scrappy things, and potency in front of goal, you have an all-round fantastic striker.
However, the eight league titles to his name require a caveat, because two of them won for Juventus were subsequently revoked after the Calciopoli scandal in 2006. But a common counterargument against Ibrahimovic's run that he has simply turned up at already successful clubs and joined in the fun is unfair. Only at Barcelona did he join a club that had triumphed the previous season, with a slight exception for Inter, which was handed the 2005-06 title when Juventus was denied it. But Inter hadn't won the title outright for 18 seasons before Ibrahimovic joined. Milan hadn't won it for seven seasons until Sunday night. Only at Barcelona does that criticism stand up, and even then, it's not much of an argument.
ESPN FC on Twitter
Don't miss a moment of the latest soccer coverage from around the world. Follow us on Twitter and stay informed. Join »
Despite his continued success in Italy, that single season at Barcelona may define Ibrahimovic's career. It wasn't as much of a failure as some would have you believe. He scored 16 goals in 29 league games, of which only 23 were starts. Yes, any striker playing up front for Barcelona should get a few goals, and yes, his all-round game didn't quite fit with the rest of the side. But that is by no means Ibrahimovic's fault. Indeed, he was bought specifically because Barcelona wanted a plan B -- a taller, more physical striker who could bring something different to their short-passing attacks.
Besides, when it really mattered in that semifinal against Inter, Pep Guardiola got his tactics wrong. Ibrahimovic's static presence played into the hands of the aging duo of Lucio and Walter Samuel, when a strikeforce based around Barcelona's quick, small, mobile players was surely the way to go from the start. As Inter dropped deeper and deeper, Ibrahimovic could have come off the bench to provide more of a physical presence in the box, as the pace of Barcelona's other forwards became less of a threat. Guardiola hasn't made many mistakes as a manager, but that was one -- and Ibrahimovic unfairly got the blame. It was easier to point the finger at the expensive newcomer, rather than at the manager who has been responsible for such success.
Milan's manager, Max Allegri, has used him correctly this season, and Ibrahimovic has been the focal point in Milan's title-winning side. Perhaps the big Swede needs a team that is based around him, both in terms of his playing style and his ego. And maybe he has learned from his time at Barcelona. "He collaborates in the defensive phase and doesn't just exploit his technical and physical ability in attack, but moves in time with the team," Milan's legendary former manager Arrigo Sacchi told reporters earlier this season.
Of course, Ibrahimovic is only on loan at Milan, with no guarantee that he will be there next season. He said he wants to stay, Barcelona probably doesn't want him back, and Milan vice-president Adriano Galliani has promised to buy him. Then again, back in August, Galliani said there was no chance of Ibrahimovic arriving in the first place.
La Gazzetta dello Sport summed it up this week: "Serie A is a tournament in which various teams compete, and then at the end Zlatan Ibrahimovic wins."
Serie A has finally got over its period of Inter dominance, but it can't shrug off the Ibra influence.
Michael Cox is a freelance writer for ESPN.com. He also runs zonalmarking.net.
Michael Cox
ESPN.com writer