Commentary
The Sky Blues are sky-high
Updated:
May 14, 2011, 2:06 PM ET
By
Ravi Ubha
| ESPN.com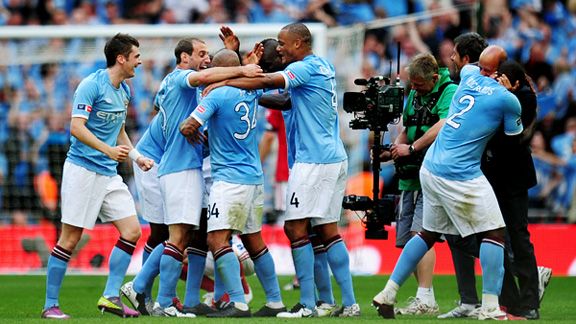 Shaun Botterill/Getty ImagesOn a day when United won the league for the 19th time, Manchester City finally won its first major title, the FA Cup, since 1976.
Both sides of Manchester will be partying deep into the night. Heck, maybe even with each other.
While United collected a record 19th league title Saturday, City finally added some silverware to its dusty trophy cabinet by downing Stoke 1-0 in the FA Cup final on Saturday at Wembley, which was bathed in red, sky blue and sunshine.
The 35-year wait is over.
Now that City has gotten the monkey off its back, the question is how many more trophies will follow? The club has the cash and the cachet of Champions League football next season. We may look back at City's FA Cup win as a turning point in its history.
And don't let the score fool you; the final wasn't all that close. City dominated until finally making the breakthrough in the 74th minute courtesy of, you guessed it, Yaya Toure.
Toure netted the winner against United at Wembley in the semifinals and has lived up to his reported 220,000 pounds-per-week salary -- or at least City fans will think so. There haven't been many better two-way midfielders in England this season.
Here are three takeaways from the game.
The gamble that worked
City boss Roberto Mancini had a couple of key decisions to make. Should he start two up front? His answer was no.
ESPN FC on Twitter
Don't miss a moment of the latest soccer coverage from around the world. Follow us on Twitter and stay informed. Join »
Should he start the erratic -- yet at times brilliant -- Mario Balotelli? His answer was yes. That was surprising, given Mancini's cautious approach in important games.
Mancini stuck his Italian compatriot on the left side of midfield, rather than opting for conventional winger Adam Johnson or the safe choice of James Milner. The move paid off.
Balotelli stuck to business and was highly effective. His back-heel to David Silva began the crucial passage of play that led to Toure's goal, and the ball eventually made its way to Toure after Balotelli's shot from inside the box was blocked.
Balotelli almost opened the scoring in the 24th minute, too, cutting in and forcing Stoke keeper Thomas Sorensen into a diving fingertip save. Eleven minutes later, Tevez and Balotelli linked up to set up Silva.
And in the dying minutes, Balotelli embarrassed Stoke defender Andy Wilkinson by going through his legs.
Much of the City faithful haven't warmed to Balotelli, but this performance will sway them a little bit.
The gamble that didn't work
No player wants to miss an FA Cup final, Matthew Etherington included. Most thought Stoke's playmaking winger would skip the showpiece after injuring his hamstring at the end of April, but he got fit enough, apparently, and was among the starting 11.
Bad decision by Stoke manager Tony Pulis. Etherington was nowhere near 100 percent. He didn't chase a pass in his vicinity early in the match and was a nonfactor for the first 45 minutes.
His only useful contribution came seconds before being substituted in the 63rd minute: Etherington's long pass over the top found striker Kenwyne Jones, whose toe poke hit an onrushing Joe Hart, who made the save.
Mind you, it was Stoke's finest and only real opportunity. The Potters' threat on the other wing, Jermaine Pennant, didn't finish at full fitness, either. Pennant, lively in the first half, rolled his ankle late in the first 45 minutes and wasn't the same in the second half.
So there was more heartache against City at Wembley for Pulis, who lost in the League One playoff final in 1999 while with Gillingham. At least Stoke has the Europa League to look forward to next season.
Living up to the stereotype
Stoke, wrongly at times, has been labeled a dirty team. Central defender Robert Huth -- like Etherington, questionable before the game -- didn't do anything to alter that perception Saturday.
Huth deliberately stuck out an elbow that floored Balotelli in the 14th minute. The ref and his assistant missed it, so no card was given. Lucky for Huth, since the German picked up a yellow for a reckless challenge in the 40th minute. But those questionable tactics didn't matter. The color of the day in London was blue.
London-based Ravi Ubha covers soccer and tennis for ESPN.com. You can follow him on Twitter at @r_ubha.