Commentary
Award time for the EPL
Updated:
May 23, 2011, 3:12 PM ET
By
Ravi Ubha
| ESPN.com
The Premier League season is, sadly, history.
Manchester United inched past Liverpool as England's most successful league side with a 19th title, cash cow and city rival Manchester City achieved its goal of reaching the Champions League, Chelsea surprisingly crumbled and the relegation dogfight went to the final day.
For Arsenal fans, it was the same old story.
We look back on the 2010-11 campaign, beginning with the EPL's most valuable player.
MVP: Nemanja Vidic, Manchester United
While Tottenham's Gareth Bale was busy earning plaudits for his pace and dribbling abilities, Vidic did the dirty work -- and yes, sometimes it was dirty -- with United. The Serb was the lone mainstay in the center of defense, given Rio Ferdinand's injury woes. Had Vidic missed any significant time, United wouldn't have won the title.
Manager of the season: Roy Hodgson, West Brom
Here's what we learned about Hodgson: Stick him with a modest team and he'll overachieve. See his work with Fulham. Conversely, put him at the helm of a big club and he'll stutter. Hodgson, admittedly working with a less-than-stellar Liverpool squad, still stunk up Anfield, losing nine of his 20 Premier League games. But after joining West Brom, he lost a mere two of 13 games to steer the Baggies to safety.
Most watchable team: Blackpool
Every neutral who follows the Premier League wanted the Seasiders to stay up. And they almost did. Ian Holloway's team was proof that you don't need extraordinary players to play attractive soccer. That said, midfielder Charlie Adam is destined to join a less-modest club. Blackpool never abandoned its style, even in the midst of a second-half swoon, netting 55 league goals. Please earn promotion from the Championship again.
[+] Enlarge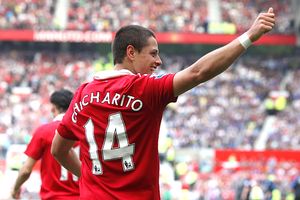 Matthew Peters/Getty ImagesUnited's acquisition of Chicharito was the best bit of business this past season.
Best transfer acquisition: Javier Hernandez, Manchester United
If a reincarnation of the Six Million Dollar Man is in the works, Hernandez should fill in for Lee Majors. We'd alter the title to Six Million Pound Man. Hernandez, all of 22, scored important goal after important goal for the Red Devils. The Mexican's contribution was particularly needed, since Wayne Rooney didn't take off until the second half of the campaign. Few hypothesized that Hernandez would usurp Dimitar Berbatov as United's partner up front to Rooney, but it happened.
Most disappointing team: Arsenal
"Disappointing" implies something was expected from Arsenal, and no one really thought the Gunners would win the title when the campaign began. But with United not as good as in years past and Chelsea nosediving, this was Arsenal's chance to eclipse the big two. Instead, still lacking class and experience at several positions, Arsenal stuttered when it mattered most, winning two of its final 11 league games.
Biggest collapse: Chelsea
You could understand Arsenal's lapse, given the youth on offer. However, Chelsea's slide blindsided most everyone. Injuries didn't help. Frank Lampard, John Terry and Michael Essien all missed crucial chunks of the season, with striker Didier Drogba taking a while to recover from a bout of malaria. And let's not forget about the dismissal of boss Carlo Ancelotti's right-hand man, Ray Wilkins, a popular figure at the club, before Ancelotti himself left after the team's last game. We're all waiting to see who stays and who else goes in the offseason.
Biggest revival: Liverpool
Once Hodgson left Liverpool, the Anfield faithful were happy. They were happier still when "King" Kenny Dalglish was brought in as his replacement. Dalglish galvanized the Reds. They rose to such an extent that Europa League soccer beckoned before a surprising loss to Tottenham in the second-to-last week, and this turnaround happened largely without skipper Steven Gerrard. Liverpool's owners couldn't ignore the results and finally handed Dalglish a three-year contract. On the field, forward Luis Suarez, signed in January, had plenty to do with Liverpool's resurgence.
Biggest transfer flop: Fernando Torres, Chelsea
Will Torres come good? Of course. It's really only a matter of time. Torres and Drogba can't play together, which means the latter probably won't be one of those sticking around Stamford Bridge. In the short term, Torres was awful, especially given his inflated 50 million-pound price tag. He needs to be fit entering next season.
Worst sacking: Chris Hughton, Newcastle
The writing was on the wall for Hughton when he wasn't offered an improved contract by owner Mike Ashley after Hughton guided the Magpies from the Championship to the Premier League. He was doing just what was required of him early, too, steering Newcastle away from the relegation places when he got the axe in early December. Newcastle had thrashed local rival Sunderland 5-1, beat Arsenal on the road and drew Chelsea at Stamford Bridge. Hughton's successor, Alan Pardew, was hardly the big-name manager the fans were hoping for.
[+] Enlarge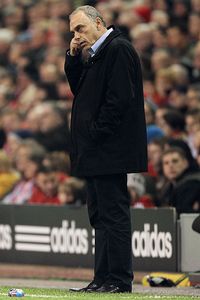 Alex Livesey/Getty ImagesAvram Grant was the wrong man for the West Ham job.
Sacking that should have been earlier: Avram Grant, West Ham
From all indications, Grant is a likable man. Yet he doesn't seem to inspire his players. His body language on the sidelines is horrible, if he exhibits any at all. Despite perennial injury problems, there's no way West Ham should have been relegated -- the first team to go down, in fact -- with the talent it put on the pitch, including one of the best players of the season, Scott Parker. Grant's firing, after the Hammers were relegated in the season's penultimate week, came too late.
Game of the season: Newcastle 4, Arsenal 4
Of all the points Arsenal dropped, this fixture at Newcastle was the most embarrassing. Sailing along at 4-0 for the Gunners, this game was over. This author (in a different time zone) went to bed, only to wake up the next day to discover Newcastle had pulled off one of the finest rallies in years. Even if Arsenal had a man sent off, holding on for 20 minutes shouldn't have been an issue. Newcastle got help in the form of a controversial penalty, but Cheik Tiote's long-range leveler was a thing of beauty.
London-based Ravi Ubha covers soccer and tennis for ESPN.com. You can follow him on Twitter at @r_ubha.