Commentary
Alex Ferguson's legacy in Europe
Updated:
May 25, 2011, 11:18 AM ET
By
Michael Cox
| Special to ESPN.com
Manchester United's 19th league title was widely seen as Sir Alex Ferguson completing his job at the club -- "knocking Liverpool off their perch," in his words. The problem with being such a committed, determined competitor is that there is no such thing as finishing a job. There's always more to do -- trophies to defend, records to set. Everyone needs some form of motivation to carry on, and there's no doubt that Ferguson will have another goal to focus upon.
The first opportunity to further his legacy comes this weekend, when Manchester United faces Barcelona in the European Cup final at Wembley. While Ferguson has made United the most successful side in the history of English football, there's still plenty of work to do in Europe.
Not just in terms of the overall European Cup count. United are on three, and even if they win a fourth, they'll be five behind Real Madrid. That might turn out to be one challenge too many for Ferguson. His short-term objective will be winning the European Cup in style -- for the first time. In 1999, United won the Champions League in extraordinary fashion. They'd been outplayed by Bayern Munich, and trailed 1-0 going into stoppage time. Incredibly, they emerged 2-1 winners.
[+] Enlarge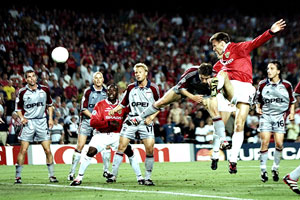 Ben Radford/Getty ImagesUnited's Teddy Sheringham scored the equalizer and then headed a ball goalward, which Ole Gunnar Solskjaer put away, to give United a dramatic win in the 1999 final.
"Tonight it was not the best team that won, but the luckiest," Bayern's Lothar Matthaus said after the final whistle. "We had the match in control for 90 minutes. We had bad luck, hitting the post and the crossbar. What happened afterwards is simply inexplicable."
Sour grapes? Definitely. An element of truth? Probably.
Nine years later, United triumphed over Chelsea in Moscow after a tense decider on penalty kicks. "It's my first-ever victory in a penalty shoot-out," Ferguson grinned afterward. "Apart from a couple of Charity Shields, but you can't count them. I'd lost three at Aberdeen and I'd lost three at United. So, seventh time lucky."
"We got a little bit lucky with the slip from John Terry, otherwise it would have been all over," Edwin van der Sar said.
That word keeps coming up: luck, something every side needs along the way. It's difficult to pinpoint a Champions League winner that hasn't relied upon fortune at some point, such as a favorable refereeing decision or a welcome deflection. Most United supporters probably don't care too much. Can you think of your side winning a trophy in a more dramatic, memorable way than in 1999?
To extend the pattern, no English side has ever emerged victorious from a Champions League final it actually dominated. Arsenal, United, Liverpool and Chelsea have all advanced to the final and been defeated, and the only other English winner of the competition in the Champions League era is Liverpool in 2005. Again, that match was won in extraordinary circumstances -- 3-0 down at halftime and played off the pitch, Liverpool mounted an astonishing comeback to take the game on penalties. English football can rest assured that it has seen the European Cup return to these shores after the most dramatic finals. But not after the best performances.
[+] Enlarge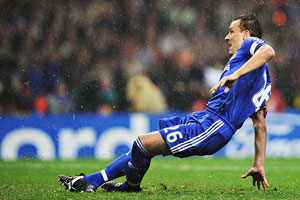 Shaun Botterill/Getty ImagesIf not for John Terry's slip, Chelsea -- not United -- would have won the 2008 Champions League.
There have been some wonderful displays in the final of this competition.
• Milan's 4-0 victory over Barcelona in 1994 was a ludicrous exhibition of football -- the Barca side of Romario, Hristo Stoichkov and Pep Guardiola was outthought and demolished by Fabio Capello's legendary side.
• Ajax's 1-0 win over Milan in 1995 was not as spectacular in terms of the scoreline, but the overall performance was fantastic, and with such a young team (seven of the 11 starters were products of Ajax's academy), it was a remarkable victory that earned respect from across the continent and is still remembered fondly.
• Dortmund's 3-1 win over Juventus in 1997 saw a great performance from the Germans, nullifying Zinedine Zidane and exploiting Juve's weaknesses at the back. The result was sealed with youngster Lars Ricken's 20-yard lob with his first touch after coming on as a substitute.
• Porto's 3-0 victory over Monaco in 2004 was classic Jose Mourinho. A tightly packed defense kept the French side out, while ruthless counterattacking saw Porto the deserving winner, and a rare win for a "smaller" European nation.
• Barcelona's 2-0 win over United in 2009 ended up extremely comfortable for the Spanish champion. A nervy opening 10 minutes for Guardiola was turned on its head by Samuel Eto'o's opener on the break, then Lionel Messi nodded in a second and Barca passed their way to victory.
ESPN FC on Twitter
Don't miss a moment of the latest soccer coverage from around the world. Follow us on Twitter and stay informed. Join »
So there you have it -- dominant performances in the final by Italian, Dutch, German, Portuguese and Spanish sides. Truly fantastic spectacles, tactically intelligent, technically superb. English football can only point to United and Liverpool's amazing comebacks. Perhaps that's perfect for summing up those old-fashioned values the English cherish so much -- character, spirit, togetherness, persistence -- but in terms of putting on a show for the rest of Europe, we're still waiting.
It will be difficult for United to change this at Wembley. Barcelona, after all, is possibly the best side of this generation. It exerts an unprecedented influence upon the games it contests, and its dominance of possession is something no side has worked out how to stop.
United doesn't have to be in control of the ball, however. It simply has to be in control of the game. No one expects champagne football against Barcelona -- if we're talking aesthetics and a dominant display to rival the best performances in the history of this competition, a backs-to-the-wall strategy followed by swift counterattacking will do perfectly. United have carried out this approach brilliantly in recent years.
The 1999 and 2008 Champions League-winning United teams were fantastic. The class of 2011 isn't held in such high esteem -- the worst Premier League winner ever, according to some. Nevertheless, there's an increasing grudging respect for Ferguson and his players, and coupled with widespread disappointment at the theatrics from both sides in the recent Clasico series, United might enjoy the support of more neutrals across England than usual.
Now the Red Devils have the chance to put in a performance against Barcelona that even non-United fans are forced to respect. It wouldn't elevate the side above the two previous United winners in terms of quality, but a truly controlled display might prove to be the greatest legacy Ferguson leaves in Europe.
Michael Cox is a freelance writer for ESPN.com. He also runs zonalmarking.net.