Commentary
Americans abroad report card 2010-11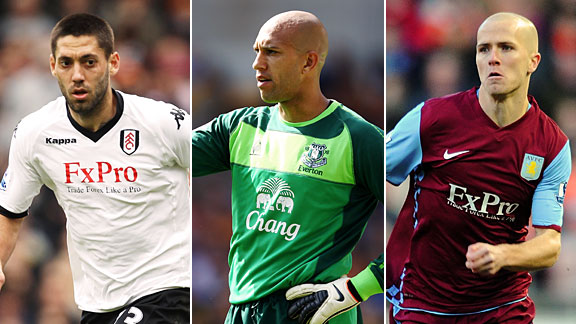 Getty ImagesClint Dempsey and Tim Howard had superb seasons, but Michael Bradley rode the bench during his time at Aston Villa.
On the eve of the 2011 Gold Cup, with attention turning toward the U.S. national team once more, most Americans playing overseas are wrapping up their European club seasons (with the exception of those playing in Norway and Sweden).
Cumulatively, the Americans abroad had another watershed season, pushing the international reputation of the U.S. export product up another notch with solid contributions across the board. In this they were led by Fulham winger/forward Clint Dempsey, who had arguably the best season of any American ever to play in Europe, not only breaking Fulham's all-time Premier League scoring record with 33 goals, but setting a single-season best for an American in the EPL with 12.
Here's how the Americans regularly in the national team picture graded out over the 2010-11 season:
Freddy Adu, M, Rizespor, Turkey (second division): B+
Adu wisely set aside his ego in February to ensure he'd finally get some playing time and joined a club in Turkey's second tier. In this, his fourth loan away from Benfica, which bought him from Major League Soccer in 2007, he finally has become a regular. Adu has repaid Rizespor with four goals, helping his new club to a spot in the promotion playoffs and himself to a spot on the U.S. Gold Cup roster.
ESPN FC on Twitter
Don't miss a moment of the latest soccer coverage from around the world. Follow us on Twitter and stay informed. Join »
Jozy Altidore, F, Bursaspor, Turkey: C
Altidore was warmly received after his January-transfer-window loan from Villarreal to Bursaspor, as the club was in dire need of a goal scorer. But Altidore made only a dozen appearances and scored a lone goal. He has yet to demonstrate that he can hang in a serious European league, while his spot on the national team is also being scrutinized.
DaMarcus Beasley, M, Hannover 96, Germany: D
Beasley's offseason move from Rangers to Hannover proved to be a disaster. He made just four appearances as a substitute and got off one whole shot this year -- which was, in his defense, on target.
Alejandro Bedoya, M, Orebro, Sweden: B+
Bedoya is off to a hot start in his third season in Sweden since coming out of Boston College, with four goals in nine games for the 2011 season. This could be a breakout year for him and a chance to draw interest from bigger clubs, such as Birmingham City, which had him on trial in February.
Carlos Bocanegra, D, Saint-Etienne, France: B+
After running into a coach who didn't value him, U.S. captain Bocanegra was sold by Stade Rennais to storied AS Saint-Etienne, which ended eighth, three places below Rennais. There, Boca made 33 starts in 37 games.
Michael Bradley, M, Aston Villa, England: D
For the first time in years, Bradley has found himself on the bench this season. After he left relegation-threatened Borussia Monchengladbach for Aston Villa on loan in January, he has made just three appearances as a substitute. Bradley has always had an uncanny ability to play up to the next level. But without being given much of a chance, his progress stagnated this season.
Edson Buddle, F, Ingolstadt 04, Germany (second division): C
A career MLS-er, Buddle, at age 29, parlayed a cameo appearance at the World Cup and a 17-goal season with the Los Angeles Galaxy into a contract with Ingolstadt in January. With Ingolstadt, he has played regularly but managed to score just three times.
Timmy Chandler, D, FC Nurnberg, Germany: A-
A revelation in his first call-ups to the U.S. national team against Argentina and Paraguay in March, the right wing back turned in a strong debut season with Nurnberg, which he helped finish in sixth place after coming in 16th last season.
Steve Cherundolo, D, Hannover 96, Germany: A
The inexhaustible right back captained Hannover, also a relegation candidate last season, to fourth place in his 13th season with the club. The "Mayor of Hannover" might be 32 now, but he isn't slowing down yet.
Ricardo Clark, M, Eintracht Frankfurt, Germany: C+
In another season marred by injuries, Clark recovered, won a starting job and then got injured again -- a most common thread in his two seasons in Germany since leaving the Houston Dynamo. After seeing the field just three times in 2009-10, Clark played 10 times this season. He is expected to stay with his relegated club, though.
Clint Dempsey, M/F, Fulham, England: A+
"Deuce from Nacogdoches" had yet another new manager to win over at the beginning of the season, after former Manchester City manager Mark Hughes replaced Roy Hodgson. As usual, Dempsey dutifully obliged, leading his team to eighth place in the Premier League and ending high in the league scoring charts with a team-best 12 goals.
Mixx Diskerud, M, Stabaek, Norway: B
Recently kicking off his second season as a regular with Stabaek, Diskerud, 20, could be ready for a breakout year. His club is in third place, and Diskerud has started in every game. But he won't be able to use the national team as a platform, given that he didn't make the cut for the Gold Cup in spite of two promising debut games with the U.S. this year.
[+] Enlarge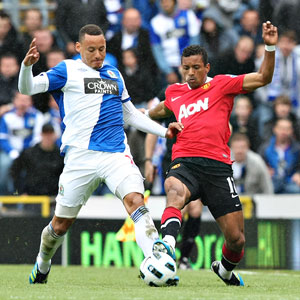 Matthew Peters/Getty ImagesJermaine Jones made a January-loan move to Blackburn Rovers, where he had a solid second half of the season with 15 starts.
Maurice Edu, M, Glasgow Rangers, Scotland: B+
Edu, playing in a new position as a more attack-minded central midfielder, had a tumultuous year in Scotland. Although he scored key goals in the Champions League against Valencia and in the Europa League against Sporting, he also scored an own goal in that Valencia game and suffered a dip in form so severe that he was heavily criticized by the fan base. Still, Edu was important for Rangers, which won its third consecutive Scottish league title since Edu's arrival.
Robbie Findley, F, Nottingham Forest, England (second division): Incomplete
Another player who managed to turn playing time at the World Cup into a move from MLS to Europe, Findley signed with Forest in mid-January but got injured almost immediately and didn't make his debut until mid-April. It's hard to judge a player on 37 total minutes of action.
Brad Friedel, GK, Aston Villa, England: A-
While Aston Villa underperformed and scraped out only a ninth-place finish, Friedel did no such thing. Having just turned 40, the indestructible keeper started in every game and was once again a reliable asset to his club, even if his 59 goals conceded were on the high side.
Clarence Goodson, D, Brondby, Denmark: C+
The lanky central defender transferred from Norwegian club IK Start in November. But he has made just eight appearances since making his move, although he did score a goal.
Brad Guzan, GK, Aston Villa, England: B-
Without a prayer of getting some playing time for Villa so long as Friedel refuses to age, Guzan took a loan to second-tier Hull City, where he started 16 times and conceded 14 goals. Guzan is a capable goalie who just needs a chance somewhere.
Marcus Hahnemann, GK, Wolverhampton Wanderers, England: C
Hahnemann lost his job 12 games into the season to the promising Wayne Hennessey and made just two more starts the rest of the way. While his club managed to avoid relegation, don't be surprised to see Hahnemann's 12-year stint in England come to an end. Most likely, he will replace the retiring Kasey Keller between the sticks in Seattle.
Stuart Holden, M, Bolton, England: A
Holden came into his own in midfield this season for Bolton, where he repaid the faith manager Owen Coyle has long shown in him. In 26 appearances he notched two goals and two assists, but in spite of this seemingly modest production he was useful in a heap of other ways for Bolton. With Holden, Bolton long looked like a candidate for a spot in next year's Europa League. And then he found himself on the receiving end of a nasty tackle. Again. Yielding him a long-term injury. Again. Since then, Bolton dropped down to 14th place.
Tim Howard, GK, Everton, England: A
Howard has shown himself time and again to be an athletic, confident and reliably well-above-average net-minder. This season was no different. You have to wonder how long it'll be until he gets another crack with a top EPL team.
[+] Enlarge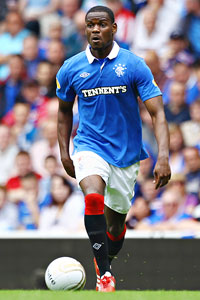 Jeff J Mitchell/Getty ImagesMaurice Edu helped Rangers win a third consecutive Scottish league title.
Jermaine Jones, M, Blackburn Rovers, England: B+
After falling out with Schalke 04 manager Felix Magath and getting dumped to the reserve squad, Jones made a January-loan move to Blackburn Rovers, where he had a solid second half of the season with 15 starts. It's abundantly clear that the versatile German-born central midfielder is by far the best man the U.S. has in that position, judging by how easily he fit into the Premier League.
Sacha Kljestan, M, Anderlecht, Belgium: B+
In spite of helping his side win the Belgian regular season, Kljestan missed out on winning the Belgian title courtesy of its strange postseason round-robin. That said, he had a most serviceable first season abroad, appearing in 23 games and getting himself three goals.
Eric Lichaj, D, Aston Villa, England: B+
The 22-year-old right back had a hard time cracking the lineup for Villa and went on loan to Leeds United in the second half of the year. There he impressed in 16 starts. In his first three games with the national team, Lichaj gave the fan base cause to trust that the future of the defense doesn't look so bleak after all.
Oguchi Onyewu, D, FC Twente, Netherlands: C
Onyewu wrapped up another difficult season. After his first season at AC Milan was lost to injury, it became clear rather quickly that the club had no use for him this season, either. In January, he left for FC Twente to be reunited with his former Standard Liege manager, Michel Preud'homme. But with the two central defender spots already firmly held down by others, Onyewu was relegated to playing left back for a spell while Nicky Kuiper was injured and warming the bench the rest of the way. All Gooch got out of the deal were nine appearances within the Netherlands and five in the Europa League.
Jonathan Spector, D/M, West Ham United, England: B-
In a truly bizarre season under since-fired manager Avram Grant, Spector found himself constantly alternating among being glued to the bench, being a regular substitute and being a starter. The all-purpose defender quickly learned that he'd been retooled as a midfielder, finding some success in that line in limited time, scoring twice against Manchester United in the Carling Cup. However, with Grant gone, the Hammers relegated and his contract up soon, the future is uncertain for Spector.
David Yelldell, GK, Duisburg, Germany (second division): B
After TuS Koblenz was relegated to the third division last year, Yelldell moved to Duisburg and became a starter from day one. Having started every game this season, Yelldell helped Duisburg log an eighth place in the 2. Bundesliga, conceding 38 goals in 34 games and making his debut for the U.S. against Paraguay in March.
Leander Schaerlaeckens is a soccer writer for ESPN.com. He can be reached at leander.espn@gmail.com.

Contributing writer, ESPN.com
Leander Schaerlaeckens is a contributing writer for ESPN.com. He has previously written for The Guardian, The Washington Times and UPI.