Commentary
How Barca broke my heart
Updated:
May 28, 2011, 8:20 AM ET
By
David Hirshey
| Special to ESPN.com
Among the many things my father taught me growing up -- don't talk with your mouth full, never pay retail and don't have a love child with the housekeeper -- was that FC Barcelona represented a Utopian ideal. "They play the game as God meant it to be played," he was fond of saying when we attended matches at the Nou Camp (Dad's company was headquartered on the outskirts of the city) during the glorious reign of Johan Cruyff's "Dream Team" of the early 1990s.
The memories of that fabled side are still seared into my brain: the vision and acceleration of the great Danish winger Michael Laudrup; the skill and steel of the Bulgarian genius Hristo Stoichkov; the power and composure of the Dutch defender Ronald Koeman; the warrior-like spirit of a gangly 19-year-old Spanish midfielder by the name of Josep "Pep" Guardiola. Playing the fluid, attacking Total Football style that Cruyff made famous with Ajax and Holland in the 1970s, Barca won its first European Cup in 1992 at Wembley.
Flash forward 19 years and not much has changed, soccer-wise. This Saturday, Barca will attempt to win another continental title at the same venue. To most of the world, which has already anointed the Blaugrana as the greatest team ever, this figures to be a mere formality. But for the sake of all that is good and noble and doesn't invade Ryan Giggs' privacy, I'm hoping they're wrong.
[+] Enlarge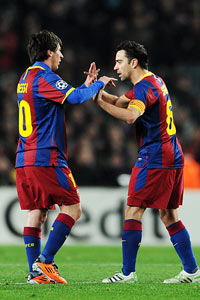 Jasper Juinen/Getty ImagesLionel Messi and Xavi have led Barcelona to heights that rival the achievements of the "Dream Team" of the early 1990s, but has play-acting in recent big matches tarnished the club's image?
As much as it pains me to admit it, I have fallen out of love with the Catalan giants. It has nothing to do with the way they play, which, if possible, may be even more heavenly than my father thought back in the day. For all the transcendent talent that Cruyff's juggernaut boasted, they stand in the shadow of Xavi's and Iniesta's audacious eye-of-the-needle passing and the breathtaking brilliance of Lionel Messi's goals. But lately that wonder has come at a price. It now seems yoked to an endless fandango of histrionics that have made Barca as imperious and unlikable as any of the world's big clubs.
You need look no further than the recent series of Clasicos with Real Madrid -- an intense 18-day period marked by four encounters, three of which were so nasty and brutal that they diminished both clubs' reputations. It came as no surprise that Madrid, under the stewardship of the Paranoid One, Jose Mourinho, would dabble in the dark arts to try to gain a psychological advantage against their bitter rivals, but few expected Barca to race Real to the low moral ground. And yet Pep's boys sank to the occasion with a crescendo of whining and play-acting that made a mockery of their proud motto "mes que un club" (more than a club).
I used to think that credo was an expression of their defiant Catalan identity but after watching Daniel Alves and Sergio Busquets writhing around on the ground as if they were channeling John Cena hit by a steel chair, I now believe it has more to do with their holier-than-thou grandiosity. Just because Barca plays the game on a more exalted plane than does anyone else and was late in selling their soul -- and the fronts of their jerseys -- to a corporate sponsor (for years, Barca paid Unicef $1.5 million a year for the honor of plastering the charity on their shirts) should not mean they deserve special treatment on the field.
Yet more often than not, as Mourinho noted in a recent postgame rant that would have made Sir Alex Ferguson envious, it's seemingly reached the point where the reigning La Liga champions get the benefit of the doubt at every turn. From the referees who abjure 11 v 11 matchups when the blue-and-red bestride the field, ejecting their opponents should they disturb the air currents around the Barca artists, to the UEFA suits who obviously feel that what's good for Barca is good for soccer. How else to explain that Busquets drew no sanction from Europe's "governing" body for allegedly mouthing the word "mono" (monkey) at Real's black Brazilian fullback Marcelo and the never ending awarding of free kicks to the already supremely advantaged Barca side.
ESPN FC on Twitter
Don't miss a moment of the latest soccer coverage from around the world. Follow us on Twitter and stay informed. Join »
What makes the Spanish standard bearers' recent unsporting behavior so hard to square is that it stands in stark contrast to the beauty of their actual soccer, an approach which celebrates the sport as art form. What the Brazilians bring to World Cups, Barcelona brings to the world, 30-plus weeks per year. All those tippy-tappy pyrotechnics that opponents find so maddening may require peerless touch and vision, but they are rooted in a child-like love of keeping the ball away from the other kids on the playground -- or on the field.
No surprise then that all too often Barca's rivals resort to borderline criminal behavior in order to interrupt the passing fiesta, desperately kicking out at the Messis and Xavis because that is the only way they can be stopped.
Indeed, there are those who believe that Barca merits protection from the leg-breaking goons and view their drama-queen antics as no more than an exercise in self-preservation. But while I deplore thuggish tactics, doesn't faking a grievous injury also violate the spirit of the beautiful game that Barcelona has come to embody? Aren't they both forms of cheating, even if one is more socially acceptable? Don't get me wrong. It's not like diving and amateur theatrics are the sole province of twinkle-toed Iberians. Even manly men like Steven Gerrard and Wayne Rooney have been known to flop in the box, but by acting as if they are above such mortal flaws, Barcelona comes off as sanctimonious in the extreme when they stoop to the level of their opponents.
David Hirshey

For more from David Hirshey, check out his columns on all things soccer.
• The All-EPL Team, 2011-12
• Saying goodbye to Chinaglia
• Time to dethrone King Kenny Dalglish?
• In praise of Fulham
• The comeback artists
• Call it a comeback
• Death by Manchester
• The battle for third
• Spurs' title credentials
• EPL's best starting XI
• City handed first EPL loss
• Chelsea pushed to brink
• Fragile egos crossing
• City and United
• Is Newcastle for real?
• The bad-behavior derby
Which is why I'm hoping against hope that Saturday's final will actually be about good soccer rather than bad behavior. Unlike Real Madrid, United doesn't rely on aggression and parking the bus to win. The EPL title holders may, as Didier Deschamps famously stated, lack "fantasy," but they favor technique over physicality, attack over asphyxiating defense. For all the twaddle about how they don't measure up to their gaudy predecessors, United were worthy champions of England this season, their ferocious spirit a testament to the tactical and man-management genius of Ferguson.
And it's not like they will lack for desire or inspiration against Barca. In addition to Sir Alex's burning need to avenge the 2-0 spanking by Barcelona in the 2009 CL final, when a side featuring Cristiano Ronaldo and Carlos Tevez appeared hypnotized by the speed and control of Barca's passing "carousel," there are the intangibles that give United a puncher's chance -- playing in England, a well-rested squad that's been shrewdly rotated in recent weeks compared to Barca's quad-Clasico grind.
And I, for one, will be rooting for them to knock Barcelona off their high and mighty Champions League horse. It's a result that may not please acolytes of Jogo Bonito, but would accomplish something far more important. It would provide a long overdue lesson of humility to a club that, its motto notwithstanding, has been less than the Barcelona I had come to love and respect.
Sorry, Dad.
David Hirshey has been covering soccer for more than 30 years and has written about the sport for The New York Times, Time, ESPN The Magazine and Deadspin. He is the co-author of "The ESPN World Cup Companion" and played himself (almost convincingly) in the acclaimed soccer documentary "Once in a Lifetime."