Commentary
U.S. vs. Spain preview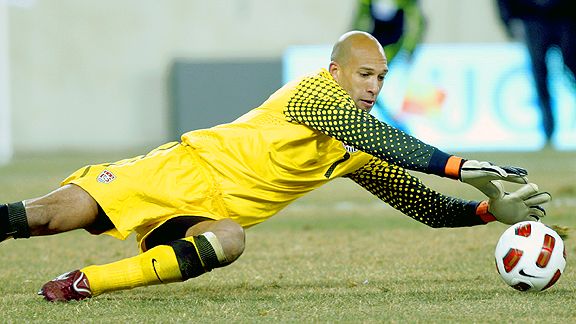 Aristide Economopoulos/THE Star-Ledger/US PresswireTim Howard and the U.S. will face Spain just three days before the Gold Cup starts.
The U.S. national team's summer couldn't start any harder.
After a friendly tuneup Saturday against Spain (4:30 p.m. ET on ESPN, ESPN3), it will face Canada, Panama and Guadeloupe (in that order) in Gold Cup group play. But while this rather backward buildup of opponents is kind of like going to a Michelin three-star restaurant to prepare your palate for a trip to McDonald's, it should make for a compelling showdown.
To state the very obvious, Spain is not Canada, Panama or Guadeloupe. Spain is the 2010 world champion. It sports a fluid playing style, built on its Barcelona foundation, some of the world's very best players at its disposal in almost every position, and depth that has been seldom seen at this level. La Furia Roja will show up at nearly full strength, with only midfield architects Xavi and Cesc Fabregas missing from the first choice of players.
In addition to providing another measuring stick to gauge the U.S. program's progress, the match will be good preparation for a tournament in which the stronger sides -- such as Mexico, Costa Rica and Honduras -- play an imitation of Spain's razzle-dazzle tiki-taka. Then again, it makes for an odd choice of opponent, too, when you keep in mind that the U.S. squad is on the eve of a major tournament. National team staff said that the team Gold Cup roster is put together to win, with several newer players being fitted in -- such as Tim Ream in defense, midfielder Jermaine Jones and forwards Juan Agudelo and Chris Wondolowski. Head coach Bob Bradley is also tinkering with a 4-5-1 adaptation to his usual 4-4-2. But working on these things against the reigning world champion might be ill-advised.
Because Spain could view this as a grudge match of sorts.
ESPN FC on Twitter
Don't miss a moment of the latest soccer coverage from around the world. Follow us on Twitter and stay informed. Join »
As you'll no doubt recall, the U.S. put an end to Spain's 35-game unbeaten run and string of 15 straight wins when it outgunned La Furia Roja in the semifinals of the 2009 Confederations Cup, giving the U.S. locker room a tremendous boost in confidence that it still feeds off today. The U.S. defeated Spain by pioneering a tight, clog-the-middle approach, effectively ceding the wings entirely, which frustrated Spain and laid the foundation of the U.S.'s 2-0 win.
So while many might think that Spain's players would rather be on holiday, they could be motivated for a little payback, given that the U.S. robbed them of a chance to win a tournament they really valued.
"It's tricky," forward Landon Donovan said of the game. "You want to acquit yourself well against Spain. It can be a miserable afternoon if you don't do it right."
And since this is by far the most visible game the U.S. will play all summer, short of a potential Gold Cup final against Mexico, Bradley's men would be well-served to take this game seriously.
And that's the sticking point.
You can't help but wonder if the U.S. has, in some way, shot itself in the foot by booking Spain on the eve of the Gold Cup. In its zeal to play the world's very best teams -- to its immense credit, the U.S. managed to bring Argentina and Brazil to U.S. soil last March and August, respectively -- the Yanks could have set themselves up to fail here.
Spain's strength is such that even if it shows up playing at a tepid pace reflecting the offseason, it will take a first-rate performance from the Americans just to keep from getting overrun. The U.S., however, does not see this game as a priority. Winning the Gold Cup has been Bradley's stated objective for the summer, and no friendly will supersede that. What's more, the U.S. will play Canada just three days after facing Spain, Panama four days after that and Guadeloupe another three days later -- making it four games in 11 days. That leaves two days off between playing Spain and Canada, one of which will be spent traveling. It's a grinding turnaround even in the middle of the season, let alone in June, when most players have eased out of their European two-games-a-week rhythm.
"The best thing that would happen is we stay injury-free and we get to Detroit and get some sleep and everybody be fit and ready," said goalkeeper Tim Howard. "But it doesn't always happen because it's a game and you get into tackles and you have to do the business."
So the U.S. plans on carefully managing minutes against Spain to avoid burning out its players. "We are thinking a lot about how to find a balance," said Bradley in Friday's press conference. "I think we would plan on using all six subs."
So the U.S. plans on carefully managing minutes against Spain to avoid burning out its players. This means that Bradley and his men risk being humiliated by Spain -- as any less-than-full-strength squad does -- in front of a huge crowd on national television. And that's not to mention the psychological knock the players would take on the eve of a tournament the U.S. is expected to win, at least by its fan base.
But ultimately, said captain Carlos Bocanegra, "We have to keep our eye on the big picture, which is Canada and starting our tournament out on the right foot. The Gold Cup is the prize for this summer."
Call it a pessimistic take on things, but it appears the U.S. has exposed itself to a loss that could linger much longer in the memory than anything it will accomplish against Canada, Panama or Guadeloupe.
Still, Saturday's game will go a long way toward defining the Americans' season. If they survive the Spain test unscathed and manage to have sufficient strength for the Canada game, they will build some nice momentum. If not, this could be a long summer indeed.
Leander Schaerlaeckens is a soccer writer for ESPN.com. He can be reached at leander.espn@gmail.com.
Contributing writer, ESPN.com
Leander Schaerlaeckens is a contributing writer for ESPN.com. He has previously written for The Guardian, The Washington Times and UPI.