Commentary
Central America's Gold Cup problem
Updated:
June 3, 2011, 4:14 PM ET
By
Brent Latham
| Special to ESPN.com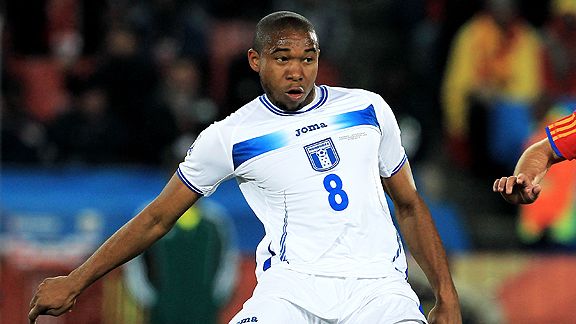 David Cannon/Getty ImagesNo Central American team, including Wilson Palacios' Honduras, has won the Gold Cup since 1991.
Most of today's fans won't remember -- many weren't even born yet -- but for much of the history of CONCACAF, Central American teams were a force rivaled only by Mexico for supremacy in the region. Costa Rica, Honduras and Guatemala each won versions of the continental championship before the Gold Cup even existed.
But those days are long gone. Since 1991, when the Gold Cup took on its current tournament form, no Central American team has lifted the trophy. Not Honduras, with its speed and athleticism. Not Costa Rica, with its perennially formidable sides. Not Panama, with its up-and-coming program. And not El Salvador or Guatemala, which have struggled to reach their former heights.
Despite that failure to reach the top of the podium, Central American teams have been far more than Gold Cup also-rans. Honduras, Costa Rica and Panama have all managed second-place finishes, and two of those championship-match losses came in penalty shootouts. So could 2011 be the year that the Gold Cup drought ends for the region? Here's a closer look at the contenders, and their possibilities of lifting the trophy in Los Angeles:
Honduras
Players to Watch: D Emilio Izaguirre, D Hendry Thomas, D Maynor Figueroa, M Wilson Palacios, F Jerry Bengston, F Carlo Costly
Strength: Defense. Led by creative attackers, the Catrachos have historically preferred to play high-tempo matches, particularly relative to their more slow-paced Central American cohorts. But this particular side's best players can be found across the back line. Their lynchpin, central midfielder Wilson Palacios, plays a little more forward for Honduras than for his club, Tottenham, but is nevertheless a defense-first mid.
Weaknesses: Playmaking and finishing. A Honduran side without a dangerous midfield creator is a rarity. They potentially have one in Ramon Nunez, but he might not be quite ready to fill those shoes after sitting on the bench at Leeds United for much of last season (before coming on strong late out on loan). Honduras may also be somewhat pressed for scoring threats with the likes of David Suazo and Carlos Pavon gone from the picture.
Outlook:This isn't a vintage Honduran team. In fact, it's one in transition. The handful of Premier League stars form an impressive bunch, and Izaguirre has been a revelation for Celtic this season. But Honduras' talent doesn't go as deep down the roster as they need it to. Getting past that this summer will depend on the offensive stylings of Nunez and some untested forwards. Up front, Carlo Costly will be asked to step up, as will Motagua's Jerry Bengston, who has been lighting up the Honduran league of late.
Expect to see the Catrachos win a weak Group B, putting them in good position to advance to the semifinals. Getting past one of the region's best at that hurdle and into their first Gold Cup final in 20 years would require a special performance.
Costa Rica
Players to Watch: GK Keylor Navas, MF Celso Borges, F Bryan Ruiz, F Alvaro Saborio, F Cristian Bolanos
Strength: The forward corps. The Ticos boast attacking strength in abundance through forwards Saborio and Ruiz. Even the backup options, Bolanos and Marco Urena, would be fighting for playing time on most other teams in the confederation.
Weaknesses: Chemistry and experience. Costa Rica is a team still integrating some green players. There are questions of how the midfield will come together around playmaker Borges, and the defense, while athletic, is relatively young and somewhat untested at this level.
Outlook: Costa Rica finished runner-up to Honduras at this year's UNCAF tournament despite missing some of its key cogs to European club commitments. But despite reaching the final, the Ticos managed only one victory in four games in that tournament (the semifinal win over Panama came via penalties).
Still, the two Central American finalists are head and shoulders above the other teams from the region, and Ricardo La Volpe's squad has the look of one that will get better as the tournament goes on. If the Costa Ricans can gel, a semifinal meeting with Mexico (the teams play in the group stage and would be on course for a rematch if they finish first and second in Group A), looks like it could be a memorable showdown, and a chance for La Volpe to extract revenge on the team he used to coach.
Panama
Players to Watch: GK Jaime Penedo, D Felipe Baloy, MF Armando Cooper, F Luis Renteria, F Blas Perez
Strengths: Athleticism and experience. Panama is a solid team from front to back. They are quick and athletic up front and their forwards will punish opposing defenses' errors. There's enough creativity in midfield and cohesiveness in the back to make Panama a team to keep an eye on.
ESPN FC on Twitter
Don't miss a moment of the latest soccer coverage from around the world. Follow us on Twitter and stay informed. Join »
Weaknesses: Lack of outstanding players. The Red Tide will field a solid squad across the board, but lack potential game breakers. Panama will hope midfielder Cooper can raise his game in the playmaking role.
Outlook: With 16 players from clubs outside Panama -- most of them scattered around Latin America -- this team as a whole is probably a cut above previous versions of the Red Tide. That's saying something, since Panama has steadily improved over the past decade and often performed well at the Gold Cup.
Julio Dely Valdes' squad is a well-rounded bunch, but there aren't any areas or individuals that really stand out. So in the knockout rounds, they don't have anyone to execute the plays that would make the difference against the best teams in the federation. A relatively tough Group C complicates matters, and Panama will do well to make the quarterfinals this time around.
El Salvador
Players to Watch: GK Miguel Montes, D Steve Purdy, MF Osael Romero, MF Dennis Alas, F Eliseo Quintanilla, F Rudolfo Zelaya
Strengths: Teamwork and cohesion. El Salvador plays as a relentless and cohesive unit from the front to back. Defensively they are consistently organized, and the addition of 6-foot-4 American-born defender Steve Purdy will give the Cuscatlecos some size in back that they've seldom enjoyed.
Weaknesses: Lack of offensive creativity and limited physicality and athleticism. These drawbacks have prevented the Salvadorans from going further at a regional level of late, though this team is improved in those areas.
Outlook: El Salvador has some good finishers up front in Zelaya, Quintanilla, and Rudis Corrales. But they don't have the firepower or creativity to provide the offensive threat to take them deep into a tournament like the Gold Cup. In a group that includes Mexico and Costa Rica, El Salvador's fortune likely rides on beating Cuba and hoping for a third place finish, though that might not be enough.
Guatemala
Players to Watch: D Cristian Noriega, MF Marco Pappa, MF Jairo Arreola, F Carlos Ruiz
[+] Enlarge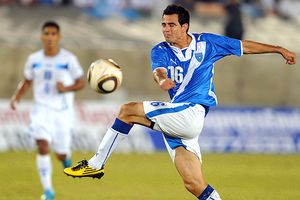 Gabriel Bouys/AFP/Getty ImagesMidfielder Marco Pappa is one of the few bright spots for Guatemala.
Strengths: There are few pluses on a Guatemalan team that made the Gold Cup by virtue of a fifth-place finish in the Central American championship, defeating Nicaragua in a playoff match. The Chicago Fire's Pappa, at least, is a dynamic midfielder who can create for himself and his teammates.
Weakness: Tactics. Guatemala's numerous shortcomings begin on the bench. Paraguayan coach Hugo Almeida insists on an unwieldy 5-3-2 formation that manages to stifle any threat of offense and highlights Guatemala's lack of creativity in central midfield.
Outlook: The Guatemalans got the luck of the draw in avoiding the region's top teams in the group phase, though Group B opponents Honduras and Jamaica should exploit the Bicolor's lack of pace in the back. If Almeida takes the reigns off, Guatemala has the potential to play some dangerous attacking soccer through wingers Pappa and Arreola. Given the draw, a quarterfinal place is well within reach, but getting any further looks doubtful.
Brent Latham covers soccer for ESPN.com. He previously covered sports throughout Africa for Voice of America radio and now works as a soccer commentator for a national television station in Guatemala. He can be reached at brentlatham@ymail.com.
ESPN Insider
Brent Latham is a soccer commentator who covers the youth national teams for ESPN.com. Based in Guatemala, he has attended youth World Cups from Peru to Egypt, and places in between.