Commentary
Spain teaches U.S. a lesson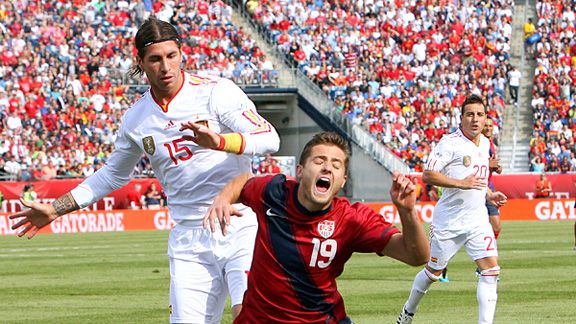 Gail Oskin/Getty ImagesWorld champion Spain defeated the U.S. 4-0 in a friendly. Now the Americans must regroup before the start of the Gold Cup.
FOXBOROUGH, Mass. -- The U.S. national team's summer has gotten off to a false start, losing to Spain 4-0 on Saturday.
A very false start.
In a friendly against Spain, just three days before the U.S. will face Canada in Detroit in its opening game for the 2011 Gold Cup, the Americans -- who rested several regulars such as Carlos Bocanegra and the sick Landon Donovan, while Clint Dempsey and Jozy Altidore, Maurice Edu and Jermaine Jones played just one half -- was humiliated in a one-sided clinic in front of 64,121 and on national television.
The good news is the U.S. won't face a better team all summer.
The bad news is Spain tap-danced through the U.S.'s compact 4-4-2 all afternoon. And no matter how much pressure the U.S. tried to exert on the ball and clog the spaces, it got overrun in the first half. That meant the strategy it had so successfully employed against Spain in its 2-0 victory over La Furia Roja in the semifinals of the 2009 Confederations Cup was rendered ineffective.
The U.S. had no answer for a quick, creative playmaker like David Silva, who tapped passes to his teammates all over the field. This led to a wrongly disallowed goal by Spain in the ninth minute, courtesy of a phantom offside call. Soon after, the Spanish kept seemingly carving space out of nothing, leading to a chip off the crossbar by Alvaro Negredo and then a shot off the upright by David Villa.
ESPN FC on Twitter
Don't miss a moment of the latest soccer coverage from around the world. Follow us on Twitter and stay informed. Join »
The U.S. was disciplined and tight, with the team moving nicely as a unit, but when your opponent has as much technical ability in the small space, that's of little use. Spain moved and combined so quickly that the U.S. seldom even got a whiff of the ball. And when it wasn't getting torn apart on splendid little short touches, it was the wide-open Xabi Alonso's bombs over the top that would do the damage, as was the case on goals by Santi Cazorla and Negredo. Or it was the midfielders crashing into the box and taking advantage of lackadaisical backtracking from the U.S. central midfielders like on Cazorla's 3-0. Or exploiting its speed like on Borja Valero's through ball to Fernando Torres to make it 4-0.
The game, in short, was a clinic. The U.S. hadn't a clue of how to stem the flow of passes carving it into pieces.
The U.S. has a lot to mend before it faces Canada on Tuesday. And it will need to get off to a better start to its Gold Cup. Because as we all know, two false starts mean you're disqualified.
Grades (1-10):
Tim Howard, GK, 6: In spite of letting in four goals and one wrongfully disallowed one, Howard didn't have a bad game. He carried little liability for his team's many deficiencies. He made a great save in the 38th minute, denying Silva.
Jonathan Spector, D/M, 3: Was far too slow to keep up with Spain's darting runs. He just made it too simple for the opposition. When he foraged forward, he more often hurt an attack with a bad pass than he helped it. He moved to the midfield in the second half, where he was shielded but poor on the ball.
Oguchi Onyewu, D, 3: In a dreadful half of work, Onyewu showed himself slow and immobile, not to mention unsuited to playing against a short, quick technical side like Spain. He was caught way up-field on the 2-0 goal and was turned inside out so many times he must have felt dizzy.
Tim Ream, D, 5: Ream twice let Alvaro Negredo wrestle past him -- inducing a chip off the bar and the 2-0 goal -- but was also the most solid American in the back with his amazing calm. Once Spain figured out his distribution was the key to the U.S. and closed him down, however, he became less useful.
Eric Lichaj, D, 3.5: He kept his man onside in what should have been the 1-0 to Spain. Although he did some useful defensive work, he too was no match for Spain's technical ability. He was so busy in the back that he couldn't get forward enough to help his team.
Sacha Kljestan, M, 4.5: Out on the left in the first half he tracked back well a few times, even though he offered zero contribution on offense. In the middle in the second half, he functioned a little better. But his dead balls were mostly off-target.
Maurice Edu, M, 4: Had no answer for David Silva's trickery. Edu's distribution was almost nonexistent save for a few runs up the field, which ended with terrible last passes. He went AWOL on Spain's first and third goals.
Jermaine Jones, M, 4: In an anonymous appearance, Jones was sloppy on the ball when he did have it. He, too, went missing several times and set up way too deep to be useful to his team.
Robbie Rogers, M, 3.5: Rogers got off a cross and the U.S.'s only half-decent shot in the first half -- when he had a wide-open Jozy Altidore at his disposal, mind you -- but he showed again that he couldn't hang.
Juan Agudelo, F, 4.5: Agudelo didn't exert enough pressure during Spain's build-up play. He did work hard, though, at one point tracking Silva all the way back into his own box. Then again, the U.S. should have been able to contain Silva without requiring Agudelo to come so far back.
Jozy Altidore, F, 5: It's hard to set yourself apart as a forward when you get no service whatsoever. Without any support, Altidore was relegated to settling for two futile solo dribbles up the field in one half of work.
Subs:
Michael Bradley, M, 6: Was a calming influence on his team after coming on at the half. Closed some holes in the back and played two nice balls into the attacking third to create chances for the U.S.
Steve Cherundolo, D, 5: His runs forward were the most daring out of anybody on the U.S. But he got burned by Fernando on Spain's fourth goal.
Clint Dempsey, M, 6: Another halftime addition. Dempsey offered some offensive ideas and drifted around the midfield to help out with distribution. He even got off a shot, making him an aberration among his peers.
Chris Wondolowski, F, 4: He tried, bless his heart, but lost the ball that would make it 4-0, too. He doesn't belong at this level.
Clarence Goodson, D, 5: Goodson had a solid half of work, helping to settle down the back. He was helped by Spain's loss of interest, too.
Alejandro Bedoya, F, 5: Like his predecessors up front, Bedoya got little to work with after coming on in the 65th minute. He got a good run in behind the defense in the 78th minute, but took a heavy touch and was beaten to the ball by Iker Casillas.
Leander Schaerlaeckens is a soccer writer for ESPN.com. He can be reached at leander.espn@gmail.com.
Contributing writer, ESPN.com
Leander Schaerlaeckens is a contributing writer for ESPN.com. He has previously written for The Guardian, The Washington Times and UPI.