Commentary
10 reasons to watch the WWC
Updated:
July 11, 2011, 12:52 PM ET
By
Roger Bennett
| Special to ESPN.com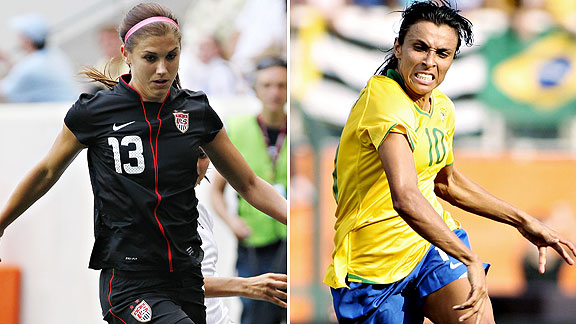 Getty ImagesFrom the U.S.'s Alex Morgan to world-beater Marta, the Women's World Cup promises to be the most competitive of all time in an environment guaranteed to be 100 percent vuvuzela-free.
What do casual sports fans know about women's soccer?
The legendary Mia Hamm? Probably.
The Brazilian phenomenon, Marta? Perhaps.
That sports bra … for sure.
All of this may change on June 26 when the sixth Women's World Cup kicks off in Germany. The tournament, beamed live to more than 200 countries, promises to be the most competitive of all time as 336 of the world's finest female soccer players pursue global glory in an environment guaranteed to be 100 percent vuvuzela-free.
Like the men's World Cup, this event will be a roiling sporting narrative rife with subtlety and vulgarity, heroines and rogues, human perfection and the agony of failure. Slower than the English Premier League perhaps, but largely devoid of the Daytime Emmy-worthy feigned injuries, dodgy diving and general writhing-around-in-agony that plague the men's game. To compare the sexes in a Billie Jean-Bobby Riggs fashion does the tournament a disservice. The Women's World Cup is a sporting occasion with its own history, rivalries, characters and intrigue. Here are 10 things we cannot wait to see.
1. Germans who know how to throw a party
Host country Germany is football crazy. Anyone who remembers the 2006 World Cup knows what to expect from a tournament scattered across nine cities between Monchengladbach and Berlin. Prepare to witness giddy scenes of bier- and würst-fueled hospitality that slay stereotypical notions about Germans and their inability to have a good time -- The Scorpions and Rammstein notwithstanding.
ESPN FC on Twitter
Don't miss a moment of the latest soccer coverage from around the world. Follow us on Twitter and stay informed. Join »
To add extra oom-pah to the proceedings, the German team, ranked second in the world, is the bookmaker's favorite to win what would be its third straight title. Die Nationalelf steamrolled through the 2007 World Cup without so much as conceding a single goal, courtesy of the disciplined, possession-based soccer that is a trademarked brand of the German game.
Will they three-peat? To do so, they must cope with the weight of expectation reinforced by the pressure of being hosts. Much will depend on Birgit Prinz, practicing physiotherapist by day, striking phenomenon by night. The 33-year-old is the tournament's all-time leading scorer with 14 goals, but enters this World Cup with a slight ankle injury. Her partnership with the prolific Inka Grings will be key. Prinz and Grings may sound like a precious new organic pretzel store in Brooklyn, but the two form one of the most potent strike forces in the women's game. If they find their groove, Deutschland should triumph Über Alles.
2. The commentators: "You could not write a script like this!"
English broadcaster Ian Darke became an American cult hero during the last World Cup as many first-time soccer-viewers were entranced by his droll yet poetic wordplay. This will be his first Women's World Cup experience. Will Darke be able to adjust to the nuances of the women's game? His learning curve, alongside the experienced Julie Foudy, the Henry Higgins to his Eliza Doolittle, promises to make this World Cup a gender-reversed version of "My Fair Lady."
3. United States: We're No. 1? We're No. 1?
The U.S. may be the world's No. 1 according to the FIFA rankings, but the team suffered the indignity of being last to qualify for the World Cup as it was forced to straggle in via playoff. The squad has only occasionally impressed in recent warm-up games, appearing strangely unsyncopated as if all too aware it hasn't won the tournament since 1999.
The U.S.'s 2007 campaign ended amid rancor and intra-squad finger-pointing as the team exited after a 4-0 semifinal thrashing against Brazil. This year's edition blends experience and youth. Captain Christie Rampone, 35, was a substitute when the U.S. last won the tournament in 1999, a magical day on which current striking phenomenon Alex Morgan was a mere 10 years of age.
The U.S. enters the World Cup aware it must go "all in" to reclaim its mantle and raise the profile of the sport domestically. The U.S. professional league, WPS, is young, financially fragile and in desperate need of the kind of boost a World Cup triumph could provide. As the WPS was designed to be a crucial feeder for the national team, an early U.S. exit could have damaging ramifications that last well beyond this tournament.
4. The U.S. jersey: Love it or loathe it
The designer, Nike, claims that the away jersey with its black bodice and red piping was inspired "by the beautiful but deadly Black Widow spider." Critics have been quick to deem it a "hot nurse" outfit.
5. An England team you can believe in
The Three Lionesses are a rare commodity -- an English national team you can root for without compromising your values. A talent-rich squad packed with verve and creativity, which, unlike its male counterparts, dares to dream for all the right reasons: on account of their teamwork and commitment as opposed to the bloated size of their paychecks. The English women's game is surging. The country's new professional league, the Women's Super League, has just debuted and the core of the squad will be drawn from twin powers Arsenal Ladies and Everton Ladies.
Kelly Smith, an intuitive game-changer, is a nuanced forward. Veteran winger Rachel Yankey is a spark plug who scored a stunner in the team's recent surprise 2-1 friendly victory against the U.S. -- England's first in nine attempts since 1988 -- which rekindled a sense of simmering rivalry between the two sides. A terrific outside bet, this team may represent England's best chance of winning the World Cup in my lifetime.
6. Prepare to become over-exposed to this song
Sony, after stepping up as a tournament sponsor, was given the power to select the official song of the Women's World Cup. Although Shakira, Sade and Beyoncé are on its roster, Sony plumbed for Alexis Jordan. The 19-year-old may not have had what it takes to prevent rejection on "America's Got Talent," but her sonic stylings were deemed sufficient for Germany 2011. Prepare for her song "Happiness" to be faintly audible all over the globe for the course of the tournament.
7. The officials: Because if women ruled the world there would be no more wars
Sixteen referees, 32 assistant referees and three "fourth officials." All of them female. No Howard Webb. And none of this dreadful "Sian Massey" treatment.
Enough said.
[+] Enlarge
AP PhotoEquatorial Guinea's captain, Genoveva Anonma, finds herself in the middle of a strange controversy.
8. Still looking for a rooting interest? Introducing Equatorial Guinea
Neutrals desperately scrambling for a team to cheer should kick the tires of Equatorial Guinea. These mighty African overachievers, who are from a nation with a population less than 700,000, are plucky underdogs. A lowly No. 61 in the FIFA rankings, they bear an us-against-the-world attitude born of allegations they have done a "Caster Semenya" and fielded three male players. The Equatorial Guinea Soccer Federation has brushed off accusations against captain Genoveva Anonma and sisters Bilguisa and Salimata Simpore, attributing such charges to their rivals' jealously.
To jump onto the Equatorial Guinea bandwagon, sign up for this Facebook page and beef up the number of their fans (a mere six as of this writing), brush up on the lyrics of your new favorite national anthem -- "Let us tread the path of our immense happiness" -- and prepare yourself for a rollicking ride.
9. Can a Brazil team that has never won the title truly be Brazilian?
The Canarinha look like Brazil and play like Brazil, but in the most un-Brazilian manner, they've never won the Women's World Cup, coming closest in 2007 when they were defeated finalists. Many believe this will be their year. Marta, the electrifying ball handler known by some as "Pele in Skirts," is widely acknowledged to be the greatest female soccer player of all time. Her partnership with livewire striker Cristiane accounted for an eye-scratching 17 goals in the 2010 South American Championship. As five-time Women's World Player of the Year, Marta has garnered enough individual silverware to unhinge a mantelpiece. She longs to add the ultimate team prize to her collection.
10. Call in sick for these opening-round games
• Germany-Canada: (June 26, 12 ET) More than 72,000 tickets have been sold for the tournament opener at the Olympic Stadium, which should be an early indicator of the joyous mayhem to come. The favorites Germany tangle with the pugnacious Canadians.
• U.S.-North Korea (June 28, 12:15 ET)
• U.S.-Sweden (July 6, 2:45 p.m. ET) Opening-round tests against the speedy, government-funded North Koreans and Scandinavian powerhouse, Sweden, should tell us all we need to know about the credibility of the U.S.'s title challenge.
Norway-Brazil (July 3, 12:15 p.m. ET) Marta and the "Samba Queens" clash with underrated Scandinavians and World Cup evergreens, Norway.
Roger Bennett is the co-host of Off The Ball and appears on Futbol Frenzy on "Morning Joe" every Monday. He can be reached via Twitter: @rogbennett
2011 Women's World Cup
Which team will be holding the trophy after the final on July 17 in Frankfurt? Tune in to ESPN or ESPN3 to find out.
Women's World Cup
Date:
June 26-July 17
2011 champion:
Japan
Where:
Germany
Topics:
Women's World Cup
SUNDAY
SATURDAY
FRIDAY
THURSDAY
WEDNESDAY
TUESDAY
MONDAY
SUNDAY
SATURDAY
NEWS
MORE COVERAGE