Commentary
Clint Dempsey wants some respect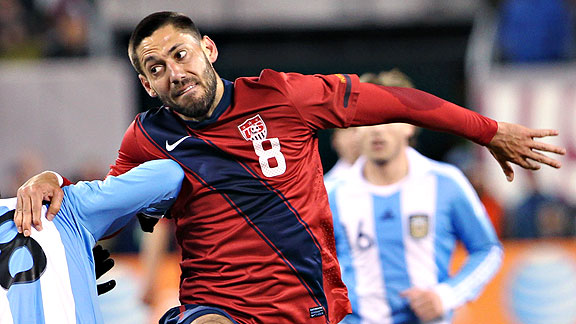 Anthony Gruppuso/US PresswireHe may be one of the go-to guys on the U.S. men's team, but Clint Dempsey has had to prove himself time and again with his club Fulham. Will he ever get the respect he deserves?
FOXBOROUGH, Mass. -- U.S. national team and Fulham forward Clint Dempsey ambles into a shiny hotel lobby. A father in a U.S.A. jersey calls over to him.
"Wassuuup?" Dempsey calls back with a high-pitched voice and a smile.
Could he give the man a signature and pose with his toddlers? Sure. The hip-hop aficionado has two small children of his own and is a devout family man. Dempsey kneels for the boy and girl to hug him as they pose.
Then he strolls to the bar, settles onto a stool, orders an espresso and excitedly shows off the fishing pliers he just purchased at a nearby store. Dempsey demonstrates in detail how they're used to extract hooks from a bass's mouth, even if he won't have much time for his beloved hobby this summer.
As always, Dempsey's hair is buzzed and stubble envelops his jaw line. His brown eyes are really as big as they look on TV. And, as it turns out, he can make other facial expressions than the perpetual glare you see on the pitch. Mostly, he has a friendly grin on his face.
Out from under a dark blue T-shirt stretches an intricate sleeve tattoo that covers much of his left arm and offers a roadmap of the 28-year-old Dempsey's life. On the inside of his biceps is a depiction of his late older sister Jennifer's tombstone and a tennis racquet. She died of a brain aneurism when she was 16, cutting short a promising tennis career but reviving Clint's soccer dream, now that the family's sparse budget again had room in it for him to play pay-to-play club soccer. Below the tombstone is Psalm 23, for Dempsey's faith. Covering his elbow is the outline of Texas, with the Lone Star placed over Nacogdoches, the town of 33,000 that Clint, his four siblings and his parents called home. (Living in a trailer at the time, his parents drove him three hours each way to Dallas so that Clint could play more competitive soccer.) Higher up on his arm are the likenesses of his and his wife Bethany's wedding rings and the names of his young daughter, Elyse, and son, Jackson. As wallpaper behind all this is Saint Michael fighting the devil. "Because I feel like I'm a warrior, too," says Dempsey.
This is irrefutable. Dempsey has developed into a highly physical, fearless and inexhaustible forward who nevertheless possesses a finely honed technique and can play on either wing, up front or in the hole. He was a warrior against Spain on Saturday, all right -- after coming on at halftime to minimize the wear on him ahead of the Gold Cup, Dempsey was the only American capable of injecting some danger into the U.S. attack, spraying deft passes and making shrewd runs. He also scored in the United States' 2-0 opening-round Gold Cup victory over Canada on Tuesday night , making a darting run to get on the end of a Jozy Altidore pass.
In the shadow of Landon Donovan, Dempsey has also become one of the national team's most consistent, appreciated and useful players. Since making his debut in 2004, he has made 72 appearances and scored 20 times. And, not coincidentally, the moments the U.S. distinguishes itself coincide with Dempsey's best games. He was the one, for example, who threw his body headlong into a challenge with Algeria's goalkeeper at the 2010 World Cup, allowing the ball to skip loose for Donovan to sweep it into the net. It was Dempsey who scored the game-sealing goal in a 2-0 win over Spain in the 2009 Confederations Cup semifinals, and he put the U.S. up 1-0 in the final against Brazil, which rallied for a 3-2 victory. Dempsey was also the man behind South Africa's most infamous moment, taking the shot that snuck under Robert Green's hands to earn the U.S. a tie with England. That goal made Dempsey the second American, after Brian McBride, to score in two World Cups.
[+] Enlarge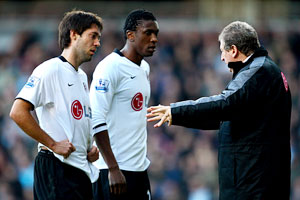 Julian Finney/Getty ImagesAt Fulham, Dempsey has had to prove himself with each new manager who arrives at Craven Cottage, including Roy Hodgson.
"You know what you're going to get from him," says U.S. captain Carlos Bocanegra. "He's somebody who you want on your team every time you practice, and you want him on your team when you're going into a game because he gives everything. That fire he has, you see that a lot with winners."
Yet for his 6-foot-1 frame, Clint Dempsey has a curious history of being overlooked.
After spending three seasons at Furman University and three with the New England Revolution of Major League Soccer, where he bagged 25 goals and a Rookie of the Year trophy and two MLS Best XI selections, Dempsey landed with Fulham in January 2007. His $4 million transfer fee was an MLS record at the time. He scored his first goal for the Cottagers on the final day of the season, a 1-0 winner against Liverpool that staved off relegation. In his four full seasons at Fulham, he has led the team in scoring three times -- with six goals in 2007-08, seven in 2008-09 and 12 in 2010-11, tying him with Andy Johnson that year -- and came second once, with seven in 2009-10. His 33 Premier League goals are the most for any Fulham player ever, not to mention a record for an American, as are his 12 goals in a season in the EPL. He was the team's player of the year this season and is tied for the longest-tenured player on the team with Simon Davies. Dempsey helped Fulham reach an all-time best seventh place in 2008-09, not to mention the Europa League final in 2009-10, including a splendid goal against Juventus in that tournament.
"He's been fantastic for Fulham -- I think he's been their best player," says Everton and U.S. goalkeeper Tim Howard. "He's heavily relied on by them."
ESPN FC on Twitter
Don't miss a moment of the latest soccer coverage from around the world. Follow us on Twitter and stay informed. Join »
Regardless of having proved himself invaluable time and again, Dempsey was initially relegated to reserve status by all four managers that he's played under at Fulham. After Dempsey joined the club, his first manager, Chris Coleman, gave him just three substitute appearances for a total of 49 minutes in three months before the manager was fired. His successor, Lawrie Sanchez, used Dempsey off the bench at first. But as of the fourth game of the 2007-08 season, he became a starter. In December '07, Sanchez was fired and replaced by Roy Hodgson, who put Dempsey back on the bench. He regained his starting job in Hodgson's third game in charge but again found himself on the fringe for 2008-09. Dempsey fought back and was a starter for the remainder of Hodgson's tenure. Last summer, Hodgson left for Liverpool and Mark Hughes took over. This time, Dempsey came off the bench in three of the team's first four Premier League games before again becoming a regular the rest of the way.
In the end, Dempsey quickly won over every Fulham manager who originally cast him to the club's corps of reserves. But next season, he faces the prospect of having to do it once more, after Hughes walked out on the club at the end of this past season.
The process of starting over each time, like getting a new boss once a year, must be incredibly frustrating.
"It's definitely frustrating," Dempsey says. As we talk, he leans over the bar, playing with his bass pliers, sometimes using his hands to emphasize Yogi Berra-like wisdoms such as "You can only control what you can" and "You only can deal with what you're dealt."
Dempsey has cultivated a Zen-like acceptance of his lot. "I'd rather be someone that's underrated than overrated," he says. "It just pushes me to be more focused and more determined to prove the manager wrong. I go out there every day in training and show him that I want it more than everybody else. In life, you're going to have things that are going to come up against you. You can either let it get to you or you can make something happen. I choose to try to change the situation and make it better, or keep hitting my head against that brick wall until something else happens. That's all I know. That's all I'm programmed for, to keep pushing and to try to make the most of my career and my life, to take care of my family."
But surely being the only one who has to start from scratch with every new manager, like some sort of rookie, has to get to you?
"I'm not gonna sit here on a soapbox and say, 'Oh, it's just me, I'm the only person,'" Dempsey answers. "But I feel what you're saying. It isn't like I don't feel like that sometimes when I'm at home and I'm speaking with my wife and my family, just thinking -- dang, you get tired of it. But it comes with the job, you have to try to make things shake. I feel like God's always looked after me, put me in the right places, and I've been able to make the most of them."
"

I haven't felt that connection [in Europe] with a manager that when you're going into battle, I'm a guy they look to try to make things happen. It's more enjoyable when you have a manager that believes in you. You feel loved.

"

-- Clint Dempsey
Perhaps his relative peace with his circumstances is borne from an innate self-belief that he will fight back from any demotion and recover from any slight. And Dempsey recognizes that this insecurity is perhaps an important driver for his performance -- that he might be in trouble if that chip ever fell of his shoulder. "I think so, man," he says. "You need to have something that drives you."
So how do you get to be so confident in the face of so much adversity, from such a young age? "I've always had confidence in myself, but going through -- pardon my French -- s---, man," Dempsey says. "Going through tough times, man. Going through those long drives to Dallas, going through losing your sister, going through being overlooked, going through being a big fish in a small pond and going to England and being a nobody and having to prove yourself over and over and over again. A big thing, even though it's been tough, has been dealing with being in Europe and not being the man and having to prove yourself. It's been going through tough times and coming out on top or intact. You can let it bother you or you can make the most of it. And I'd rather make the most of it or die trying than stay in a situation I don't like."
Dempsey is getting animated now. "You have to build yourself up and not everybody can do that," he says. "And part of it is getting in the right situation and having a manager who believes in you. And part of it is trying to change their mind to believe in you and to give you a chance, and then make the most of it.
"I can't just sit because I've got people to take care of, man," he adds. "Not only my wife and kids but my immediate family, I help look after them. I can't fail -- you know what I'm sayin'? I have to succeed."
However confident he may feel, the one upshot of Dempsey's perennial state of limbo has manifested itself as a pursuit of statistics, of proof to buttress his own case. After all, players who set club records are hard to put back on the bench. "When I was growing up, it was just about winning and that was cool," he says. "As I've become a professional, I just feel more pressure to produce, to score goals and get assists. I know I'm a good player, but it gives evidence of how good you are if you're able to look at how many passes you've made in a game or how many chances you create. It's in the books. It's become more about stats as I've become a professional."
Does he feel it's an obligation to give that evidence, because he's gone unappreciated so many times?
"I think it is, man," Dempsey says. "I think it is. I feel like I'm a good player when I go out and play the game. But you can't tell me nothing if I have the evidence right there to support my argument. I do feel like that just reinforces the fact that I'm doing my thing."
The man whose children Dempsey posed with interrupts us. Could he sign his son's Tim Howard jersey, too? Would he mind? Not at all.
[+] Enlarge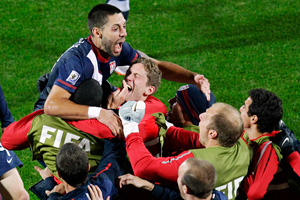 AP Photo/Michael SohnDempsey celebrates after scoring against England in the 2010 World Cup.
Dempsey cherishes his time with the national team. "I feel like I can breathe," he says. It's a time when the insecurity of his club career falls away and he is, at least partly, "the man." He enjoys having a coach, Bob Bradley, who appreciates him. Dempsey hasn't felt that in his club career since leaving the Revs. He misses it. "Yeah," he says. "I experienced that connection with Stevie Nicol and Bob Bradley. They believe in me, and they know I'll run through a brick wall for them, and I do miss that. I haven't felt that way in Europe; I haven't felt that connection with a manager that when the chips are down and you're going into battle that I'm a guy they look to try to make things happen. It's more enjoyable when you have a manager that believes in you. You feel loved."
Most of all, it brings peace of mind. "There's no ambiguity, there's no gray area -- you know where you stand," he says. "That's all you can ask for, to know where you stand. Me, I don't need to be your best friend, we don't need to talk every single day, but it's good to know there's no gray area."
"I appreciate what he's about as a player, what he's about as a person," Bradley says of the player who has grown to be consistently among his best. "One of the things that's always going through your mind as a coach is that when you're playing against good teams and now you put a lineup together, that feeling that the guys that are stepping out on the field are guys you can count on -- Clint's always been one of those guys."
"

I don't need to be your best friend, we don't need to talk every single day, but it's good to know there's no gray area.

"

-- Dempsey on his relationship with managers
The U.S. will count on him in this month's Gold Cup. Dempsey will try to be the gritty sparkplug who gets his team going, a role he has grown into as he takes on more responsibility within the team.
Because make no mistake, he might be 28, but Dempsey is still improving. "Clint just seems to keep getting better," says Donovan. "It's hard because you think he's peaked and done everything you can do, and then he goes and scores however many goals he's scored this year. He's more and more confident all the time." Dempsey has gotten savvier as a player. The fury seems to serve more of a purpose now, and he's proven over the seasons to be versatile as a second striker or helping out more in the midfield, giving his team some width. He has become adroit at chasing down second balls after shots on goal, ready to pounce, and making smart runs into the box that reveal a keen understanding of the game.
The time for Dempsey is ripe for him to make the jump to a bigger club. Such a move seems natural now -- Liverpool was allegedly interested -- but has never come close to materializing. "If you're a competitive person, you'd want to play at the biggest club in the world, if possible," he concedes. "You want to play Champions League, if you're a competitor. I'd be lying to you if I said I didn't one day want to be playing Champions League or for one of the biggest clubs in the world."
It's all a part of Dempsey's grand plan to make the most of his ability, the most of his career, the most of his life. Because he doesn't plan to stick around as long as clubs will employ him, like some others do. "No, I'm not going to be that guy who's like: 'One more year, one more year, one more year,'" he says. "When I feel like I can't make a difference in the competitive games and go out there and make things happen, that's when I need to step aside and give a younger guy a chance to do his thing. If I can't do it -- you know what I'm sayin'? -- why be out there, man?"
A staffer comes over. It's time for the team's lunch.
"Hey, thanks for the coffee, man," Dempsey says, before planting the firmest of handshakes on my hand.
He walks off. Fans stop him to sign more autographs, and he poses with more children. Then he slips into a room to have lunch and prepare with the one team that truly loves and appreciates him.
Leander Schaerlaeckens is a soccer writer for ESPN.com. He can be reached at leander.espn@gmail.com. Follow him on Twitter: @LeanderESPN

Contributing writer, ESPN.com
Leander Schaerlaeckens is a contributing writer for ESPN.com. He has previously written for The Guardian, The Washington Times and UPI.