Commentary
MLS gives Gold Cup a big boost
Updated:
June 10, 2011, 1:21 AM ET
By
Brent Latham
| Special to ESPN.com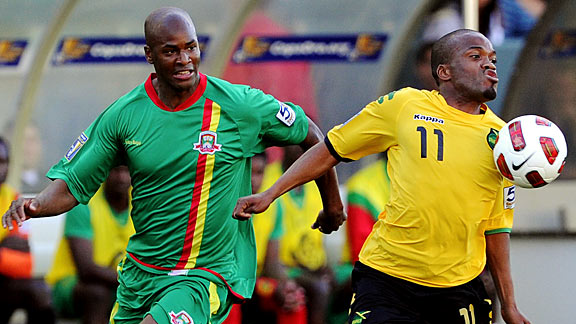 Gabriel Bouys/AFP/Getty ImagesA record number of MLS players are competing in the Gold Cup, including N.Y.'s Dane Richards for Jamaica. It's evidence of the league's growing influence.
A record 32 Major League Soccer players are taking a break this summer to represent their respective countries in the Gold Cup. That's a new high in terms of international influence for a league that's been around for all but the first two of eleven Gold Cups this far -- this year's total trumps the 29 on rosters two years ago.
But the sea change in MLS's regional power is more definitive than those numbers make it seem. In 2009, a U.S. B-squad leaned heavily on the league for the base of its team. This time around, only seven Americans play in MLS (six with the replacement of injured midfielder Benny Feilhaber). The rest of the league's contingent represents CONCACAF teams from Grenada to Guatemala.
The numbers show how MLS has become more important than ever to federations around the area.
"Most definitely, it provides a professional environment that's a step up from the local competition, wherever it is -- if it's in Jamaica, if it's in Trinidad, in the Caribbean or Central America," said Damani Ralph, a Jamaican agent who played two seasons in MLS before moving to Europe. "The level of play in MLS has grown so much. It's a great opportunity for these guys to come here and ply their trade, improve their techniques."
Ralph speaks from experience. A brief but productive stint with the Chicago Fire helped make him an important member of Jamaica's national team. The path from MLS to the Reggae Boyz has since become well-worn.
The Jamaican Gold Cup team leads the way in MLS connections, starting six MLSers in its opening match Monday night against Grenada, including N.Y.'s Dane Richards and L.A.'s Donovan Ricketts. Two more probable starters -- Colorado's Omar Cummings and Tyrone Marshall -- were missing (Cummings is out injured and Marshall is still with Colorado).
Jamaica's MLS group trumps even the United States' group, but plenty of other Gold Cup teams boast considerable MLS influence, as well. Canada, predictably, called up six MLSers, while Guatemala, El Salvador and Grenada each have a pair of their top players in the league.
ESPN FC on Twitter
Don't miss a moment of the latest soccer coverage from around the world. Follow us on Twitter and stay informed. Join »
Already counting on World Cup veteran Roger Espinoza, Honduras might have joined that group had it not been for confusion over Andy Najar's availability and Marvin Chavez's decision to stay with FC Dallas. Even regional powers Mexico and Costa Rica have important national teamers lining up in the U.S. domestic league -- Rafa Marquez for El Tri and Alvaro Saborio for the Ticos.
"I think the level of MLS has improved as players continue to improve," said Alejandro Moreno, who will vary the Gold Cup theme by suiting up for Venezuela in Copa America this year. "And it goes hand in hand, the league improves and the players improve. I think MLS is positive for just about every player that has been able to participate, not only participate but thrive, in MLS. I think the pace of the game actually helps out in MLS; when you come out into an international game, you get used to the hard work that its takes to play at this type of level."
Besides quantity, the diversity of national team selections for the Gold Cup demonstrates another emerging trend. MLS was once considered a destination for CONCACAF veterans or aging stars looking to come home from Europe, but the league now has more of a hand in training and developing young players from around the region. For example, Jamaica called 13-year MLS veteran Tyrone Marshall as well as Houston Dynamo rookie Je-Vaughn Watson. Guatemala will lean heavily on both senior journeyman Carlos Ruiz and Chicago Fire young gun Marco Pappa.
[+] Enlarge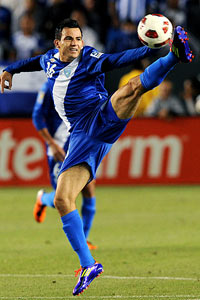 Gabriel Bouys/AFP/Getty ImagesGuatemala will lean heavily on Chicago Fire young gun Marco Pappa throughout the Gold Cup.
"It's important that [MLS] gives us the opportunity," said Pappa. "You can learn a lot of technique there that you wouldn't get here [in Guatemala], in tactics and in terms of working the whole game."
Access to young regional talent is undoubtedly a benefit for the league as it moves up the ranks of the world's professional soccer hierarchy. With limited roster sizes, though, the internationalization of MLS may mean less opportunity for young American players, even though the vast majority of the U.S. national team still passes through the league on the way up.
MLS-based players on foreign national teams provide more proof that the league is growing not only in quality but also in influence, on and off the field. Ralph points out that while the growing foreign connections may not be a complete blessing for U.S. soccer, the relationship works for the league.
"You don't want to develop your competition too much," he said. "But I think MLS benefits from it. I think both sides benefit from it. Here you are, you help to improve MLS in the quality, and guys from overseas are able to increase their value and improve on their skills by coming over here in MLS. So I think it's a situation where both sides have a lot to gain from a relationship."
Brent Latham covers soccer for ESPN.com. He previously covered sports throughout Africa for Voice of America radio and now works as a soccer commentator for a national television station in Guatemala. He can be reached at brentlatham@ymail.com.
ESPN Insider
Brent Latham is a soccer commentator who covers the youth national teams for ESPN.com. Based in Guatemala, he has attended youth World Cups from Peru to Egypt, and places in between.