Sporting KC unveils new soccer stadium
Updated:
June 9, 2011, 4:11 PM ET
Associated Press
KANSAS CITY, Kan. -- Kansas City's $200 million state-of-the-art soccer stadium is set to open Thursday night, and before Livestrong Sporting Park even welcomes fans the team is defending its relationship with Lance Armstrong's cancer-fighting Livestrong Foundation.
Eager to partner with Livestrong, which funds cancer research and supports cancer survivors such as Armstrong himself, Sporting Kansas City agreed in March to donate $7.5 million to the foundation over the next six years.
That was before a report on "60 Minutes" last month that again raised allegations of performance-enhancing drug use against the seven-time Tour de France winner. Former teammate Tyler Hamilton, like Floyd Landis a year before, accused Armstrong's U.S. Postal teams of systematic drug use.
[+] Enlarge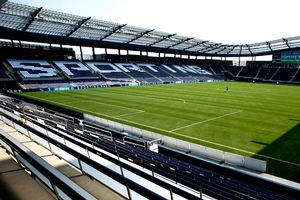 AP Photo/Orlin WagnerSporting Kansas City will play its first game in its $200 million Livestrong Sporting Park on Thursday.
To the city and the team, the accusations hardly seem fair. Armstrong has denied the allegations many times and has never flunked a drug test.
"Our relationship is with Livestrong, that fantastic philanthropic organization that gives hope and advocates for a cure for cancer," said David Ficklin, Sporting KC's vice president for development. "That's who we are partnered with and that's the cause we've chosen to advocate. Livestrong is the foundation that Lance Armstrong founded. He is a prominent spokesman.
"But every one of us all join together and say, 'I'm supporting the efforts to fight cancer and support those who have, and to cure cancer.'"
Aside from any controversy over Armstrong, Livestrong Sporting Park will take its place among the finest soccer stadiums in the world when it opens for a MLS match between Kansas City and the Chicago Fire.
Seating 18,467 for soccer and 25,000 for concerts, the stadium boasts technological innovations which Sporting KC proclaims is "the next generation of fan experience."
"It's remarkable. It's a technological marvel for the sport of soccer," said MLS commissioner Don Garber, on hand for Thursday's opening. "It has so many new and innovative things that will provide fans an experience that will set the standard for not just soccer but in many ways even for other sports."
Throughout the facility, Cisco Connected Sports Solutions offers high-def video, interactive fan services and digital content. More than 150 WiFi access points will accommodate mobile and hand-held devices. People will be able to order food and drink delivered to them without leaving their seats as well as keep up with stats during the action.
"We realize some of these things may not always go perfectly and there's going to be a bit of learning around some of these solutions," said Robb Heineman, one of Sporting KC's five owners. "But for us, this is really exciting. This is the beginning of what we believe will be a really cool collaboration."
More than 330 high definition televisions will be placed around the stadium, the first MLS park fully equipped for HDTV.
In the plush home locker room, players will sit on $5,000 seats imported from Spain. The seats are equipped with power docks so they can access information during halftime. The spacious media room where postgame interviews will be conducted is right next to a large bar and food area. Fans will be able to look through the glass partition to see the interviews while the audio is piped to them.
"Without a doubt, this is the most technologically advanced soccer stadium in the country," Garber said. "It could be on the leading edge of technology of any stadium, including some of the NFL stadiums. That technology will not just provide unique experiences for fans, but also is extended to providing real competitive benefits for players and coaches."
And as for Livestrong's founder detracting from Sporting Kansas City's new home?
"Absolutely not," said Ficklin.
"Livestrong is a phenomenal philanthropic organization that gives hope to the 28 million cancer survivors in this country, and now many around the world. That's the message we're associating Sporting Club with."

Copyright 2011 by The Associated Press