Commentary
U.S. sticks to its tried-and-true formula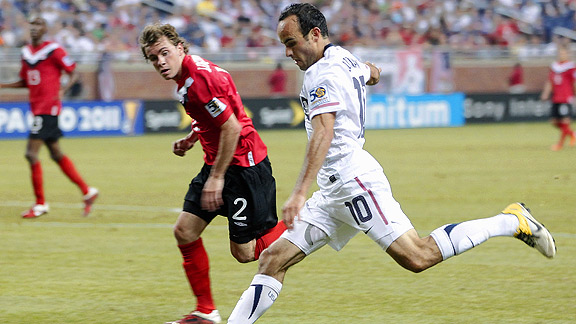 Gregory Shamus/Getty ImagesSome teams tailor their tactics against opponents, but the U.S. takes an us-first approach -- impose their physical style and the rest will take care of itself.
No two opponents are the same. This is especially true in CONCACAF where, for whatever reasons (colonial influences perhaps, or the preferences of pioneers), the styles are about as disparate as the countries that make up the confederation. It can make plotting strategy for this month's Gold Cup quite tricky.
"There are a ton of different styles in this tournament, probably no less than four or five," said U.S. defender Tim Ream. "It's something you don't see very often around the world."
In its Gold Cup opener Tuesday, the U.S. recorded a 2-0 victory over Canada, an opponent that -- much like the U.S. -- relies on physicality, good organization and service from crosses and long balls to overcome its opponents.
ESPN FC on Twitter
Don't miss a moment of the latest soccer coverage from around the world. Follow us on Twitter and stay informed. Join »
In the Yanks' second match in Group C on Saturday, which could lock them down a place in the quarterfinals, they will face Panama in Tampa, Fla. (Join us for instant analysis of U.S. vs. Panama starting at 7:45 p.m. ET.)
And against the Panamanians, the U.S. will be confronted with an entirely different approach to the game. Although Panama struggled to win 3-2 against a poor Guadeloupe side Tuesday, distributing poorly and finishing even worse, the Red Tide are a decent team. They're quick, creative and technical, and favor creating through the middle of the park and feeding their forwards through balls as they make runs off the last defender. It isn't adverse or incapable of treading different routes, though, with the long ball also a distinct possibility.
"I expect a team of good soccer players who will combine well, especially in the heat of Tampa Bay," U.S. defender Steve Cherundolo said. "They're very talented on the ball and creative going forward."
So how will the U.S. adjust from one ideological extreme to the other in a mere three days of preparation?
U.S.-Panama
Panama is low on difference-makers, though its striking tandem of Blas Perez and Luis Tejada can be effective. Both are quick and highly experienced -- while neither is yet over 30, they have played for a combined 26 clubs and scored a cumulative 39 goals in 81 caps, including one each against Guadeloupe on Tuesday. Perez and Tejada will prowl for balls to run onto, and since not all the U.S. defenders are the fleetest of foot, this could be a danger area for the Americans. -- LS
Simple answer: It won't.
There's a long-standing debate in soccer about whether teams should tailor tactics to opponents or try to impose their own strengths. In other words, do you adjust to the other team or do you make them adjust to you? Dutch coach Louis van Gaal refused to ever deviate from his own system, no matter whom he played, when he coached his pipsqueak Ajax side to two straight Champions League finals in the mid-1990s. MLS coaches, on the other hand, are generally inclined to take a very different, more defensive approach to away games then they do when they play at home.
The U.S. tends to sort out its own game before looking over to see what everybody else is doing.
"I think that's always been the case where we have, for the last four years, worked on our style," assistant coach Mike Sorber said. "In an ideal world, we'd like them to adjust to us.
"I don't think we ever go into a game and say, 'Look, we're going to put ten players at the top of the 18 and just weather storms and then whatever happens, happens,'" Sorber added. "We like to challenge ourselves and our team and say, 'Come on, we can have some possession, create chances, where we can get players in positions where they can worry about us.'"
This means the U.S. changes very little about its approach to games as it progresses through a tournament with a varied field of entrants such as the Gold Cup. "I don't think the game plan is going to change, really," said Ream of the Panama matchup. "Obviously we're going to have to tweak a few things here and there, but for the most part we're going to try to do exactly what we did tonight -- keep possession and create chances and stay solid defensively when they have the ball."
[+] Enlarge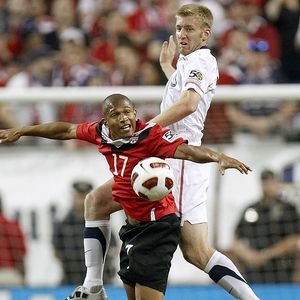 Gregory Shamus/Getty ImagesTim Ream and the U.S. defense shut down Canada on Tuesday. Next up is Panama.
While such an approach could easily be derided as arrogant, there's a pragmatic underpinning to keeping your team tactically consistent. "As soon as you start switching up your playing style for who you're playing against, it kind of gets guys confused and changes everybody's mindset a little bit," Ream said. "If you keep the same mindset and you keep the same game plan and keep things simple, you should be fine." Imagine, after all, having to absorb seven different tactics for seven different opponents in a mere 22 days, as the U.S. will this month, if you include its friendly with Spain on June 4 and assume it reaches the Gold Cup final.
Perhaps teams that obsessively prepare for an opponent overthink things. "At the end of the day, soccer is simple, and first and foremost we concentrate on ourselves and making sure we're doing what we want to do right," Cherundolo said. "We can't control what the opponent does. The most important thing to us is that we stick to our game plan."
But this "me-first" approach isn't completely at the expense of scouting the opposition. Head coach Bob Bradley and his staff are known to put in long hours analyzing tape of their own and opposing players. "We don't just throw out the opponent; we like to create a picture for our team," Sorber said. "We still have our style, and yet we still have the challenge of trying to implement our players and our pressure on those teams and are always aware of the other team and what their strengths are and what they bring also."
That preparation has uncovered what the U.S. will focus on against Panama -- once it's gotten its own affairs in order, of course. "We need to be a little bit better in possession going forward, not lose the ball cheaply so we get countered," captain Carlos Bocanegra said. "We've got to go out with the same energy as we did against Canada, put them on their heels. We have to attack these guys the same way."
Matching Panama's stamina in the heat will be a priority. "It could be difficult to keep the tempo up over 90 minutes," Cherundolo said. "But it's a game where I think if we keep our shape over 90 minutes, we'll be happy with the result. I think if keep our discipline, we'll create chances holding our positions and moving as a group and maybe winning the physical battles."
But as long as the Americans' game is on point, nothing Panama throws at them can't be overcome. Or so they think.

Contributing writer, ESPN.com
Leander Schaerlaeckens is a contributing writer for ESPN.com. He has previously written for The Guardian, The Washington Times and UPI.