Commentary
How Mourinho is fine-tuning Real
Updated:
June 15, 2011, 3:53 PM ET
By
Andy Brassell
| Special to ESPN.com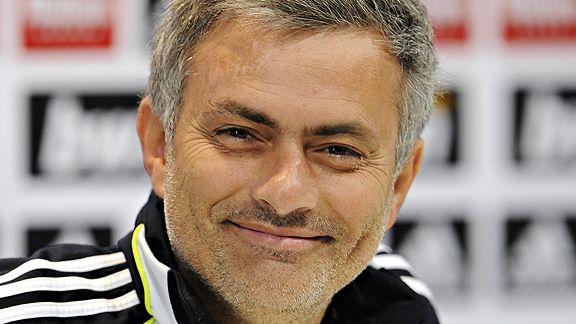 Dani Pozo/Getty ImagesIt's been a quiet summer so far for Real Madrid, but in signing players like Nuri Sahin, Jose Mourinho is sculpting a team in his own image to overtake Barcelona.
For Jose Mourinho, this past season must have felt like living in a mansion with a faulty roof. His was generally a position of luxury, but every time it seemed as if everything was in perfect order -- such as the occasion on which his Real Madrid side arrived at Camp Nou to face Barcelona in November as La Liga leader -- a huge, ugly leak sprang open. With this sole but significant fault in his structure, Mourinho never had the time to decorate as he wanted, in the way every new resident is always eager to do.
It's different now. The power structure of Real Madrid is established, with Mourinho at the top of it. The sporting director, Jorge Valdano -- an erudite, cultured man with a lengthy history with the club and its principles as well as a deep distaste for pragmatic football -- has been fired, having never seen eye-to-eye with Mourinho. When president Florentino Perez hired the Special One as manager, Perez knew that his club would play a brand of football less aesthetically pleasing than Barcelona. Now, after the 2010-11 season, Perez also knows that if Mourinho is to be allowed to work his magic, he has to be given the freedom to entrench his methods and values as deeply as possible.
Mourinho's enduring belief is in the collective's importance over that of the individual, a mindset starkly at odds with Perez's hallmark "galactico" policy. So this summer, instead of Real Madrid rampaging through the transfer market like Godzilla, there's been a rare tranquility as Mourinho fine-tunes his team in his own way.
Mourinho's first signing of the summer was a modest one, with the option exercised to bring former Real B player, winger Jose Maria Callejon, back from Espanyol. Eyebrows have been similarly raised over the decision to hand Hamit Altintop -- only a bit-part player at Bayern Munich -- a three-year deal, even taking his free-agent status into account. Callejon may end up being an Alvaro Negredo-style makeweight in future deals, but Altintop is Mourinho's ideal squad player, someone who can come in and perform well despite sporadic game time, as he did to spectacular effect in Bayern's Champions League semifinal second leg against Lyon in 2009.
[+] Enlarge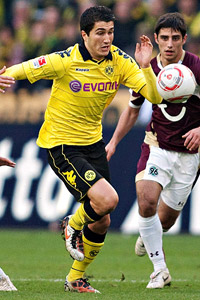 Icon SMINuri Sahin is expected to help Real control games with more authority and boost the team's counter-attack.
Nuri Sahin, Altintop's Turkish international teammate, may have been the star for German champion Borussia Dortmund this past season, but he jumped ship, signing a six-year deal with Real in May. Blessed with considerable technical ability, the 22-year-old Sahin is the type of player for whom Mourinho has a particular plan in mind. Sahin is expected to put his stellar passing to use in a deeper role, allowing El Real to control games with more authority and to break with even more incision than before. His bargain 10 million euro price tag is just a further bonus.
We've seen this kind of team-building from Mourinho before. The Porto side he constructed to win dual domestic championships, the UEFA Cup and the Champions League was stuffed with talent, but it was also a functional beast, built to win. The likes of Deco and Maniche had the imagination to decide a game with a flash of magic, yet they understood that they had to provide industry, too. It is easy to forget that they were not glamor signings, but cheap castoffs.
Even Fabio Coentrao, the live-wire left back who is all but certain to arrive at Bernabeu Stadium from Benfica for a cool 30 million euros, is an altruist, a star who fully embraces the concept of the team. Converted after having been a winger earlier in his career, the 22-year-old thrives on being able to burst into his powerful wide runs from deeper positions, but he has learned the defensive side of his new position with astonishing speed, twin assets that make him the perfect amalgam of the two Real players currently sharing the role, Marcelo and Alvaro Arbeloa.
Of course, Coentrao's most eye-catching moments in the 2010 World Cup (in which he was one of the few Portugal players to emerge with increased stock) were in partnership with Cristiano Ronaldo on the left-hand channel, which is another boon for Mourinho.
The ability to link up with Ronaldo will also likely save Karim Benzema, the costly French international who many predicted to be one of the first casualties of the new Mourinho era. Benzema is being kept on not because Perez insists such a valuable asset must be nurtured (as may have been the case in the past), but because Benzema has a genuine worth to the team in providing a technical foil for Ronaldo. Benzema scored 26 goals in all competitions in his second season at the Bernabeu, but what really excites Mourinho are the Frenchman's nine assists (eight were for Ronaldo).
Ronaldo himself may be considered the one exception to this rule, as the ultimate individualist in an emphatically team sport. Yet this image of him is as inaccurate as it is tired. Last season saw him hit double figures for assists (16) for the first time since 2006-07, when he was a more orthodox winger for Manchester United.
[+] Enlarge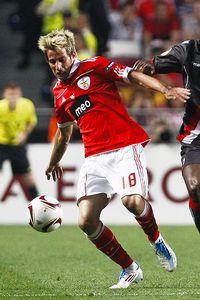 Patricia De Melo Moreira/Getty ImagesReal Madrid may also sign left-back Fabio Coentrao from Benfica.
"I would have preferred to have scored half the goals and to win the Champions League or La Liga," Ronaldo said this week in an interview with Spanish radio station COPE's program El Partido de las 12 in Lisbon. This echoed his comments while on international duty with Portugal at the start of the month. "What I want is more trophies," he said. On both occasions, Ronaldo underlined that he "isn't thinking of leaving" the club, despite persistent rumors of a mega-offer from Manchester City.
This is a crucial sign that Ronaldo is buying into the Mourinho mindset, despite the accusations of "anti-football" that flew toward the Bernabeu in the wake of last season's Champions League semifinal first leg. Today, Ronaldo refers to his coach as "the best."
Mourinho is still looking for a defensive midfielder, with Lassana Diarra having failed to consistently convince and defender Pepe being redeployed in midfield for crucial matches toward the end of the campaign. Yet Mourinho's plan to once again sculpt a team in his own image is almost complete. Barcelona cannot continue to be the best forever, and when it slips, Mourinho will make sure Real Madrid is poised.
Andy Brassell is a freelance soccer writer for ESPN.com.