Commentary
EPL players who've earned an upgrade
Updated:
June 21, 2011, 5:28 PM ET
By
Ravi Ubha
| ESPN.com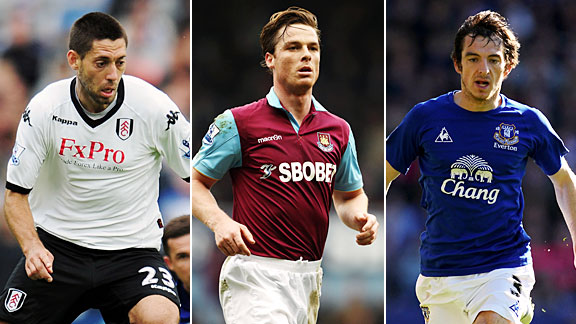 Getty ImagesThere are plenty of players who might have a wandering eye toward a bigger club, and rightfully so. Here's our team of 11 players who have earned an upgrade.
Elite clubs in the Premier League are filled with players who aren't good enough, as they say, to wear the shirt. Cases in point include Nicklas Bendtner at Arsenal, Liverpool's Milan Jovanovic and Jo at Manchester City.
The opposite also applies. There are plenty of players who may have a wandering eye toward a bigger club, and rightfully so.
So with the transfer market about to go into overdrive, here's our team of 11 players -- in traditional 4-4-2, of course -- who have earned an upgrade.
GK -- Ben Foster, Birmingham: A pattern has emerged with Foster: When the pressure is on, he often flatters to deceive. At Manchester United, he had the chance to prove himself as the successor to Edwin van der Sar, but failed, which led to a move to Birmingham. And in his final England appearance, Foster erred against Les Bleus.
He has since taken himself out of the international picture to focus on his club career, which took an unfortunate turn when Birmingham was relegated this past season. But as he proved in a previous stint with similarly modest Watford, Foster hardly did anything wrong during the Blues' campaign. Indeed, had the 28-year-old not sparkled, Birmingham's relegation would have happened well before the final day of the 2010-11 season.
Foster will probably be joining former Birmingham manager Alex McLeish at his new post with archrival Aston Villa, as the No. 1 spot is vacant. Villa would be a comfortable middle ground for Foster.
FB -- Leighton Baines, Everton: You have to question the mettle of a player who bypasses the biggest tournament in the world because of homesickness. At least Baines was being honest in the buildup to the 2010 World Cup -- not a trait associated with all footballers these days.
That said, no one can question his ability. Baines was the best left back in the Premier League this past season, and the league has a few good ones. His crosses are picture-perfect, and he doesn't shy away from taking penalties.
Arsenal is being linked with Baines, although whenever the Gunners are tied to a player in his prime, the transfer rarely materializes.
CB -- Phil Jagielka, Everton: Tim Howard, one of the most respected keepers in England, had high praise for teammate Jagielka in April. "I've played behind some great defenders, Rio Ferdinand being one of them who would get on my teamsheet," Howard told reporters. "But if I had only one name I could put on there, it would always be Phil Jagielka."
Jagielka is far from stylish. What he does -- and well -- is throw his body around and anticipate. He leads by example.
With his (and Baines') price tag reportedly as high as 20 million pounds each, only Manchester City, Manchester United and Chelsea could afford him in England. City needs a central defender more than the other two.
ESPN FC on Twitter
Don't miss a moment of the latest soccer coverage from around the world. Follow us on Twitter and stay informed. Join »
CB -- Roger Johnson, Birmingham: Several central defenders are thought to be available this summer, including Jagielka, Blackburn's Christopher Samba and Bolton's Gary Cahill (a tad overrated?). Scott Dann and Johnson, the core of Birmingham's back four, are gone for sure, accompanying Foster. While Johnson possesses lesser tools than does Jagielka, his no-nonsense approach and hefty aerial presence mirror Samba's. He's tough as nails, too, as evidenced by his display in the Carling Cup final, when he carried on against Arsenal despite a calf injury. Villa, Liverpool, Arsenal and Tottenham are apparently interested in Johnson's services.
FB -- Vedran Corluka, Tottenham: Work with me here, folks. Unlike left backs, the Premier League isn't riddled with eye-catching right backs, so Corluka will have to suffice. The Croatian was unable to build on an excellent season with Spurs in 2009-10 because of injuries, making a mere 13 league starts. But when fit, Corluka has shown he's extremely sound defensively, which makes up for his lack of pace going forward. However, would he be much worse than the current right backs at Manchester United (one of the Da Silva twins), Manchester City (Pablo Zabaleta) or Chelsea (Branislav Ivanovic)?
MF -- Charles N'Zogbia, Wigan: If one player singlehandedly kept Wigan in the Premier League last season, it was N'Zogbia. There was no sleeping when the Frenchman was on the ball -- former manager Joe Kinnear once referred to him not as N'Zogbia, but "insomnia" -- as his mazy runs were a joy to watch. N'Zogbia scored nine league goals and added eight assists. Impressive enough. Take into consideration the team he was playing for, and his stats become even more striking.
But N'Zogbia, not averse to sulking, could be headed back to Newcastle, where he played from 2004-09, or Everton, which is believed to be at the front of the queue for the player. However, the Toffees are having a tough time raising the needed funds. Things may quickly change, of course, if they end up selling the likes of Baines, Jagielka or Jack Rodwell.
MF -- Scott Parker, West Ham: The heroics of Parker, named the league's player of the year by football writers, weren't sufficient to prevent West Ham from being demoted. Yet in terms of two-way midfielders, Parker and his never ending engine are up there. The arrival of midfielder Kevin Nolan at Upton Park -- he's reacquainted with Big Sam Allardyce -- means it's only a matter of time before Parker departs. Truth to be told, Parker would probably be leaving regardless of the Nolan move. The team making the most noise is Tottenham, which may lose another central defender, Luka Modric, to Chelsea.
MF -- Charlie Adam, Blackpool: Adam contributed heavily as Blackpool was promoted from the Championship in 2009-10. Rightfully, many wondered if he could cut it at the highest level. Although he sagged slightly near the end of this past season, for the most part, the Scottish international came through with strong performances. Adam's ability to spot a pass and then execute with his potent left foot created numerous opportunities for the offensive-minded Seasiders. He's also a danger on set pieces. Adam stuck around at Blackpool during the January transfer window as suitors came calling, not creating a massive fuss, but the team's relegation sealed any hopes of him staying. Liverpool, which needs a creative central midfielder, is reportedly hovering.
MF -- Matt Jarvis, Wolves: On a workmanlike team, in the mold of its manager, Mick McCarthy, Jarvis sticks out with his pace and skill. He had a breakthrough season in 2009-10, which put him in the England mix for the national team. Jarvis followed that up in 2010-11 by tallying eight assists, with Kevin Doyle or Steven Fletcher often the beneficiary.
McCarthy wants to keep Jarvis and Doyle, his prized assets. But every player has a price. "If someone wants to try and take Matt and Kevin off us, any of our top stars, it is not going to be easy for them -- and they are going to be expensive," McCarthy told Wolves' website in early June.
F -- Clint Dempsey, Fulham: Dempsey talked to ESPN.com this month about wanting to taste Champions League soccer, which is not what Fulham's fans wanted to hear. But the Texan, reportedly monitored by AC Milan last year, has every right to think bigger. Since becoming a regular at Craven Cottage in 2007-08, he's netted 32 league goals, and 12 of those came last season when he shouldered the load up front for large parts of the season as Bobby Zamora and Andrew Johnson were injured. Dempsey certainly has the mentality to suit up for a more polished side. He's good with his feet and in the air, and isn't afraid to be bold on the pitch.
F -- Kevin Davies, Bolton: Of all the players on this list, Corluka and Davies are the least likely to leave. For Davies, that's down to Bolton's desire to keep him, his age (34) and the fact that sides won't be lining up for his signature. Davies remains underappreciated by neutrals, which is a shame. He still fouls recklessly, but his hold-up play is outstanding, and he has chipped in 27 goals in his past three seasons.
He deserves a season at a larger club.
London-based Ravi Ubha covers soccer and tennis for ESPN.com.