Commentary
U.S. has the Big Mo on its side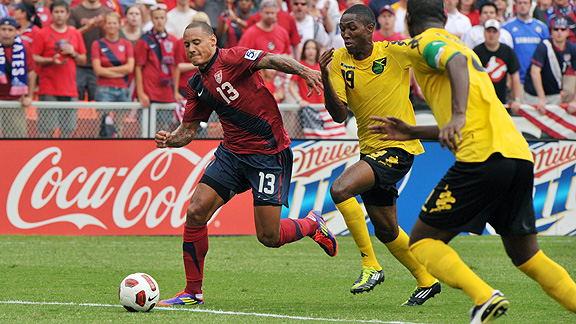 NicholasKamm/AFP/Getty ImagesJermaine Jones and the U.S. appear to be rounding into form at just the right time.
WASHINGTON, D.C. -- When Bob Bradley starts cracking jokes, there's change afoot.
There's either been a cosmic shift altering the fundamental physics of time and space, or the U.S. men's national team has suddenly and spectacularly bettered its fortunes.
Before beating a strong Jamaica side with astounding ease in the Gold Cup quarterfinals on Sunday -- remember, the Reggae Boyz were one of only two perfect teams in the group stage and the only one not to concede a goal -- the U.S. had underperformed. It put together a forgettable 2-0 victory over Canada, lost to Panama 2-1 and scrounged a goal from a dreadful Guadeloupe side for a 1-0 win. And that's not to mention the Americans' 4-0 spanking suffered at the hands of Spain in a friendly before the Gold Cup began.
The day before playing Jamaica, Bradley had looked weary. He answered questions from the press with even more caution than usual, aware as he must have been of the growing chorus of doubters speculating about how soon he'd be out of a job if he lost to Jamaica. After the game on Sunday, he was a different man. The normally stoic Bradley opened the post-match news conference with an uncharacteristic joke, starting off his analysis in German as a nod to German-American U.S. midfielder Jermaine Jones, who had given his post-man of the match award interview in German. Not long after, a reporter asked if Bradley was worried about being second-guessed after granting star wingers Clint Dempsey and Landon Donovan each four days away from the team to attend their respective sisters' weddings. "I never get second-guessed," the forever-second-guessed Bradley cracked with a smile, the sarcasm dripping from his face.
If Bradley was a different man, it's because this was a different U.S. team -- at least on the day. Even though they faced their best opponent yet in the tournament, the Americans had no trouble neutralizing their opponent's strengths of speed, width and the through ball by keeping possession for long stretches, outmaneuvering the other team tactically and creating their own chances. At no point this summer had the U.S. managed to do all of those things at once, and the result was striking. The U.S. dominated, played with a newfound swagger and flair that has been so rare in Bradley's tenure.
It was, in short, a vastly improved effort.
The expression "rounding into form" aptly describes the ethereal concept, because the acquisition of form is seldom linear. There's usually fits and false starts as it arcs along, regardless of the amount of planning and practice before each match. But the U.S., at long last, appears to be hitting its stride for the knockout stage of the Gold Cup.
"In these tournaments you have to grow as you move through it," Bradley said. "Group play -- [we had] tough games where things didn't come easily for us. I think that the training that comes at times between these games, I see it getting sharper. I think we had our best training session so far on Friday. Very sharp, good energy, good with the ball -- [the] ball was moving quick that day. So you see that and think, 'OK, good sign.' And that came out today. We're making progress. You can see the team getting sharper."
The team's indefatigable midfielder, Michael Bradley, sees a similar progression. "Normally, the teams that are holding up the trophies at the end of tournaments are the ones that keep themselves going, can battle through the tough moments and get stronger in each game," he said.
In retrospect, the U.S.'s slow start to the summer perhaps isn't all that surprising. Aside from the odd friendly, this is the first time the national team's players -- those who compete abroad as well as those in Major League Soccer -- have had a chance to practice and play alongside each other for a concerted period of time, giving them a chance to get in sync with each other.
ESPN FC on Twitter
Don't miss a moment of the latest soccer coverage from around the world. Follow us on Twitter and stay informed. Join »
"The longer you are with a team, and I think it's around three weeks now, the more you get to know each other not only as people but also on the field," said veteran right back Steve Cherundolo, who plays his club football with German side Hannover 96. "We're always going to need time again to find each other. I think we're back to a very strong unit and our play is getting better minute to minute."
This is a sentiment shared throughout the team. "I feel like we've turned a small corner," said midfielder Sacha Kljestan. "You look at Italy in 2006 and Spain in 2010 [eventual champions of the World Cups in those years], how they got better as the tournament went on. Spain lost a group game in the World Cup and then nobody could stop them after that. They just kept getting better, and for us, I feel like we're getting better as the tournament is going on."
The Americans are rounding into form -- slowly, steadily -- and not a moment too soon, as they face the team that beat them in the Gold Cup group stage, Panama, Wednesday night in Houston in the semifinals. We'll see if it'll be another occasion for Bob Bradley to crack wise.
Leander Schaerlaeckens is a soccer writer for ESPN.com. He can be reached at leander.espn@gmail.com. Follow him on Twitter at @LeanderESPN.

Contributing writer, ESPN.com
Leander Schaerlaeckens is a contributing writer for ESPN.com. He has previously written for The Guardian, The Washington Times and UPI.