FIFA's Jack Warner quits amid scandal
Updated:
June 20, 2011, 3:28 PM ET
ESPN.com news services
GENEVA -- Jack Warner quit as a FIFA vice president Monday and soccer's governing body dropped a bribery investigation of him, saying the "presumption of innocence is maintained."
Warner and Asian soccer chief Mohamed bin Hammam were suspended by FIFA last month amid the gravest corruption crisis to rock the scandal-hit organization. The two leaders were accused of offering $40,000 cash payments to Caribbean voters during bin Hammam's failed presidential campaign to unseat Sepp Blatter.
Warner said in a telephone interview with Bloomberg.com he had lost his enthusiasm for the job.
[+] Enlarge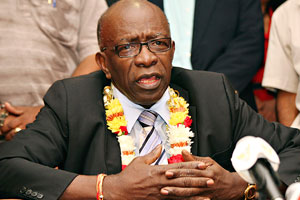 AP Photo/Shirley BahaduJack Warner cited a lost enthusiasm Monday and said people within FIFA had "sought to undermine me in ways that are unimaginable."
"The general secretary that I had employed, who worked with me for 21 years, with the assistance of elements of FIFA has sought to undermine me in ways that are unimaginable," Warner told Bloomberg.
In a statement, Warner said he resigned by "my own volition and self-determination." His departure appears likely to stop his promised "football tsunami" of revelations designed to embarrass FIFA after it accused him of bribery May 25.
His decision also could help preserve his political career in his native Trinidad and Tobago, where he is a government minister. Police on the Caribbean island had said they would ask FIFA for any evidence of wrongdoing.
"All ethics committee procedures against him have been closed and the presumption of innocence is maintained," FIFA said in a statement.
Zurich-based FIFA said that under Swiss law it has no jurisdiction over someone who leaves FIFA, but stressed that its investigation automatically reopens if that person returns to soccer.
"This is giving the impression that FIFA is sanitizing itself," said Warner, who's also come under pressure at home from opposition lawmakers. "I've been hung out to dry continually and I'm not prepared to take that."
But Warner said in the statement he wants to "spare FIFA, CONCACAF and, in particular, CFU and its membership from further acrimony and divisiveness arising from this and related issues."
Warner spent 28 years on FIFA's executive committee and was a vice president as head of the CONCACAF regional confederation. He stepped down days after some of his Caribbean Football Union followers were interviewed by former FBI agents enlisted by FIFA to investigate the scandal.
Warner and Bin Hammam were accused of allegedly arranging the payments in a Port of Spain hotel during the Qatari official's campaign visit May 10.
Warner said he would have been "fully exonerated by any objective arbiter" and he will now concentrate on "my lifelong commitment to the service of the people of Trinidad and Tobago."
But he told Bloomberg gift-giving was part of the organization's longtime culture.
"It's not unusual for such things to happen and gifts have been around throughout the history of FIFA," Warner said. "What's happening now for me is hypocrisy."
He joined FIFA's inner circle in 1983 and seven years later was elected president of the confederation covering North and Central America and the Caribbean. The 68-year-old official was given another four-year term unopposed at the CONCACAF congress May 3 in Miami.
"At the end of the day I don't want to be seen to be vengeful," Warner said in the phone interview. "I am saying over time history will judge Mr. Blatter."
Bin Hammam did not attend in Miami, contending he had visa problems to enter the U.S. even though he holds a diplomatic passport. Caribbean members of CONCACAF were then summoned to a two-day conference in Trinidad to meet Blatter's election rival.
Delegates from the Bahamas, however, turned whistle-blower and alerted Warner's longtime CONCACAF No. 2 Chuck Blazer of the U.S., who commissioned a file of evidence to present to FIFA.
The dossier included statements from soccer federation officials from Bermuda, the Cayman Islands and Turks and Caicos Islands who also declined the payments. Puerto Rico and Surinam later agreed to return their $40,000 payments as pressure on witnesses intensified. Other CFU members insisted no FIFA corruption rules were broken in Trinidad.
"I don't know who's a friend and who's a foe," Warner said. "In retrospect possibly my friends, who I thought of as my friends, have been foes and possibly my foes have been friends. In fullness of time I'll be able to see better who was foe and who was friend."
Warner had been a longtime ally of Blatter, who was re-elected as FIFA president when bin Hammam dropped out. Bin Hammam withdrew hours before the ethics panel met and provisionally suspended him three days before the election.
The Asian Football Confederation president is now set to face a full ethics inquiry, expected next month, without his fellow confederation boss. FIFA is also investigating two CFU employees.
"If FIFA doesn't go back to its moorings, football in the world as we know it today will never be the same again," Warner said.
Information from The Associated Press was used in this report.