Commentary
Screamo master, Tim Howard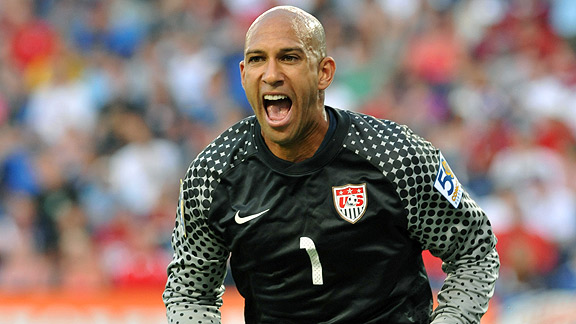 Al Messerschmidt/Getty ImagesIf you've watched Tim Howard, you know he isn't shy about screaming at his defense. But the U.S. national team keeper said there's a method to his madness.
WASHINGTON, D.C. -- The image endures: U.S. national team and Everton goalkeeper Tim Howard charging at his own defenders, gesticulating wildly and screaming corrections at them after a play, veins surging to the surface of his buffed dome.
In his fifth year as starting netminder for the U.S., it's a sight that's become expected. Never were his outbursts so frequent as in the friendly against Spain on June 4, when La Furia Roja effortlessly cut the Americans' defense to shreds to slip four goals past Howard.
But this image of Howard as the national team's high-strung screamer-in-chief sharply contrasts Howard off the field. Sitting across from me in a plush chair in a secluded hotel hallway, the 32-year-old is affable, smiling as he speaks calmly with one leg crossed over the other and resting his head on his fist. "On the field I'm just an actor," Howard said. "It's all to motivate, it's all to get points across. That's all very calculated. None of that is me not having control. It's exactly the opposite -- I'm very much in control of those reactions."
So why does he feel he has to yell so much? What philosophy underpins his act of bellowing bully? Soccer is a game of moments, and Howard will do everything he can to make sure his defense -- because, make no mistake, it is his defense -- is prepared. In his eyes, it's his job to make sure all the pawns are properly aligned when the chess game begins.
That means keeping the back line on a short leash. "Defenders are like dogs," said Howard, explaining that they must be corrected immediately or else they'll forget. "If four plays go by and I try to make a point about the first play, it doesn't work because it happens too quickly. This is why you see me having these types of reactions, because you only get that one break and it's fresh in their minds. If I didn't like how a center back didn't go tight, I'm going to tell him right then and there so that he remembers that play right away."
"

Defenders are like dogs. If four plays go by and I try to make a point about the first play, it doesn't work because it happens too quickly ... The points have to be hammered home right then and there to get a reaction from the players.

"

-- Tim Howard
"The points have to be hammered home right then and there to get a reaction from the players that says, 'OK, I don't want to do that again.' I've always learned the best in those circumstances. I'm just a product of my environment. I've always been best when I play with older guys, more experienced guys, where if I kick a ball and it's not the right ball, they turn around and just hammer me. It sends a message: Don't do it again because next time we're going to pay for it."
And, Howard said, his superior vantage point gives him an obligation to pass on his insights to the defense. "I have the luxury of seeing the whole field, of seeing a broader picture," he said. "The key to goalkeeping is helping them to see the picture you see. The best defenders I've ever played with, the ones who are more experienced and a thousand times better than me at soccer, have told me, 'We need you to talk to us, we need you to tell us.'"
His defense is appreciative of Howard's coaching.
"Having a guy like that behind you who is always communicating is big for any defender, especially for me being pretty new to this program and pretty new to this situation," defender Tim Ream said. "It's going to put any defender at ease."
Said left back Eric Lichaj:"It's fine. I'm used to it. I had two older brothers who always yelled at me when I was younger. It's good to have someone like him in the back so that if you do make a mistake he'll most likely be saving us. It's a very good feeling."
Howard is a man who appreciates of the value of opportunity. "Wherever I've played in my career, the one thing that I've always realized, particularly at the highest level, is that you don't get very many chances in a game," he said. "If your left back does something and he gets beat and you get away with it, you might not get away with that again."
But Howard knows well that the game is an opportunity, too. Born in North Brunswick, N.J., to a Hungarian mother and an African-American father, who divorced when he was 3, he was introduced to soccer early by his maternal grandfather. On his way to becoming 6-foot-3, Howard naturally ended up playing in goal as a child, getting deeply upset even then by conceding goals.
Money was tight back then. So Howard started playing semi-professionally before he was out of high school, joining the New Jersey Imperials. The next season, at 18, he joined the New York Metrostars. By the time he was 22, he'd become the youngest ever player to be named MLS Goalkeeper of the Year, playing in every minute of every game while notching four shutouts.
Howard's big break came when he was snapped up by Manchester United in summer 2003, at 24 years old. He earned goalkeeper of the year honors in his first season there, getting 14 clean sheets. He also made a mistake that cost United a place in the Champions League quarterfinals against Porto. Mistakes became more frequent in his second year, as he traded off between the posts and the pine. After veteran Dutchman Edwin van der Sar was brought in, Howard was benched for good and was loaned to Everton the year after. The move was made permanent midway through his first season on Merseyside. Since then, Howard has become one of the most dependable backstops in the game, setting an Everton club record 16 clean sheets in 2008-09.
He no longer has to fight for his starting spot. "[Everton manager David Moyes] is phenomenal," Howard said. "He gave me more confidence than I've ever had in my life."
His steady progress, consistency and confidence have been a boon to the U.S., too, becoming a worthy successor to Brad Friedel and Kasey Keller. "If we didn't have Timmy, we wouldn't be anywhere near as good as we are now," said veteran right back Steve Cherundolo.
Yet for all his posturing, soccer equals anxiety for Howard. It is well-publicized that he has Tourette's syndrome, a nervous system disorder that for Howard causes muscle spasms and tics in his face. The symptoms started showing when he was 10. For several years, he struggled with obsessive-compulsive disorder, too, which often occurs in those with Tourette's.
Although the condition made socializing difficult growing up, Howard never took any medication for it because he worried that it would slow down his reaction speed in goal. He hid his condition until 2001, when he was well-established in Major League Soccer.
Tourette's is sometimes characterized as a buildup of anxiety, and Howard's symptoms tend to peak during games. During much of our conversation, however, he barely had any symptoms at all, clearing his throat or coughing softly or twitching along the right side of his face or neck only on the rare occasion. It makes for a complex dichotomy between the game and his disorder. Because, as Howard said, "The game for me has always been a great distraction, because it's always allowed me to focus on something else, whether I tic or twitch."
He is most anxious when he's playing. "My tics and twitches are heightened in those moments as opposed to when I'm sitting on the couch reading the newspaper," Howard said. "I concentrate and have found a good way to get through 90 minutes and stay focused through my own little idiosyncrasies. But it works for me and that's just how I concentrate and how I focus on the game."
But the cumulative effect makes it hard for him to enjoy the games. "I enjoy the buildup to the game and I enjoy the after," Howard said. "I've always felt in the moment, there's so much going on, there's so much at stake, there's so much pressure to perform, to get things right. In the 90 minutes, it's not an enjoyable thing. When the lights come on you have to dance. I think I play well in the moment and I enjoy the sport, of course, but it's hard to truly enjoy it when you're working so hard at it and you're so focused and driven on one thing for 90 minutes straight."
The stress is also driven by an acute awareness that his margin of error as the last man of the defense is a fraction of that of any other player. "I don't mean to diminish my teammates, but as a goalkeeper you don't get many chances," Howard said. "One little screw-up and it usually ends disastrously. If you're a left-sided midfielder and you give a ball away, you have a chance to defend it."
Then, to top it all off, there's the enormous weight Howard places on his own broad shoulders. "I put a lot of pressure on myself," he said. "I've played with a lot of guys who could just go out there and it doesn't really quite matter as much. I could do that, but I choose not to. I choose to be focused and put pressure on myself and want to be the best. I may never reach that, but that's the goal."
Yet within that maelstrom of anxiety, Howard has found a reserve of inner tranquility. "Goalkeeping is a confidence thing," he said. "It does ebb and flow. And the best goalkeepers can stay on [top of] that curve a little bit longer. I'm confident now only because I'm 32-years-old and I am the goalkeeper I've always wanted to be."
His confidence has grown as he's improved his technique, which he was long accused of lacking. "Particularly over the last five years, I've become very technically sound in my goalkeeping," Howard said. "That part has certainly come around in leaps and bounds from where I was in my mid-20s." This leaves one less susceptible to blunders. "You try to take the guesswork out of goalkeeping instead of just being young and athletic and overaggressive."
And even when he isn't confident, he'll pretend otherwise. "I think you always need to give off the perception that you're confident, that your chest is out, because it exudes to the team, even if you've just made a blunder," he said. Because you can't be chewing out your peers if you look insecure. "Of course, it gets more difficult when you're not having a good day, thinking, 'I'm telling these guys to do something and I can't even do my damn job.' That part is hard, but that's where the acting comes into [play]."
Howard didn't have to act much in the U.S.'s 2-0 Gold Cup quarterfinals victory over Jamaica on Sunday, as his team finally played convincingly. "But my directions were still the same," he said. "Trying to organize after certain moments and making sure that I'm creating awareness for [the defenders] and keeping them on their toes in the game. There's been a theme in this Gold Cup: Teams have sat back on us, so from a defensive standpoint it's easy to go to sleep, because you have so much of the ball. But my reminders to them were just that you've got to continue to talk, continue to communicate. We've got a lot of the ball, we've got to be pessimistic in thinking the next pass is going to break down and how are we set up for that?"
So long as Tim Howard is posted behind the defense, though, screaming, acting, correcting, informing, there's really no need for pessimism.
Leander Schaerlaeckens is a soccer writer for ESPN.com. He can be reached at leander.espn@gmail.com. Follow him on Twitter at @LeanderESPN.
Contributing writer, ESPN.com
Leander Schaerlaeckens is a contributing writer for ESPN.com. He has previously written for The Guardian, The Washington Times and UPI.