Commentary
Villas-Boas set to take over at Chelsea
Updated:
June 21, 2011, 5:26 PM ET
By
Michael Cox
| Special to ESPN.com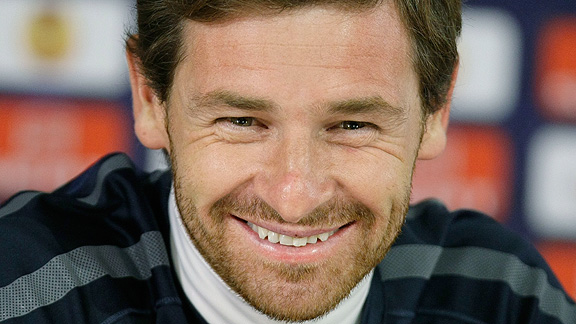 AP Photo/Mikhail MetzelAndré Villas-Boas, who has been called Mourinho Light, has quit Porto and is set to follow in Jose's footsteps and take over as manager at Chelsea. There, he'll be judged by one thing -- winning trophies.
For the ninth time in succession, Chelsea will appoint a foreign manager this week.
Following on from Ruud Gullit, Gianluca Vialli, Claudio Ranieri, Jose Mourinho, Avram Grant, Luiz Felipe Scolari, Guus Hiddink and Carlo Ancelotti will be Porto coach André Villas-Boas, just 33 (the same age as Didier Drogba and Frank Lampard) and with only two years of experience as a manager.
However, unlike many of his predecessors, Villas-Boas will arrive with considerable experience of Chelsea and England as a whole. He worked as an assistant under Mourinho at Chelsea, given the job of compiling incredibly detailed scouting dossiers, both in video and in print, on the Blues' upcoming opponents. Perhaps we should have known that Villas-Boas would go on to become a coach himself -- one of Mourinho's first coaching roles was in a similar capacity at Barcelona.
Villas-Boas has English roots. His grandmother was from the north of the country, so he had a good grasp of English from an early age. He then had a stroke of luck as a 15-year-old, as he found himself living in the same apartment block as Bobby Robson when the late Englishman was in charge of Porto, the club Villas-Boas supported. He took the opportunity to put a letter through Robson's mailbox that questioned his decision to drop Domingos Paciencia, the side's star striker. It's funny how things turn out -- Paciencia was in charge of the Braga side that was defeated by Villas-Boas' Porto in the UEFA Europa League final in Dublin last month.
Robson was deeply impressed by Villas-Boas' knowledge of the game at such a young age, and with his links to the English FA having been the national team's manager until a couple of years beforehand, Robson helped Villas-Boas out. "He liked my passion, so [he] helped me to enroll at Lilleshall to take my FA coaching qualifications," Villas-Boas said. "He also arranged for me to do my Scottish qualifications in Largs and spend some time at Ipswich with George Burley to see the team train."
Clearly, Villas-Boas is a man who has significant knowledge and experience of English football, and that's without considering the three years he spent working at Chelsea creating and running the club's Opponent Observation Department. He'll already be familiar with much of the first-team squad, which hasn't undergone a major transformation since Mourinho left in 2007, although there are likely to be transfers before the window closes this summer.
Villas-Boas' first task upon taking the Porto job a year ago was to sell arguably the side's two biggest players: Bruising center back Bruno Alves left for Zenit St. Petersburg, while Raul Meireles headed to Liverpool. Villas-Boas wanted a clean break from the disappointing 2009-10 season when Porto finished third and managed to convert the team into a side that went unbeaten the entire season and won the Europa League.
His Porto side last season was not entirely different from the style of football that Chelsea fans have been used to seeing in recent years. Another relic from the Mourinho days at Chelsea is a preference for a 4-3-3 formation, the same shape Villas-Boas always employed at Porto. The similarities extend to the style of football exhibited by the two clubs. Neither one is used to playing with a defined playmaker, a player such as Cesc Fabregas, Wesley Sneijder or Andres Iniesta. There is a more powerful, brutal quality to both sides. Porto didn't pick opponents apart with guile; it flattened them with the pace and power of Hulk and Falcao. It's not dissimilar from the combination of Drogba and Nicolas Anelka that Chelsea has depended on during the past three seasons, although the presence of Fernando Torres has complicated things.
ESPN FC on Twitter
Don't miss a moment of the latest soccer coverage from around the world. Follow us on Twitter and stay informed. Join »
That's not to say that Porto's football was entirely about physical ability. Another key part of its game was the sophistication of its movement, something not particularly evident in Ancelotti's final months as Chelsea boss. The mutual understanding between players throughout Porto's successful run was easy to see, and movement came from everywhere, starting from the back. The deepest midfielder, Fernando, could drop into the defense and form a back three, allowing the side to switch from 4-3-3 to 3-4-3 seamlessly. At Chelsea, Villas-Boas might pinpoint John Obi Mikel for that role.
Further forward, there were "classic" combinations based around movement that frequently unlocked opponents. In the stunning 5-0 win over Benfica, for example, Hulk constantly pulled to the right and created space for Fernando Belluschi to motor into. On other occasions, Falcao would drop deep, and either Hulk or Silvestre Varela would become the highest player up the pitch. Part of this is about natural ability and understanding, but a significant proportion stems from good work on the training ground.
Villas-Boas has frequently been compared to Mourinho for obvious reasons -- and moving to Chelsea only furthers the similarity. Perhaps where they differ most significantly is their level of attacking intent. Whereas Mourinho has become renowned for playing defensive-minded football, Villas-Boas wants to entertain. In the news conference immediately after the Europa League win, he practically apologized for the scrappy nature of the 1-0 victory -- a score line that Mourinho would have been completely happy with -- because he wanted to put on a show. He also paid tribute to Pep Guardiola, describing him as a "real inspiration" despite having met him only once a couple of months beforehand. Villas-Boas also thanked Mourinho plus Robson and his wife, Elsie, describing how much they had done for him as a teenager.
That might seem irrelevant, but it does demonstrate that Villas-Boas is more thoughtful and gracious than Mourinho and arguably has better people skills. Portuguese journalists have constantly remarked on what a good communicator he is, and it's likely that he uses that ability on the training ground, too.
Ultimately, his most important relationship will be with Chelsea owner Roman Abramovich. Communication skills will come in handy, but it's winning trophies that will be most important. Mourinho and Ancelotti won the league in their first seasons, and Villas-Boas will be intent on replicating that feat, at the very least.
Michael Cox is a freelance writer for ESPN.com. He also runs zonalmarking.net.