Commentary
U.S. struggling with agony of defeat
PASADENA, Calif. -- They looked on in agony as Mexico hoisted the 2011 CONCACAF Gold Cup. But the very second that cup was lifted above 20-odd Mexican shoulders, commemorating El Tri's 4-2 comeback win over the U.S. on American soil in the continental final Saturday, the U.S. national team stormed off the field.
This one hurt, a raw pain drawn from the deepest and darkest crevices of the scrappy Yanks' soul. It wasn't just a loss. It was a defeat to Mexico. In a final. After going up 2-0. At home.
The U.S. had made a dream start. It had followed the blueprint for competing with Mexico: Absorb pressure. Stay tight. Break out quickly. Repeat. Within 28 minutes, the U.S., very clearly the less naturally gifted team, was ahead by two. Then Mexico started carving up the American lines in earnest. Before the half was over, the score was even. The second half wasn't yet five minutes old when Mexico went ahead for good, cementing the U.S.'s colossal collapse, toying with it thereafter.
Not much was said in the U.S. locker room afterward. "There's not much to say," said captain Carlos Bocanegra. "Everybody left it out on the field. Everybody's disappointed, it was a long tournament. It's frustrating more than anything."
"When you're together for a month, when you feel like you've worked hard and grown and put yourself in the final, when it's all over and you've let it get away, it's an empty feeling," head coach Bob Bradley said, reflecting on the team's psyche after the game. "We have a short conversation about what this feels like. It's a difficult way for us to end the tournament for sure."
Making their exit from the stadium, the U.S. players looked dejected. Quickly, the defeated shuffled from the locker room to the team bus, strategically parked nearby, and got on, trying desperately not to make eye contact with reporters, who might ask questions, poking them where their open wounds were most tender.
Nobody dared ask fiery U.S. midfielder Michael Bradley a question, fearing his biting responses after a game in which he'd scored the opening goal, but was partly accountable for three Mexican goals, too. A staffer had to pull him off the bus to face the music nobody wanted to play to him. When he finally did, he spoke softer than usual, his volume reflecting his state of mind.
"Walking away on a night like this nobody has a good feeling in their mouths," he said.
[+] Enlarge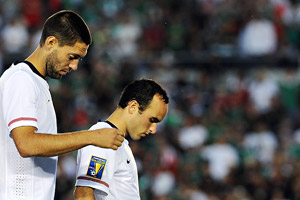 Gabriel Bouys/AFP/Getty ImagesThe U.S. was shattered after its loss to Mexico, but the Americans have a knack for regrouping.
Goalkeeper Tim Howard, who hadn't covered himself in glory during the game, looked destroyed. Then he fired off an expletive-laden rant about CONCACAF's handling of the postgame ceremony -- conducting it in Spanish -- perhaps deflecting his ire off his own performance, before finally moving on to the game itself.
"I thought we knocked the stuffing out of them at 2-0," he said. "Really hit them where it hurt. The game plan worked to a T. They came out, they possessed, they spread us out, we picked and chose our spots when to go, when to get 'em. We hit 'em." He sighed and rubbed his shaved head. "It's beyond me how they rallied back from that. We've got to go into halftime winning … that hurt."
How it happened exactly will be picked apart ad nauseam in the year or so until the U.S. gets back together as it embarks on its 2014 World Cup qualifiers. But the U.S. players will turn it around. They always do. They will find a way to ignore the sordid details of their demise and tuck them into a drawer of their subconscious, where they can't hurt them anymore. They'll pan the good from the bad and start from there.
This team always has. It's how it's punched so far above its weight for so many years.
Bob Bradley and his squad already discussed "things we can take away from this whole month together and use it in a way to continue to build our team."
Yes, the bad will be used for good. "It motivates us even more," said Michael Bradley. "It's part of being a competitor. Nights like this you leave everything you have on the field but it only motivates you more to work harder, to get better, to know what we need to bring when things are at the absolute highest level. It's not a nice feeling, but we'll be back."
"Right now, we've got to take a little time off," said Bocanegra. "This one hurts, you know? It's going to take a little while to digest. But we'll come back strong."
Leander Schaerlaeckens is a soccer writer for ESPN.com. He can be reached at leander.espn@gmail.com. Follow him on Twitter at @LeanderESPN.
Contributing writer, ESPN.com
Leander Schaerlaeckens is a contributing writer for ESPN.com. He has previously written for The Guardian, The Washington Times and UPI.