Commentary
Brazil-Argentina: Still the biggest derby
Updated:
June 29, 2011, 4:55 PM ET
By
Brent Latham
| Special to ESPN.com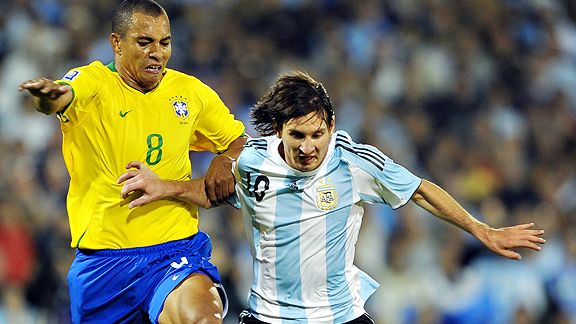 Alejandro Pagni/Getty ImagesWith both Argentina and Brazil faltering on the world stage in recent years, the Copa America could turn out to be a pivotal turning point in the rivalry between these two soccer superpowers.
Most people familiar with international soccer would tell you there's no rivalry quite as alluring as the matchup between South American heavyweights Argentina and Brazil. The numbers speak for themselves: seven World Cup titles and 22 Copa America crowns between them, among innumerous other honors.
The countries also boast the two greatest players of all time in Diego Maradona and Pele, populations among the largest on the continent and a long border to dispute. All the ingredients, off and on the field, are there.
But in 2011, the South American derby has lost a little of its shine. By their lofty standards, both teams fared poorly at the 2010 World Cup. Mighty Brazil has missed out on the semis at the event twice in a row, and Argentina was embarrassed by a rampant Germany in the same quarterfinal round that saw Brazil ousted by the Netherlands. Both giants were shown up by Uruguay, a country of just 3 million people completely engulfed by their mighty neighbors.
"The rivalry is a tradition from many years ago that grows or disappears according to the results of the teams in the World Cup or international tournaments," said retired Argentine goalkeeper Dario Sala, who now works as a soccer commentator. "In this case, it's a derby that's in decline, because both Brazil and Argentina were bettered by the fourth place [in the World Cup] by Uruguay. Today, when Uruguay plays Brazil or Argentina, it's a big game. But the poor performance of the teams in the World Cup means the derby loses some of its shine on the world stage."
[+] Enlarge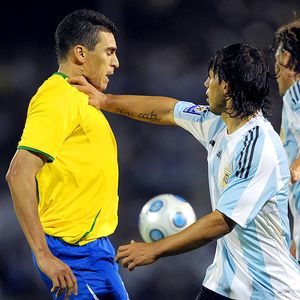 Alejandro Pagni/AFP/Getty ImagesWhen Brazil defeated Argentina 3-1 in a World Cup qualifier, tensions between Sergio Aguero and Lucio boiled over.
The rivalry has also lost some luster because of more than a decade of underperformance by Argentina on the international stage. While Argentina co-leads the all-time Copa America table (along with Uruguay) with 14 titles, Brazil has taken four of the past five. The Argentines haven't lifted the Cup -- or any international trophy, for that matter -- since 1993. They've also struggled repeatedly in World Cup qualifying.
That makes this edition of Copa America, hosted by Argentina, even more of a turning point in the long-standing rivalry. Brazil's recent dominance on its home continent included a drubbing of the Albiceleste in Argentina on the road to South Africa, part of a spiral late in 2009 that nearly cost Diego Maradona's side the chance to go to the 2010 World Cup.
"If we lose the Copa America, it's one more drop of water in the cup," Sala said. "Lifting the Copa America would give us hope and help for the future. So this Copa America is a fulcrum for Argentina."
It bears repeating that the South American continent hasn't always been a tale of two countries. Uruguay has actually been more successful in Copa America over the years than Brazil, and continues to do amazing things for a country of such small size and population. But Brazil's repeated dominance on the world's biggest stage, and Argentina's more recent pair of World Cup titles in 1978 and 1986 (Uruguay won its pair in 1930 and 1950) helped bring those teams to the forefront of South American soccer.
And, of course, the rivalry is not only about soccer. Argentina and Brazil are competitive on and off the field, and their occasional battles in the sport serve as a proxy for a number of other questions that could never be answered with such an easy response as a scoreline. This guarantees that no matter the recent results, the rivalry remains fierce, and the countries will always have issues to settle.
Argentina vs. Brazil
Previous five competitive matches
| Match | Score | Winner |
| --- | --- | --- |
| WC qualifier, 2010 | 3-1 | Brazil |
| WC qualifier, 2010 | 0-0 | Draw |
| Copa America, '07 | 3-0 | Brazil |
| Confed. Cup, '05 | 4-1 | Brazil |
| WC qualifier, '06 | 3-1 | Argentina |
"I think that it is one of the biggest rivalries and it all comes from who is better, Pele or Maradona," FC Dallas defender Jackson said. "That is always going to be there. It is always going to be the same intensity and it is never going to change."
Both squads enter the Copa America having dropped their famous World Cup winners-turned-coaches -- Dunga for Brazil and Maradona for Argentina -- in a bid to shake off the malaise and disappointment of 2010, replacing them with Mano Menezes and Sergio Batista, respectively. With redemption on the line, if South America's most famous duo can now navigate its way to the final at the Monumental in Buenos Aires, expect to see one of the most intense derbies yet.
More than another episode in the ongoing war, it would be a chance for Argentina to take a step back in the direction of its glorious past and the start a new era, or for Brazil to confirm a decade of dominance over South America and its closest and fiercest rival.
"It's our rivalry. It's our derby," said Seattle Sounders winger and former Argentine Olympian Mauro Rosales. "They are playing in our country and everybody is expecting to beat them. They have an amazing team, very good players. Every year it's a little bit more [of a rivalry]. We lost the Copa finals against them the last few years and I think it's time for us."
No wonder 40 million Argentines and 200 million Brazilians -- and billions more soccer fans around the world -- would love to see the matchup once again. With so much on the line, it would make a compelling new chapter in the book of what is still international soccer's best rivalry.
Brent Latham covers soccer for ESPN.com. He previously covered sports throughout Africa for Voice of America radio and now works as a soccer commentator for a national television station in Guatemala. He can be reached at brentlatham@ymail.com.
ESPN Insider
Brent Latham is a soccer commentator who covers the youth national teams for ESPN.com. Based in Guatemala, he has attended youth World Cups from Peru to Egypt, and places in between.