Commentary
Red, white and blew it (again)
Updated:
June 27, 2011, 6:57 PM ET
By
David Hirshey
| Special to ESPN.com
Gone are the days when the U.S. would come off the field against Mexico and be pelted with rocks, batteries and bags of urine by the hostile fans. And that wasn't even in Azteca Stadium, but rather in Los Angeles Coliseum -- or, as I like to think of it, the home of the brave and the land of El Tri.
The Mexican fans were incensed that these rich, self-satisfied Americans, whom they claimed didn't even play "futbol de verdad" (true soccer), had defeated them five times in the past decade at a sport that was hard-wired into their soul, beating them each time by a score of 2-0.
So when the U.S. went up dos a cero Saturday night after 22 minutes in the Gold Cup final, it looked like history was about to repeat itself, except for one thing: Instead of bad blood coursing through these bitter rivals, it was the Mexican attack that was flowing, and the U.S. defense displaying all the mobility of a stone gargoyle. Never had a 2-0 lead appeared less safe in a major competition.
[+] Enlarge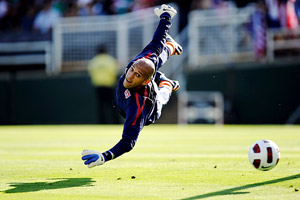 Kevork Djansezian/Getty ImagesTim Howard and the U.S. had a game to forget against Mexico.
The two American goals had come completely against the run of play, twin bolts from the blue that interrupted the attacking master class the Mexicans were conducting. Yet if you hadn't known any better, you might have been beguiled by the 25-minute charade in which the U.S. men impersonated a team that the rest of the world would have to take seriously.
Oh sure, we've seen similar bracing cameos before -- a half here, a half there -- and hey, we were up two goals on a young, fast and good Mexican team and making Bob Bradley look like a tactical genius for his bold lineup choices. I doubt there was a single U.S. fan at that point who was thinking "If only we had Jurgen Klinsmann coaching our boys, the world would be a better place."
But, of course, we have seen this movie before and know the ending. Before Saturday's collapse, we had witnessed a similar match in 2009 against Brazil in the final of the Confederations Cup. The difference is that no one believed the U.S. would beat Brazil two years ago, so when it imploded in the second half and squandered a two-goal lead to lose 3-2, supporters fell back on their lowered expectations and congratulated themselves on the U.S. ending Spain's international winning streak.
Yet for most of the first half Saturday, the U.S. maintained a smoke screen of superiority by scoring two excellent goals -- a powerful, twisting header from Michael Bradley and a sweet one-two combination between Clint Dempsey and Landon Donovan -- to quiet the raucous pro-Mexico crowd at the Rose Bowl.
Then, in a direct repeat of the Brazil-induced nightmare, the Americans folded in the face of superior talent that scored four unanswered goals, including one for the ages by Giovani Dos Santos.
David Hirshey

For more from David Hirshey, check out his columns on all things soccer.
• The All-EPL Team, 2011-12
• Saying goodbye to Chinaglia
• Time to dethrone King Kenny Dalglish?
• In praise of Fulham
• The comeback artists
• Call it a comeback
• Death by Manchester
• The battle for third
• Spurs' title credentials
• EPL's best starting XI
• City handed first EPL loss
• Chelsea pushed to brink
• Fragile egos crossing
• City and United
• Is Newcastle for real?
• The bad-behavior derby
With all due respect to Donovan and Dempsey -- both of whom have scored their share of golazos over the years -- was there a single U.S. player who could have conjured up the piece of inspirational genius Dos Santos did for the final goal? The audacious skill with which the Tottenham washout executed the pivoting, inch-perfect chip into the upper 90 over the despairing leap of Eric Lichaj, along with the speed of thought he displayed in twice pulling the ball back from a desperately scrambling Tim Howard, simply does not exist in the American soccer brain.
That goal underlined the chasm in talent between the two sides, as well as reinforcing the fact that the Mexicans are much better positioned for future short-term success than is the dispirited, confused American team. The U.S.'s current FIFA ranking, a lamentable 22, might well be considered a generous one after this team's string of underwhelming performances on home soil. After a spirited but ultimately disappointing World Cup (yep, we've seen that film before, too), the story of the U.S. team over this past year is one of regression. And while Bob Bradley deserves some responsibility for that malaise, he cannot be blamed for the fact that America simply doesn't possess the talent pool to compete at the higher echelons of international competition.
After Donovan and Dempsey, who is ready, willing, and -- most importantly -- able to replace them? Michael Bradley plays with the combative edge of Jack Wilshere, but where's his support in the heart of the midfield? Freddy Adu's late-tournament flourishes provided a pleasant surprise, but in any other decent soccer country, Adu's blip of quality would have only been visible on the training field, not in the starting XI.
One of the raps against Bob Bradley has been his intransigence in sticking with the same players and tactics, even when they haven't been successful. His inflexible approach, however, was a damning indictment of the players he had at his disposal, so when he gave a start to Adu, he was being equal parts daring and desperate. Adu, the one-time It Boy of American soccer turned journeyman currently slumming in the Turkish second tier, is still one of the few U.S. players who can create off the dribble, and had put in a promising 20-minute shift in the semifinal win over Panama. But as hard as he worked against Mexico and as clever as a few of his passes were -- including assists on both U.S. goals -- Adu had no real commanding presence on the field. He is not fast enough to scorch defenders, and he gets knocked off the ball far too easily to make opponents back off him.
The Bradley inquisition raging on the Internet, though, masks a bigger issue: Who was omitted from the 23 that could have really helped?
I've long lamented Jonathan Bornstein's paucity of skill (in what other country would he get 38 caps?), yet the persistence and power of Pablo Barrera -- who seemingly reserved all of his verve for El Tri instead of his dour 14-game EPL stint with relegated West Ham -- would have annihilated just about any warm body Bradley could have unearthed from MLS. While Bornstein was forced into action as a sub for the injured Steve Cherundolo, at least he had the advantage of playing his club soccer for Tigres de la UNAL in the Mexican Primera Division. Maybe the Mexican players simply knew his every weakness from seeing him flounder weekly on their turf, because they targeted both him and the other wing-back, Lichaj, as the soft underbelly of the American rear guard.
Bradley quite rightly said that losing Cherundolo was a "blow," but it's not as if the Mexicans didn't slice open the American defense while he was still on the field. Chicharito, fresh off a 21-goal debut season for Manchester United, had at least two gilt-edged scoring chances and won a couple of corners before the U.S. realized the game had kicked off. Yet what were the odds that Mexico would score four goals and the Little Pea wouldn't bag one of them? Still, Hernandez's off-the-ball movement was a constant source of agita for an increasingly exhausted Carlos Bocanegra, not to mention his elegant through-ball to Barrera for El Tri's first goal.
ESPN FC on Twitter
Don't miss a moment of the latest soccer coverage from around the world. Follow us on Twitter and stay informed. Join »
Meanwhile, Clarence Goodson, Bocanegra's partner in central defense, put in a strong audition to win the Sebastien Squillaci award for tentativeness and insecurity. Up top, Next Big Thing Juan Agudelo was a subdued substitute and looked every bit the 18-year-old in need of further seasoning -- preferably far away from the Nike-spurred marketing hype that makes teary-eyed believers of us all every time the U.S. steps on the field. Who can forget their latest marketing slogan for the U.S. team: "Indivisible"? After 22 minutes Saturday, I would have changed that to "Invisible."
I can certainly complain about Bradley's tactics, player selections, and motivational deficiencies, but they're all mere preludes to the sobering reality that beyond Dempsey, Donovan, Michael Bradley and Howard, the U.S. is thinner than Landy's hairline.
The next generation of hopefuls -- Tim Ream, Jose Francisco Torres, Timmy Chandler, Teal Bunbury, and Mikkel Diskerud, to name just five -- still need thousands of minutes to evolve into legitimate international players. Where El Tri have speed and self-confidence, the U.S. has nothing but question marks. If anything, Bradley's overriding loyalty to "his guys" isn't just about his short-sightedness, but a testament to his lack of confidence in the next wave. Anyone remember the 2009 Gold Cup final when Bradley decided to field a bunch of untested second-stringers (Jay Heaps, Chad Marshall … Goodson) and Mexico stomped the Americans 5-0? At least then we could rationalize the humiliation and say they hadn't beaten the U.S.'s "real" team.
Defeats to El Tri sting more than any other, but in a soccer weekend that saw the Women's World Cup opening to sold-out crowds in Berlin and legendary Argentine club River Plate relegated to the second tier for the first time in its 110-year history, there are mercifully plenty of other compelling stories to deflect from this disappointment.
Mexico is entitled to look for far bigger and better prizes on the world stage, while the U.S. would do well to look deeply within, or it's going to be a long and desolate decade. Just ask the English.
David Hirshey has been covering soccer for more than 30 years and has written about the sport for The New York Times, Time, ESPN The Magazine and Deadspin. He is the co-author of "The ESPN World Cup Companion" and played himself (almost convincingly) in the acclaimed soccer documentary "Once in a Lifetime."