Commentary
The trouble with replacing Bob Bradley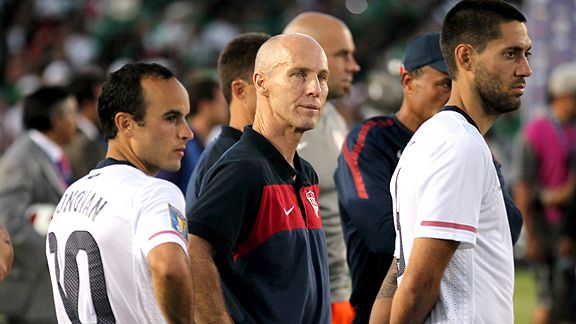 Stephen Dunn/Getty ImagesBob Bradley was dismissed as U.S. coach Thursday. Why now? And what does it mean for the future of the team?
If blogs, Facebook, Twitter and all other manner of social media are anything to go by, it's safe to say there's a large and vociferous contingent of the U.S. national team fan base that desperately wants U.S. Soccer to hire a new head coach. In recent weeks, with the U.S. playing several unconvincing games during the 2011 CONCACAF Gold Cup, highlighted by a surprising 2-1 loss to Panama in the group stage and blowing a 2-0 lead in a humiliating 4-2 defeat to Mexico in the final, the online murmurs have escalated to a very audible chorus.
People want Bob Bradley's head.
These folks are so fed up with Bradley's conservative player selection and tactics that they consider lobbying for his sacking to be a worthwhile pastime. Most clamor for a big-name foreign coach to come in and right the ship.
But leaving aside the question of whether a big-time foreigner could draw an elevated performance from the same group of players whose abilities wouldn't magically change overnight, there are many flaws to the argument that axing Bradley would be the best solution. Before a name can be culled from the dozens that typically come up, the question has to be asked: Why would any top-level international coach want to take over the U.S. men's national team?
ESPN FC on Twitter
Don't miss a moment of the latest soccer coverage from around the world. Follow us on Twitter and stay informed. Join »
It's all well and good fantasizing about a big-time management star leading the Yanks, but this assumes that this type of candidate would want to become the man in charge of a team that is heading into a challenging World Cup cycle.
So, to play devil's advocate, here are eight reasons a big-name foreign coach could balk at the chance to succeed Bradley:
1. The squad is aging
Of the core U.S. players, Tim Howard, Carlos Bocanegra and Steve Cherundolo are all 32 years old. Landon Donovan is 29 and Clint Dempsey is 28. Only Michael Bradley and the oft-injured Stuart Holden are on the right side of the hill, at 23 and 25, respectively.
More likely than not, this generation has already peaked. While conventional wisdom holds that the best years of a position player come between ages 28 to 32, research presented in Simon Kuper and Stefan Szymanski's book "Soccernomics" suggests that the mid-20s are the prime years. But whichever methodology you apply, the current core of the U.S. team will be on the wrong side of that equation by the 2014 World Cup.
2. The future is murky
Having an aging core is fine if there is a next one ready to step in. And there is plenty of young talent in the U.S. player pool. But between them, the brightest of the prospects -- Juan Agudelo, Alejandro Bedoya, Teal Bunbury, Timmy Chandler, Mixx Diskerud, Eric Lichaj and Tim Ream -- have made all of 262 league appearances for their club teams and picked up 38 caps for the U.S. That averages out to 37.4 club and 5.4 international games. Or about one club-team regular season and six months' worth of international friendlies.
To say that this bunch is unproven is an understatement. So taking the job on the back of their promise is a big risk.
3. The upside is limited
Big-time managers don't want to set themselves up to fail. Instead, they'll often latch on to national teams with undervalued but highly skilled players -- the kind who, with a little coaching and motivation, can break out on the international stage together. All the better to make the new man in charge look like a genius in a short time span.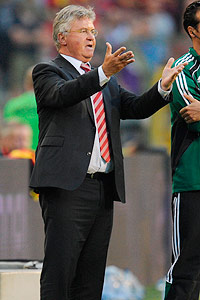 John Thys/AFP/Getty ImagesSome fans dream of a proven international coach like Guus Hiddink taking over the U.S. program.
Let's take the king of unearthing those diamonds in the rough, Guus Hiddink, as a case study.
In 2001, Hiddink took over South Korea and helped it reach the World Cup semifinals before leaving for PSV 18 months later. In mid-2005, he was installed as Australia's manager, and in his mere year at the helm, the team reached the second round of the World Cup. Next, Hiddink accepted the job of coaching the Russian national team, which he guided to the Euro semifinals just two summers later. Granted, Hiddink stuck around two years longer -- although he was temporarily in charge of Chelsea -- before being appointed as Turkey's manager.
In each case -- perhaps with the exception of Turkey, which has struggled even under Hiddink -- there was untapped potential in the squad that was ready to break out in a big way.
The U.S. is not that kind of team right now. It's either a mediocre side that has maxed out its potential, or it's a rebuilding project four to eight years in the making. This alone should be enough to scare away most big-name managers -- at least the ones in their right minds and not driven solely by the weight of their wallet. Speaking of which &
4. The pay is poor
The fact that the U.S. Soccer Federation sent Donovan and Dempsey to their respective sisters' weddings in private jets between games earlier this month suggests it might have more money than it knows what to do with -- a sharp turnabout from its financial statement just two decades ago. But that isn't to say that U.S. Soccer will splash the cash on a coach. Federations like the U.S. typically fill their coffers by abiding by a simple rule -- don't break the piggy bank by hiring an expensive coach and then running the potential risk of having to buy out his massive contract when it all turns sour.
From March 31, 2009, through April 1, 2010, Bob Bradley earned $600,000 in base salary and more in bonuses, pushing his take to $818,244. Assuming he's gotten a pay raise on his new contract, he's probably still making under $1 million today.
Although there is no precedent for it, it's not inconceivable that U.S. Soccer would offer a much fatter contract to a big-name successor. But that might still only barely cover the signing bonus of some decadent choice from the luminaries in the management ranks. Consider that at the time of last summer's World Cup, England manager Fabio Capello was making a shade under $10 million per year. Five other managers pulled in around $2 million or so. Bradley didn't even crack the top 20.
5. The hours are long
This isn't a low-key job. There isn't a lot of time for golf and shopping, which, cynically, is one of the draws of national team management. Capello doesn't even have to leave the country to see his entire player pool in action, since all of his players compete in England This is exceptional. But the U.S. is at the other end of the spectrum, with just a handful of players plying their trade at home in Major League Soccer; the rest of the regulars are scattered over about a dozen countries. That alone makes tracking their progress a full-time job, as evidenced by the long hours and many air miles Bradley and his staff log in keeping up with their players.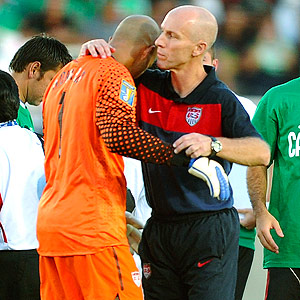 Kevork Djansezian/Getty ImagesBradley consoles Tim Howard after the U.S.'s loss to Mexico in the Gold Cup final.
6. It's not a good résumé-builder
Sometimes taking a job with a club or national team that is smaller in stature than your usual employers makes sense. This is the lesson we learned from Steve McClaren. He failed spectacularly with England, then left to the Netherlands to head up FC Twente. He was able to lick his wounds and rebuild his reputation in peace.
But hitting up a smaller club or country team is only worth doing if you can make an unfancied side really stand out. The U.S., while not a big player on the international scene, isn't a minnow anymore. In three World Cups, the Americans have advanced past the group stage twice. Expectations are high now, whether they're realistic or not. So unless a manager propels the U.S. to the semifinals of the World Cup, no result will really be eye-catching. And anything less will likely be seen as failure.
The U.S., in other words, is not likely to make you look a whole lot better than you did before taking the job.
7. Expectations are inflated
The U.S. has all of three players who are major contributors with decently big European clubs -- Dempsey at Fulham, Howard at Everton and Holden at Bolton. Donovan is also considered to be at their level, as he leads the L.A. Galaxy. But there aren't enough Americans performing at the highest level to justify the expectation -- from not only the fan base, but also the Federation -- that the U.S. team reaches the second round of every World Cup at a minimum. This isn't realistic, or even objective, when you take a good, hard look at the player base.
8. There's no precedent
The U.S. has never had a big-time manager before. It's always gone either with homegrown coaches or obscure foreigners. This doesn't mean it can't happen, but it's something managers look at: Who has had the job before, and what did it do for him?
What's more, only one big-name manager has ever even shown an interest in the position of U.S. head coach. Former standout German forward Juergen Klinsmann turned down the job in 2006, and was also approached in 2010, before the job ultimately landed in Bradley's lap. In both cases, U.S. Soccer was reportedly unwilling to put down in writing the extensive mandate it promised Klinsmann verbally -- that he would have complete control over the senior team. But like it or not, Klinsmann's pedigree has flaws. He did impressive things rebuilding and reinventing Germany's program. Yet his stint at the head of Bayern Munich -- where his attempts to overhaul everything the club was doing quickly got him shown to the door -- is a blemish on his record.
Managers are like sheep: They follow each other around. The fact that no big-name manager has come to the U.S. makes it unlikely that any one will.
Perhaps this is a pessimistic appraisal of where things stand with the U.S. national team. There are always people out there looking for jobs: good coaches and bad ones. It's just important to remember that while U.S. fans may dream of a big-time manager, a big-time manager may not dream of taking over as head coach of the U.S. team.
Leander Schaerlaeckens is a soccer writer for ESPN.com. He can be reached at leander.espn@gmail.com. Follow him on Twitter at @LeanderESPN.

Contributing writer, ESPN.com
Leander Schaerlaeckens is a contributing writer for ESPN.com. He has previously written for The Guardian, The Washington Times and UPI.