Commentary
World Cup stars in Copa America
On Friday, the 2011 Copa America will kick off. And although the South American championship doesn't have the cachet of last summer's World Cup -- due partly to its haphazard schedule, which has gone from quadrennial to biennial to triennial and back to quadrennial in the span of 22 years -- it will feature a host of the biggest 2010 World Cup stars.
Leaving aside Mexico, since CONCACAF forbade it from sending a full A-team because it isn't part of CONMEBOL, we've picked the two players to watch for from the five teams -- Argentina, Brazil, Chile, Paraguay and Uruguay -- that appeared in the 2010 World Cup in South Africa and will be at the Copa America in Argentina, too.
Argentina
The road to legend passes through major finals. Messi, who turned 24 last week, has won La Liga five times, the Champions League three times and been voted the world's consensus best player in back-to-back years now. But the international level is where true glory is won. All Messi has to show for his considerable time and effort with the national team -- where he has 17 goals in 56 caps already -- is an Olympic gold medal with the U-23s and a world title with the U-20s. He has won zilch at the senior level. You could blame former Argentina coach Diego Maradona for this; you could blame an inferior supporting cast for this; or you could blame his being used out of position for this. But the truth remains that Messi hasn't dominated at the international level yet. Copa America offers a chance for him to check off another to-do item and burnish his résumé even more.
Messi's bullish sidekick continues to be one of the world's hardest-working strikers, given his propensity to drift wherever the field doesn't end. But after the World Cup, Maradona's replacement, Sergio Batista, stopped calling Tevez up for duty. The head coach claimed that Tevez didn't fit his 4-3-3 system. More likely: Batista was keen on demonstrating that he was not Maradona by leaving Maradona favorite Tevez and Maradona's son-in-law Kun Aguero off his teams. Batista took a lot of flak, and his decision looked even worse after Argentina lost to Nigeria (4-0!) and Poland (2-1) in early June. So he brought the pair back into the fold, and now the pressure is on Tevez to deliver.
Brazil
Robinho
Under Dunga's oppressive 4-5-1, Brazil's beautiful game and all that jazz was thrown into an old shoebox and buried in 100 cubic tons of concrete. Now under head coach Mano Menezes, a man keen on joyful and youthful soccer, the shackles have been removed from creativity and spontaneity. This should have a major effect on the likes of Robinho, who, while effective at the World Cup, could thrive with a little more physical, tactical and psychological space for improvisation. It may be just what he needs to rejuvenate his international career while he tries to stave off the challenge from prodigies Neymar and Ganso.
ESPN FC on Twitter
Don't miss a moment of the latest soccer coverage from around the world. Follow us on Twitter and stay informed. Join »
A year ago, you wouldn't have had a hard time finding men of sound body and mind to agree with you on Brazil keeper Julio Cesar being among the world's best at his job. If he wasn't in the top three, he was at least top-five. But in Inter Milan's follow-up season to its treble win, perhaps no Nerazzurri's form dropped as spectacularly as his. Whereas once he snagged his team points all by himself, he has now started singlehandedly dropping them with a series of blunders, like those in both legs against Bayern Munich in the Champions League round of 16. Whereas in 2009-10, Cesar had conceded just seven goals in 13 CL games, he gave up 14 in seven games this past season. This incited rumors that Inter would sell him to replace him with Emiliano Viviano. This Copa is a nice chance for Cesar to turn a corner.
Chile
Jean Beausejour
After a journeyman career, during which he failed to gain any traction in Switzerland, Brazil, Belgium and Mexico, Beausejour suddenly emerged as one of the dynamos of an exciting Chile team last summer. The winger was consistently dangerous and among his side's best players. It earned him a transfer to Birmingham City, where he started 14 games in all competitions, netting three goals and four assists. Here's his chance to prove that he wasn't a one-tournament wonder.
The nifty little Udinese forward, who can play anywhere up front, is being chased by seemingly every club that has more money than Udinese does. (And there are a lot of those.) Barcelona has been oft-mentioned as a destination, but there seem to be a few other serious suitors, too. A strong tournament in Argentina could cement his worthiness of a giant transfer fee. Conversely, a weak showing could throw a wrench into his plans.
Paraguay
Barrios had a second consecutive strong season playing up front for Borussia Dortmund as it sauntered to the German Bundesliga title this year. While in 2009-10, Barrios bagged 19 league goals, he nabbed 16 this past season. The Argentina-born and -raised Barrios, 26, was first called into the Paraguay camp before the 2010 World Cup. Although he's scored five times already for his country, all of those came in friendlies. If Barrios is to become a major player on the international level, this will have to change.
For all but one year of his long club career, the 29-year-old striker has been a disappointment. Always fabulously talented, he only really ever made good on his potential during the 2007-08 season with Blackburn Rovers, scoring 19 league goals. Since then, a big-money transfer (worth close to $30 million) to Manchester City and his failure to make a splash there compounded on his undelivered promise. Santa Cruz has been better with Paraguay, steadily scoring 23 goals in 78 caps. Here's another chance for him to redeem himself, to impress City or to find another employer.
Uruguay
[+] Enlarge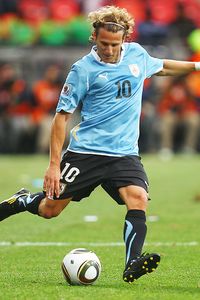 Lars Baron/Getty ImagesDiego Forlan lit up the World Cup, but he's struggled since then.
No one man was as important to his team at the 2010 World Cup as Diego Forlan for Uruguay, as he was awarded the Golden Ball for being the tournament's best player. He fell from grace with Atletico Madrid this past season, though, even though he'd scored 66 league goals there over the previous three seasons. He wasn't always a regular last year and scored just eight times in the league. At 32, and with a good few clubs angling for his services, Forlan will want to leverage this tournament to extend his career.
After leaving Ajax in January, Luis Suarez had a great second half of the season with Liverpool as a catalyst to its resurgence. He had always had that sort of potential and has been a mainstay for Uruguay for years. But in South Africa, he made himself a bogeyman to many by punching away what was sure to be Ghana's game-winning goal from the goal line, inciting an ejection, a penalty miss and Uruguay's eventual passage to the semifinals on penalties. And with Ajax last fall, he bit an opponent and was suspended for seven games. Suarez is a serial flopper who likely isn't bothered by his ill-gotten reputation. But here now is an opportunity for us to appreciate Suarez as what he also is: a classy, mobile, dazzling forward.
Leander Schaerlaeckens is a soccer writer for ESPN.com. He can be reached at leander.espn@gmail.com. Follow him on Twitter at @LeanderESPN.

Contributing writer, ESPN.com
Leander Schaerlaeckens is a contributing writer for ESPN.com. He has previously written for The Guardian, The Washington Times and UPI.