Commentary
The Messi debate continues at Copa
Updated:
July 7, 2011, 11:09 AM ET
By
Brent Latham
| Special to ESPN.com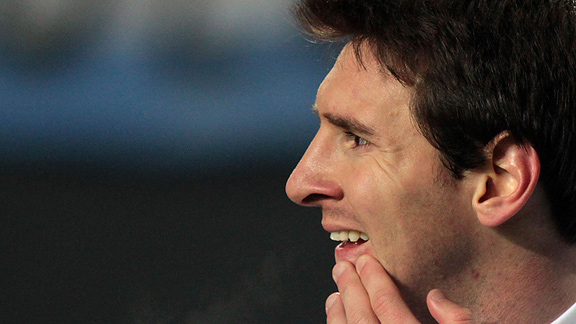 Wander Roberto/Inovafoto/Getty ImagesDespite some brilliant displays for Argentina, Lionel Messi's performances for his country have always seemed to lack something.
His rampaging runs and goal scoring exploits with Barcelona have left little doubt that Lionel Messi is the best soccer player in the world today. But you could even forget those constant highlight-reel runs -- the stats speak for themselves. The soon-to-be three-time Ballon d'Or winner has scored nearly a goal a game for Barcelona over the past three seasons.
His success has even inspired favorable comparisons to countryman and fellow legend Diego Maradona. Which inevitably leads the discussion to Argentina. At the international level, Messi still suffers from an inability to live up to sky-high expectations.
Despite some brilliant displays for his home country, Messi's performances for Argentina have always seemed to lack something. The problem is easy to identify. In his short international career, the goal output has lagged his club production. And unlike Barcelona, which has won so many cups of late that it could use them for watering the pitch, Argentina hasn't won anything in years at the senior level.
Messi's international performances haven't been terrible by any means, and it's important to put the issue perspective before delving deeper. For Argentina, Messi has scored 17 goals in 55 appearances, almost all of those against the highest levels of competition.
Though Messi had a tough 2010 World Cup in terms of goal production, he was still clearly Argentina's MVP. He does so much on the field even without scoring goals that the rumors of his under-production for the Albiceleste are more than a little exaggerated.
"It's ridiculous to ask why Messi doesn't perform as well with the national team," said Hugo Almeida, coach of Guatemala's national team. "How can you sit down and talk about Messi not performing when, as a national team coach, he's the rival I would least like to see lined up against me, because the whole game plan has to be designed to take him into account?"
ESPN FC on Twitter
Don't miss a moment of the latest soccer coverage from around the world. Follow us on Twitter and stay informed. Join »
It's only because his international numbers pale in comparison to his output at Barcelona that people question Messi's production in the blue-and-white-striped shirt. Fair or not, it's a comparison he will have to live with as long as he's a superstar in Europe. A lower level for the national team will never satisfy Argentines, who want to see the goals pour in for them like they do for Barcelona.
But is that even possible? At Barcelona, Messi is surrounded by a team of superstars who have (for the most part) practiced together every day for years. Some of the players have been together since they were 12-year-olds at La Masia.
"It's been a little different system, with Barcelona he's playing in a 4-3-3 and with Argentina it's not quite like that," said former Chivas de Guadalajara coach Hans Westerhof, now technical director with Pachuca. "He needs a little more space. In any team that you're not really playing with a true No. 10, the creative players get forced out to the wings. That's what was happening in Argentina with Messi. Players like Messi will get forced out to the wings to find more space. It's not favorable for a player like Messi. With players like Pedro, Iniesta in the middle with him, it's not an issue, they know when to open that space. But put other players around him in those spaces and it's hard for him to find the gaps so easily."
If Maradona couldn't completely succeed with Messi, new Argentina coach Sergio Batista looks ready to take the "free Messi" philosophy several steps further. Maradona used to proclaim that he'd field a team of Mascherano plus 10. Batista readily admits that his side can only be Messi plus 10.
"I think the coach is making a team around him to help," said Seattle Sounders winger Mauro Rosales, a former Argentine Olympian. "He is the best player in the world and he's doing very well with Barcelona, and I think the coach wants to do something like how he is playing in Barcelona, with a few players around him like Xavi, [Andres] Iniesta and [Dani] Alves. He wants to put in the field some players who can make that work for him and try to give Leo the option to be a better player on the national team."
On Friday in Argentina's opening match of the Copa America against Bolivia, Batista started with a front three of Carlos Tevez, Ezequiel Lavezzi and Messi in the middle. But in the second half, Angel Di Maria came on to the left-hand side and Tevez moved into the middle. This required Messi to drop behind them, and at times he was too deep to become a goal-scoring threat. Argentina nipped a 1-1 tie after Sergio Aguero hit a wonder volley, but Messi failed to get on the scoresheet.
His struggles continued on Wednesday night after Argentina and Colombia battled to a scoreless draw. Toward the end of the match, Messi cut a frustrated figure, staring at teammates as his team's hopes of progressing in the tournament took a major hit. And then, the unthinkable: Messi was booed as he walked off the pitch.
But the tournament has only just begun, and the comfort of playing at home might be all that is needed for Messi to raise his game. The truth is, at the international level Messi is due, just like Argentina. What better place to break out than the continental championship on his home turf?
So the Argentine winter of 2011 will be a vital one in defining Messi's international legacy. There are those who say that Messi can never be categorized with Maradona until he wins a World Cup. But for now, that can wait. Argentina hasn't won the continental championship in almost two decades. In fact, the 1993 championship in Ecuador also marks the last time Argentina's senior team won anything at the international level.
But even if a big tournament is in the works, it may not end the debate. Argentines are likely to set the bar even higher for their messiah. The home crowd will always see the sky as the limit for Messi.
"If we had a coach who could put the pieces of the puzzle together for Messi, we'd have an Argentina comparable to Barcelona at the club level," said retired Argentine goalkeeper Dario Sala. "To get to that point, I don't have the solution. But I'd love to see my national team pulverize and make opponents feel shame the way Barcelona does to opponents in La Liga and the Champions League."
That sounds like a collective dream of all Argentines, based in the reality of Messi's exploits in Europe. All that's left to make that dream come to life is for the Barcelona star to bring some of those performances home this month. The debate over Messi's contribution to Argentine soccer, however, may not end until he brings home a World Cup.
Brent Latham covers soccer for ESPN.com. He previously covered sports throughout Africa for Voice of America radio and now works as a soccer commentator for a national television station in Guatemala. He can be reached at brentlatham@ymail.com.
ESPN Insider
Brent Latham is a soccer commentator who covers the youth national teams for ESPN.com. Based in Guatemala, he has attended youth World Cups from Peru to Egypt, and places in between.