Commentary
Slow start to the Copa America
Brazil, Argentina have yet to find their form
Updated:
July 5, 2011, 12:09 PM ET
By
Michael Cox
| Special to ESPN.com
We've now seen all 12 sides competing in this year's Copa America in Argentina. It took until the sixth and final game of the opening round to see a team score more than once -- typically, it came from an attack-minded Chile. Otherwise, we've seen a pitifully low average of 1.33 goals per game, and we're still waiting for the tournament to take off.
Granted, it's actually rather nice to see the minnows competing with Argentina and Brazil, but there's a suspicion that Bolivia's 1-1 draw with Argentina and Venezuela's 0-0 tie with Brazil were more about the failings of the favorites than particularly admirable performances from the weaker sides. Bolivia and Venezuela played basic 4-4-2 systems that allowed their opponents to dominate the game in the center of midfield, but a lack of creativity denied the two big boys the three points they expected.
Brazil coach Mano Menezes had a different excuse. "It looks to me that the pitch hindered faster plays and plays of more quality," he said in his postmatch news conference. An easy defense, but the surface in La Plata was evidently very poor. And with that same ground also used for Argentina's opening match, it's not fair to judge either side until we've seen both on a more favorable pitch.
[+] Enlarge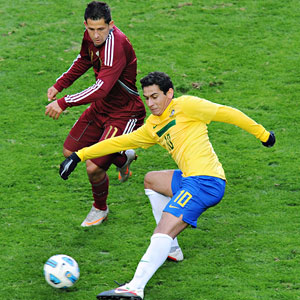 Pablo Porciubcula/AFP/Getty ImagesAgainst Venezuela, Brazil's Ganso played too high up the pitch and created a large gap between the two holding midfielders and the front three.
To Menezes' credit, this was a small complaint at the end of a fair criticism of his side. It's interesting that he pinpointed "faster plays" as the problem area, because both Brazil and Argentina's main issue seemed to be a lack of tempo. Their moves were too slow, too predictable, "too obvious," as Menezes put it. From two countries noted for their attacking flair, it's been a disappointment.
The two sides have separate issues, and although Brazil was the team that failed to score in its opening game, it is probably in the better position going into the second round of matches, especially because its coach has correctly pinpointed its downfall in the opening game. Although it failed to produce the attacking combinations in the final third to unlock the resilient Venezuelan defense, Brazil's overall structure and shape looked good. It just needs some fine-tuning. Ganso, the central playmaker, played too high up the pitch and created a large gap between the two holding midfielders (Ramires and Lucas Leiva) and the front three. If he can act as less of a pure attacker and more of a link player, Brazil's football should come together nicely.
Argentina's shape is less certain. It took just 45 minutes of goalless football for Sergio Batista to reach for his Plan B, abandoning the Barcelona-esque 4-3-3 with Lionel Messi as a central forward dropping deep in favor of a 4-2-1-3, like Brazil's system, with Messi behind the three forwards. Ironically, Argentina's problem seemed to be the opposite of Brazil's -- whereas Ganso played too high up the pitch and couldn't receive the ball, Messi was picking up the ball too deep in midfield. That's not a problem in itself, but it's worth remembering that as well as all his other qualities, Messi is arguably the world's greatest goal scorer, and deploying him that far away from goal is less likely to showcase his finishing ability.
It shows the difficulty in playing as a No. 10 in the modern era, in particular when the opposition plays two holding midfielders in that zone. The 4-2-1-3 formation implies the two wide players are higher up than in the more common 4-2-3-1. And although it's a subtle difference, the burden of creativity falls more strongly upon the enganche, as Argentines refer to the central playmaker.
Batista appears to remain committed to the 4-3-3 for his next game despite ditching the system midway through the opening game. "There will be no major changes to face Colombia," he announced on his Twitter account Sunday.
[+] Enlarge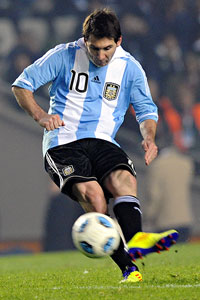 Daniel Garcia/AFP/Getty ImagesLionel Messi dropped too deep against Bolivia in the second half, which made him less of a scoring threat.
The lack of goals so far is an issue wider than the tactics of the big two countries, however. Colombia's narrow 1-0 win over a Costa Rican "Olympic" side was similarly underwhelming, even though there was a notable attacking intent from coach Hernan Dario Gomez. Upon seeing his opponents reduced to 10 men midway through the first half, he immediately threw on an extra forward, Hugo Rodallega, for Abel Aguilar, a central midfielder. That helped to produce the only goal of the game, but the Colombians seemed again to struggle for creativity. Their most attack-minded midfielder, Fredy Guarin, was more interested in shooting from long range than teeing up the forwards.
Uruguay and Chile, as many expected, provided more positive football. Their playmakers, Nicolas Lodeiro and Arturo Vidal, respectively, both had good games coming forward from deep central-midfield positions.
The strange structure to the opening phase of the tournament also has contributed to the defensive nature of the football. Like in the Gold Cup, the best two (from three groups) third-place sides progress. Although unlikely, this means that it would be possible to qualify for the knockout stages with just one point from three games -- if the two stronger sides in each group beat the two weaker sides, which then drew with each other. That is a statistical quirk, but the general point is still valid: Teams need fewer points to progress and therefore are less inclined to push forward for the win.
Then again, slow starts to international tournaments now seem de rigueur. Last year's World Cup opened quietly then improved, albeit not to the level we would have liked. This competition needs a little more positivity and a greater number of sides being proactive without the ball to be truly entertaining.
Michael Cox is a freelance writer for ESPN.com. He also runs zonalmarking.net.